There's always a fine line just before a big phone launch. For a start, we never know if..
a) The leaks are made "accidentally on purpose" to increase the hype around the phone.
b) If the phone we're seeing here is actually a dummy, prototype or perhaps a concept design someone made for an earlier handset.

Here's some more shots (to add to these) of the next top-end HTC phone (apparently) that we'll see unveiled (maybe) at the HTC event in Barcelona. These clearer shots, handed over in the dead of night by a man in a dark coat to Phandroid.com, show that the design of the HTC One handsets really isn't going to change a great deal in this new version. Now, if this is the real final design and we're not just being led up the garden path, it could be a good or a bad thing depending which side of that (garden?) fence you're sitting on. Personally, I know of a couple of people who have upgraded their HTC One M7 to an M8, only to go and sell the M8 on eBay and keep on using the older M7 – just because it's well built and hasn't really aged a great deal.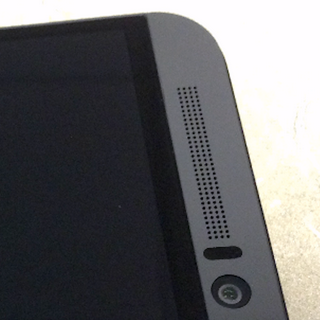 So, what can we tell from these latest M9 shots? Well, it's definitely the back that's changed the most, with a square camera assembly and a slight shift of the power and volume buttons from the previous model. The specs are now also pretty much confirmed – an octa-core Snapdragon 810 CPU with the Adreno 430 GPU, 3GB RAM, Android 5.0 (Lollipop) and the HTC Sense 7.0 UI, a 5″ 1080p display, 20.7 megapixel rear camera and the HTC UltraPixel selfie camera.
Announcement coming in just a few weeks from now and, don't forget, we'll have the biggest team ever in Barcelona to give you the most all-conquering converge you've ever seen.. baby.