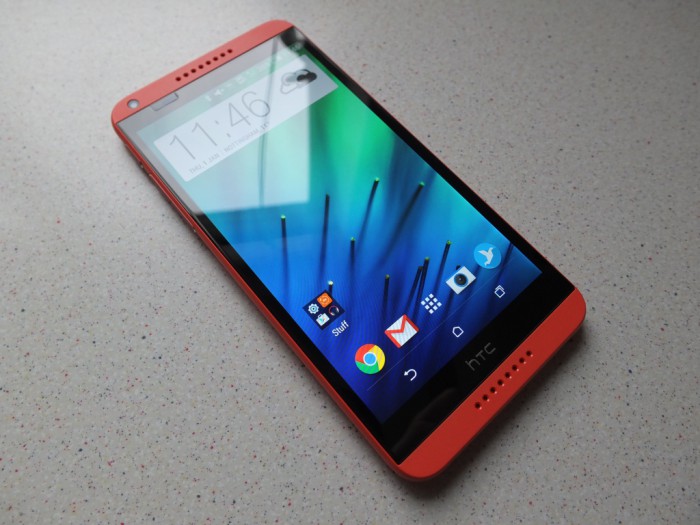 The large oversized phone market is a hugely popular one these days, some call them "Phablets", some just call phones, I call them the future. I know it sounds a bit cliche, but I really do like a large phone these days. I have been a large phone convert for years now, having used the HTC Advantage, the Dell Streak, the original Samsung Galaxy Note, the Note 2 & 3, the Nokia Lumia 1520, the Nexus 6 and most recently the HTC Desire 816. If you can handle the sheer size of a large oversized phone then you'll be in for a great time, easier typing, easier web browsing, more pleasurable multimedia experience and quite possibly an achey little finger.
I've been using the Desire 816 as my main device for a few weeks now and thought I'd bring you my thoughts on it, as Leigh reviewed it a while back. Check out his review here if you want a more in depth look at it. So let's start with my good and bad points.
Good Points
Glorious 5.5" LCD 2 display.
Micro SD Slot.
Sense 6 is a pleasure to use, thanks to nice widgets, apps and social integration.
1.5GB of RAM bolsters the budget CPU to provide a decent UX.
Front facing Boomsound speakers are a joy to listen to, clear and loud.
Sound quality with decent headphones in is good.
The overall look is nice, with curved corners and integrated speakers.
4G is always nice to have in a mid range device.
Bad Points
Only 8GB Internal memory leaves about 3GB out of the box.
The rear camera struggles in low light.
The front camera struggles all the time.
The non removable backplate creaks and flexes.
No NFC or Qi Wireless charging.
Design
The Desire 816 is a great looking device, yes it isn't all metal like the flagship One M8 but it does have a nice look about it.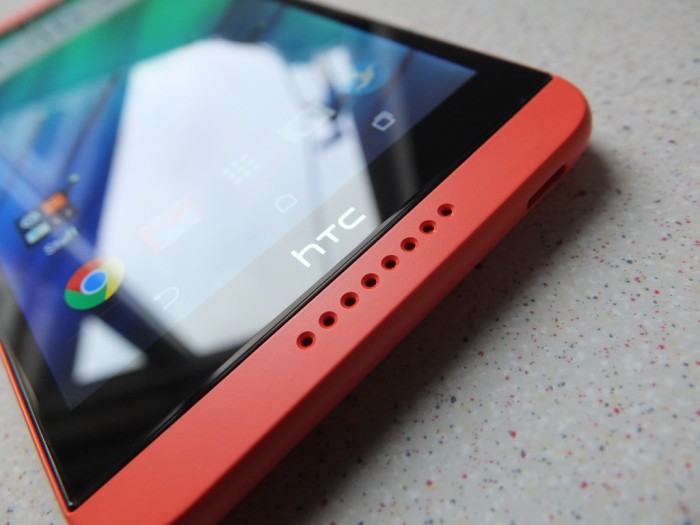 The Desire 816 is made of two different types of plastic, a shiny backplate that attracts fingerprints like some sort of strange fingerprint magnet and the edges and front are made of a matt material that is the same colour as the back. The back almost looks like it would be replaceable, but it isn't. That feeling of the back being replaceable is backed up by the fact the back moves and flexes when prodded. I guess the backplate is pressed into place after the battery and such are fitted in the factory.
The edges as you'd expect house the various buttons, interestingly the Volume rocker and the power button are up at the top left of the device, which is ideal for me as I'm left handed, but if you're a righty you may have to adjust your grip to turn it on, the fact the Desire 816 doesn't have gestures for waking the device further compound this annoyance. The headphone socket is along the top edge. The Micro USB charging port is at the bottom right hand edge. Lastly on the right hand edge is a strip of plastic that hinges out to reveal the Micro SD slot and the Nano SIM slot, the flap worryingly feels a little bit flimsy.
The front and back only really house the front facing camera, various sensors, the rear facing camera, the flash and some branding. The Bezels above and below screen are instantly identifiable as HTC bezels, which are that size to house the wiring for the speakers.
Overall it is a nice looking large oversized phone, especially in the Coral Orange colour that I've got. The shiny backplate and button positioning will no doubt annoy some people but for me I soon saw past the issues.
Here are some shots of it compared to some of the other large phones I've got at the moment.
I've rustled up a quick hands on video of the Desire 816, with a size comparison to the HTC One M8, the Nexus 6 and some other large phones I've got lying around.
HTC Desire 816 Hands On
http://youtu.be/ViaAXDJE6GY
Hardware
Spec wise the Desire 816 doesn't seem that great. When I first saw the sheet I was a little disappointed, on paper the Snapdragon 400 and 8GB of internal memory fill you with a sense of dread. However in use the parts all combine to make something really quite fluid and responsive. I've installed all of my day to day apps ok, however some apps like Google+ develop ridiculously large cache which eats up a large chunk of the internal memory, which needs clearing out now and again. I also have to keep an eye on wear apps like Pocket and Pocketcasts are putting their files. I also haven't been able to install any huge games either, so just a few small games and you'll be good. The memory size really inhibits quite what you can do with the Desire 816. Anyhow here are the specs.
Display: 5.5 inch, LCD 2, 720P 1280×720, 267 PPI.
CPU: Qualcomm Snapdragon 400, 1.6 GHz, quad-core.
GPU: Adreno 305.
Internal Storage: 8GB (about 3.1GB out of the box).
RAM: 1.5GB.
MicroSD memory card for up to 128GB additional storage.
Main Camera: 13MP, BSI sensor, f/2.2, 28mm lens, 1080p video recording.
Front Camera: 5MP, BSI sensor, 1080p video recording.
SIM Card: Nano.
GPS: Internal GPS antenna + GLONASS, Digital Compass.
Sensors: Accelerometer, Proximity sensor, Ambient light sensor.
Connectivity: 3.5 mm stereo audio jack, Bluetooth® 4.0 with aptX™ enabled, Wi-Fi®: IEEE 802.11 b/g/n (2.4 GHz), DLNA.
Dual frontal stereo speakers with built-in amplifiers.
2G/ 2.5G – GSM/GPRS/EDGE: 850/900/1800/1900 MHz.
3G/3.5G – WCDMA: 850/900/2100 MHz with HSPA+ up to 42 Mbps.
4G – LTE: 800/900/1800/2600 MHz.
Battery: Li-polymer non removable battery 2600 mAh.
Dimensions: 156.6 x78.7 x 7.9 mm.
Weight: 165g.
If you use a Micro SD card in the Desire 816 then you can make pictures and videos save to the SD card and also some apps will install themselves on the SD card too. If you're lucky you can also move some apps over as well manually. Still this won't totally alleviate what is probably the biggest shortcoming of the 816. For me though the Desire 816 has become a media player for me.
Software
Sense 6 is a refined suite of apps and widgets, Sense over the years has slowly grown into what we see today. HTC apply a touch of design class to the core UI and add features that make using Android more intuitive. I use a lot of stock Android devices and picking up a HTC Sense device is always a joy, be it the fancy Calculator widget, the "Love it or Hate it" Blinkfeed panel, the rather handy Social media integration into the people app or just the nice Gallery app. The apps that HTC amends are always a joy to use.
The Desire 816 runs Sense 6 on top of Android 4.4.2, as regards the Lollipop update HTC seem to be concentrating on updating the HTC One M8 and One M7, with the Desire 816 rumoured to be updated along with the One Mini 2 after the flagships. I really hope it does get the update.
Overall I really liked the software experience on the Desire 816, Sense 6 has found it's self at the top of the league table of "least annoying Android skins" and deservedly so, it really makes me look forward to their next devices in 2015.
Camera
The camera on the Desire 816 is a 13MP f 2.2 lense, which as you'd expect in this day and age, functions quite well in decent light and suffers in low light. It takes quite good shots in daylight, but remove the light and things start to suffer, the front facing camera behaves in pretty much the same way, just lower quality and without a flash.
The HTC software may seem familiar to HTC One owners, as it is basically the same camera app with a few things like Zoe mode removed. You can manually make Zoe video highlights though and even upload them to the Zoe service.
Conclusion
Overall I feel that the Desire 816 is a splendid device, it has a nice design, some really useful software additions and a cracking multimedia setup. It would be an ideal music or video device to take on holiday or as a large smartphone for someone who didn't want to install loads of huge games. For the current price of about £239 (Amazon UK) I feel it's sat about right in market, however if it was under £200 it would probably appeal to a wider audience. I HTC have really touched upon something great here with the Desire 8xx range, a well priced large screen device with some of the features that people have used on the flagship devices. After my time with the Desire 816 I'm really eager to get my hands on the Desire 826 now, with the improved camera, larger internal memory and the buttons in a more normal position.