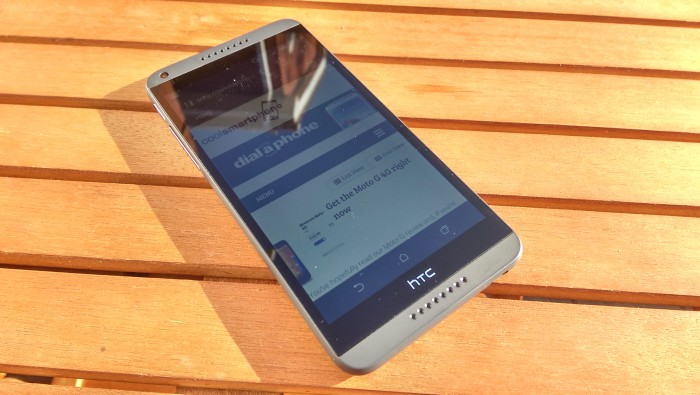 This handset has a lot of the features I've seen on the HTC One M8. I mean sure, if you fire up the camera you won't have the Zoe camera option, or the Pan 360 setting, or that rather clever "Dual capture" options, but you still get those clever video montage features and the ability to remix and tweak the music.
The camera tech here is slightly different to the HTC One M8 we were looking at recently. There's no clever second camera, so you can't do that trick "U-Focus" stuff where you adjust the focus after taking a shot. A 13 megapixel shooter sits at the back instead of the Ultrapixel unit found on the bigger (but smaller in size) HTC One M8.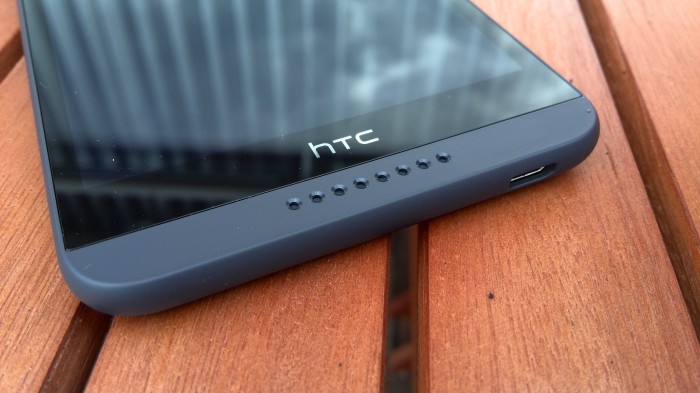 While we're comparing things (and I shouldn't really, the Desire 816 is a lot cheaper than the HTC One M8 so you should expect some things to have been chopped here and there) you can also expect a bigger but slightly-lower-resolution screen too. This has a 5.5″ 720p unit (the M8 has a 5″ 1080p full HD unit), there's 8GB storage (compared to 16GB on the M8), 1.5GB RAM (compared to 2GB) and Motion gestures aren't included here at all.
Pricing
However, if you look around, you can get this device for about £250. I found prices varied quite a bit, so have a Google around for your most favoured retailer. I also found that you could get it on contract via Carphone Warehouse quite cheap. Places like Value Basket (never heard of them) are (at the time of writing) knocking them out at £204.99, Simply Electronics for £219 and Expansys for £289.99. The pricing is a bit all over the place, so choose the company you're happy with.
Put it this way, on the official HTC shop the HTC One M8 is £549.99 and the Desire 816 is £299.99.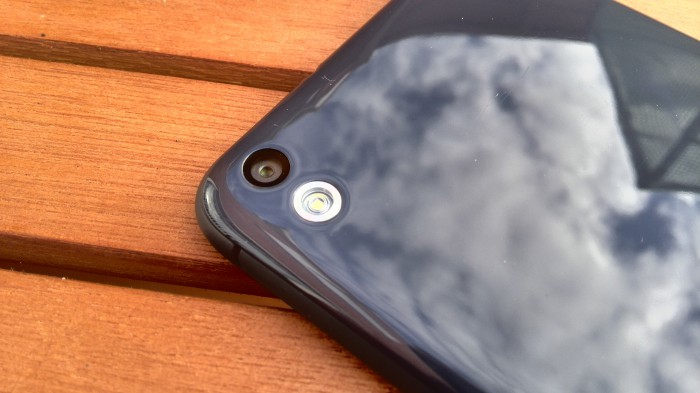 What? Another Desire?
The original Desire spawned a range of other handsets which are too numerous to mention. This, the 816, was launched in what seemed like a last-minute rush during Mobile World Congress. We had a brief hands-on with it but no-one got to see the thing powered up and there were no big fireworks or parties.
I was kinda surprised. Even during my rushed and very "hush hush" hands-on time it felt like a winning bit of kit. Yes, it's plastic. Yes, it's not quite got that "Ooooooohhhhhhh" factor of the HTC One M8 but hey, it's about £200 less. What do you want?
In a way this annoyed me from this first few moments. I knew this was going to be a good handset and I could see that it had a lot of the HTC One M8 elements. Forgive me for constantly comparing the two but there is a point, hopefully. See, I'm annoyed because – even though it's plastic and even though there's a few less features than the HTC One M8, this is a very capable handset for the money. It's yet more evidence that HTC can really pull some great designs and great tech out of their bag when they want to. It annoys me that people will mostly ignore this and pay a lot more cash for a Samsung Galaxy S5.
Specs
The HTC Desire 816 is powered by a Qualcomm® Snapdragon 400. It's a 1.6 GHz quad-core CPU and there's 1.5GB of RAM on-board with 8GB of storage and a microSD card slot for another 128GB. As mentioned, the screen is a 5.5″ 720p unit and there's 4G, GPS, WiFi, Bluetooth 4.0, a digital compass, all the usual sensors, NFC, 3.5mm audio, DLNA, a microUSB charge port and a 2600 mAh battery. It runs Android 4.4.2 and has the very latest HTC Sense and Blinkfeed.
Tour
A capacious screen definitely pushes this into a phablet territory. It doesn't quite have that "Persil White" background that you find on the higher-resolution HTC One M8 screen (sorry, last time I compare it, sorry). My thumb had some issues across this screen and it quickly became a two-handed operation. Yes, you can have a go at the "one handed texting" but, believe me, it will quickly end up on the floor and you'll have yourself a busted phone.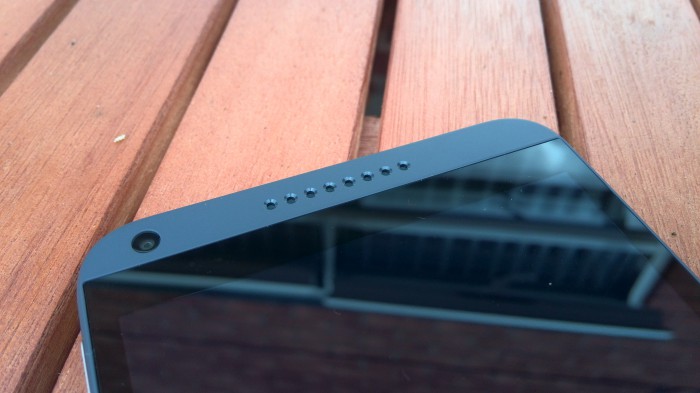 Up top there's a 5 megapixel camera for your selfie action (and video calls etc) plus there's those dual frontal stereo speakers with built-in amplifiers. If you read my recent "Week with the HTC One M8" you'll probably already know about my love for these BoomSound speakers. Most phones on test here at Coolsmartphone HQ produce sound that resembles a fly trapped in a tin-can. Here, on the Desire 816, anything (internet radio, ringtones, streamed tunes or YouTube) sounded bold and deep. No, it's not going to replace your Bang & Olufsen subwoofer, but it does a very decent job and makes Bluetooth speakers redundant.
There's an ever-so-slightly-more-frame-than-I-would-have-wanted around the screen, but that's me being an ultra-picky geek. There's a wide range of 816 colours to choose from by the way. We've got the fairly dark and "office-like" one here, but you can get white, grey, black, red, indigo, blue and green. We're hearing of a yellow and pink one too.
The front and side trim has an industrial matte plastic appearance which gives way to a smooth and polished rear which looks like it should be removable but isn't. In the top corner you'll find the 13 megapixel camera (BSI sensor, f/2.2, 28mm lens) plus the flash. Both cameras do 1080p video recording.

On the right side of the handset, along the rounded edges, there's a large flap which opens to reveal three slots. Two of these are accessible (microSD and SIM), the third is for a second SIM if you have that version. It's a nano SIM by the way. Why the chuff there's a nano SIM on a handset this size I don't know, but perhaps they were pushed for space. Who knows, but that's how you get in there.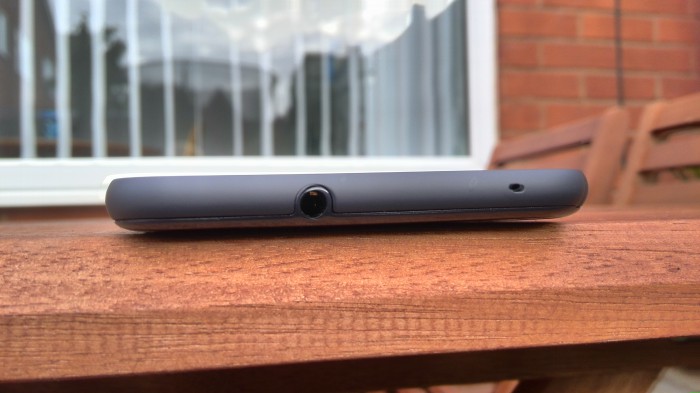 The top edge has a secondary microphone for noise cancellation and the 3.5mm audio port for your cans / earphones / earpiece.

The left, which I quite like actually (especially as you can't use the clever "double tap to wake the screen" gesture that you can on the M8) are some chunky buttons for waking the device and tweaking the volume. They're easy to locate, even when you're a bit "merry", which is always a good thing in my book.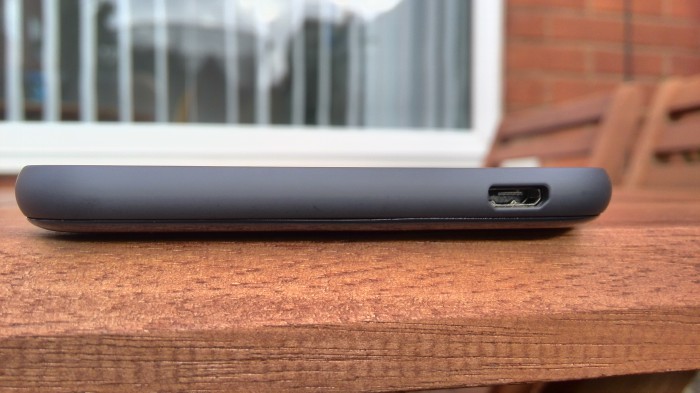 The bottom edge has the micro USB port for connecting to your class 1 intergalatic spacecraft. Oh, no .. sorry – transferring data and charging of course, but you knew that already and probably saw through my hopeless attempt to spice up the review. 😉
Software
The HTC BlinkFeed system, as you may know by now, sticks posts together from social networks, headlines and news media. It'll display content you'd like to read and, by swiping left and typing in "coolsmartphone", you'll get all our latest tweets from Twitter magically. Pictures from Twitter and elsewhere will get added in to create a little custom magazine-style interface which you can browse through on he morning commute.
Up top, the "Quick Settings" feature has a grid of regularly-used options that you can again customise to meet your requirements. I particularly liked the highly customisable "Do Not Disturb" feature, which you can set to engage when you're at work and only let through certain callers. Nice to see this out of the box.
The "Extreme Power Saving" mode is here also and will drop your phone into a special "suck battery life through a tiny straw" mode when you hit a certain battery percentage level. There's some other battery optimization options and you can have a look at your battery usage to diagnose what's chomping away at your battery life. Choose to have "Power Saver" mode on and the display will darken, your data connection will drop when the screen is off and it'll throttle CPU usage to ensure that your battery goes on and on.
I liked fiddling around with these Quick Settings options. You can remove stuff like the "Power Saver" option (as an example) and replace it with the WiFi hotspot button, or perhaps the GPS button so you can switch that on and off easily. It brings personalisation up a notch, which is always a good thing in my book.
This being Android, you can do all the usual "drag and drop" of icons, apps and widgets. There's a stack of widgets ready to add and you can always download more from Google Play. You can also customise your home screens, backdrop, ringtones and lock screen. As usual with Android, you login with a Google account and everything gets sync'd with the cloud. Contacts, appointments, email and files get sent up to the magical servers and you're safe in the knowledge that everything is backed up.
I liked the HTC Guide, which helped you get around the handset, and the car mode, which almost looked like a Windows Phone interface, for easily navigating your phone when you..actually shouldn't be.
Other useful apps include Polaris Office, for opening those PDFs and documents, all the Google bits (YouTube, Drive, Hangouts and Google+ etc). The browser is, as is usual and as you'd expect by now, very nice indeed and there's no problems looking at mobile or full-fat websites. Plus, if you don't like the standard browser, Chrome is there out of the box too. The larger 5.5″ screen makes browsing pretty enjoyable too.
Dialing is predictive, and all your contacts are pulled from your previous Android or Google via your account. Type in the first few letters of the person you want to call and they'll pop up on the dial screen
The kid mode and parent option make this a safe handset for children to use and the recent app switching made things really quick. To be honest the whole experience is both nippy and pretty fun too. There's a stack of options, ringtone, text message, background options and widgets to make this your own.

Camera
The rear camera, at 13 megapixels, produced very decent results and, although there's not quite the same level of options as the HTC One M8, can still do effects like "anti shine" or "red eye removal" and choose a range of effects, frames and tools.
Here's an example of the photos I snapped on the Desire 816. If you want more, check out the HTC One M8 "week with" article I did, as all of those shots were taken with the Desire 816!
Overall
It certainly doesn't feel like a "phablet", even though it is obviously larger than most smartphones. The strong plastic build was both light and sturdy. Personally I'd advise you to go and get yourself a hands-on with this device in a shop to check you're OK with the size, but the device itself is yet again another HTC classic. It's great to see the Desire brand still kicking.
Again, like the One M8, this is a well designed, well constructed piece of kit with an experienced and knowledgeable company behind it. Everything works perfectly and, although it doesn't bring anything totally jaw-dropping to the table, it's a quality handset which – at the price point – should prove very popular. This is a light, well-equipped phablet for the money with those powerful BoomSound speakers, capacious screen, good camera and much more likeable HTC Sense 6.
The quad-core 1.6GHz CPU was very nippy, the GPS pickup was quick and battery life was very good indeed (and had a lot of puff left over even after I'd hammered it during the day). If I had to pick flies, I'd have to mourn the loss of the Beats tech and say that the 720p screen did make things look a little "large" at times, but I am picking here. Overall, another brilliant bit of machinery from the boys at HTC which, for the money, is an excellent purchase and won't let you down.
Get the HTC Desire 816 from various online stores for around £300 or from the HTC store.
HTC Desire 816 Review
Camera - 8.2
Build quality - 8.3
Software - 8.5
Battery - 8.5
Screen - 8.5
8.4
A strong, stylish and light phablet which really doesn't feel like one. Speedy, feature-packed and well-priced.