That notification that pops up when you tweak the volume on your smartphone is proper annoying isn't it? You know the one, it basically says…
"Hey, even though we've designed this phone to go up to a certain volume, if you do turn it up to that volume then you could possibly hurt your ears."
Yeah, balls to that. You want it louder but your phone can't do it, so step forward Lindy, who have come up with a mini amplifier for your headphones. It'll scoop up the 3.5mm audio from your phone or tablet, add some bass and some extra depth, then output the resulting audio to two 3.5mm audio ports.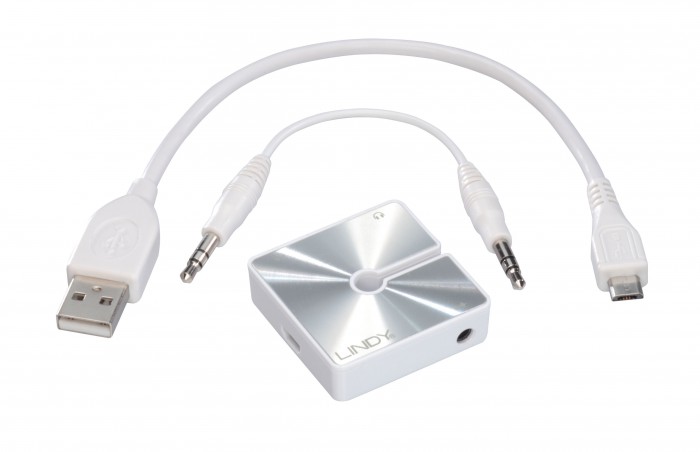 Costing £22.98 it's clever enough to know when it's not in use and will shut down to preserve power – it's charged by your standard microUSB charger and should give 12 hours of continuous playback from a single charge.
In use you should get an output which has been boosted by 120%, meaning that big and beegy headphones get the output they need without sucking your phone dry pumping out the volume at full whack.
Full details in the press release below or head to Lindy.co.uk for more info.
Upgrade smartphone audio quality with the Lindy Mini Headphone Amp and Splitter
Lindy-Headamp-FI6th January 2015 – Stockton-On-Tees – LINDY Electronics, one of Europe's leading producers of computer and audio-visual products, has announced the release of its Mini Headphone Amplifier and Splitter. Specifically designed to improve the overall sound quality and volume of portable music players such as MP3 players, smartphones, tablets etc., the rechargeable Lindy Mini Headphone Amp and Splitter features dual amplifiers and a built in bass booster that adds extra power and depth to your audio.
Thanks to an intelligent power switch that conserves charge by turning off the amp when no audio signal is detected, users can enjoy up to 12 hours of continuous playback from a single charge. Output is amplified 120%, reducing the power demand on the Smartphone/music device when playing audio tracks, whilst users can drive larger, more powerful headphones than normally capable from a hand-held device.
A second 3.5mm stereo port allows users to easily share their music by plugging in an additional set of headphones. The compact form factor – comparable in size to the 6th generation iPod nano – also has an integrated cable management design, allowing users to conveniently store their headphone cable when not in use.
Features at a glance:
Easily improve the sound quality of portable devices.
Compact, portable amplifier with dual headphone outputs.
Intelligent power switch turns power on/off on audio signal detection
USB 2.0 Micro-B for charging & power.
Includes 15cm 3.5mm to 3.5mm audio cable & 23cm USB 2.0 Type A to Micro-B charging cable.
Dimensions: 38 x 38 x 12.4 mm
2 year warranty
Specification:
100dB high fidelity SNR sound
Built-in 120mAh rechargeable Li-Poly battery
Integrated cable management design
Low Distortion: < 0.1% (85 mW) Output: 50mW 1 x 3.5mm stereo input 2 x 3.5mm stereo outputs For use with 16 – 150 ohms impedance earphones Blue Power LED / Orange Charging LED Weight: 15.5g The LINDY Mini Headphone Amplifier and Splitter is available in the UK now priced at £22.98 and can be purchased from www.lindy.co.uk or from www.lindy.ie for customers in Eire. [/showhide]