Along with a new smartwatch Alcatel also announced a new tablet and a range of phones.

The POP 10 is, surprisingly enough, a 10″ tablet that features an IPS display and is powered by a quad-core processor. Storage wise there is 8GB internal memory, a 5 MP rear camera and 2 MP rear camera. The POP 10 has 4G Cat 4 connectivity, and is running a version of Android but even the official press release fails to detail which version it is, but it's probably not Lollipop (although the navigation buttons look like Lollipop ones). The interesting part are the accessories – a Bluetooth keyboard dock, a docking station to charge it, a Smartlink application which allows you to sync a smartphone with the tablet and Alcatel Onetouch Connect – an app to use a separate phone connected to the tablet via Bluetooth that allows you to make calls, send e-mails and more via the tablet.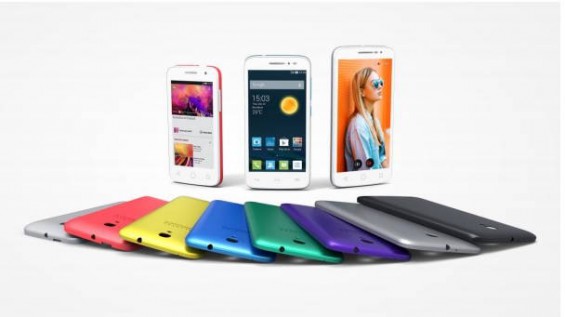 The POP 2 family of phones is range of handsets that vary in screen size and battery capacity; 4.0″, 4.5″ and 5.0″ size and 2000, 2500 and 3000 mAh batteries to be precise. The largest member of the family gets a 8 MP rear camera with 2 MP front snapper, whilst its smaller siblings have a 5 MP rear camera and a VGA front camera. All three of the phones are powered by a 1.2 GHz quad-core 64 bit Snapdragon 410 processor, 8GB internal memory and 4G LTE connectivity.
No word on availability or price yet, although the colours do give you a nice range taking a leaf from Nokia/Microsoft book of phone releases.
Via: TalkAndroid