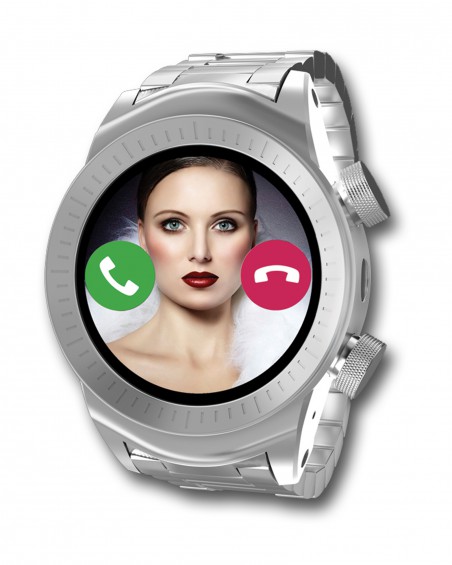 Dutch lifestyle designer and trendsetter, Hermen van den Burg announced yesterday that as part of the BURG Smatwatch Collection 2015 they are launching the worlds first all stainless steel smartwatch, the BURG® 27, at CES in January. Available in Stainless Steel, Rose Gold Stainless Steel IP, and Black Stainless Steel IP, the round-shaped BURG 27 is the result of over 20 years of BURG lifestyle fashion experience combined with the most advanced wearable technology in the industry.


The BURG 27 is the first smartwatch to use a new advanced Media Tek Chip and runs on Android 4.4 with voice activation. It has the now almost ubiquitous Health/Sleep Apps plus full Internet browsing including streaming music and video.  You also get GPS, Twitter, Facebook, Skype and it promises 30% more energy efficiency for a longer battery life although the press release doesn't specify the size of battery so we will have to wait to see how that translates into real-world use. Surprisingly you also get full phone functionality so you can make and receive calls with its speakerphone using the included SIM card or pair it with your Android, iPhone or other smartphone. You apparently also get an sd card. Sounds almost too good to be true! Below are the full list of specs:
Android 4.4 OS.
Health Applications: tracks steps taken, calorie counter, sleep, and sports schedule.
GPS, weather & temperature.
3G and Wi-Fi compatible.
Connects to social media sites: Facebook, Twitter and Skype.
Sends text messages.
Smart Keyboard.
Music & video: MP4/MP3 Player, FM Radio, and voice recorder with headphones included.
Screen-on when swing.
2 Megapixel camera.
1,500 Contact List, Calendar, and Calculator.
Color Display: 1.22" 208 x 240 pixel scratch and splash resistant touchscreen.
Alarm Clock with automatic time zone and seasonal updates.
Bluetooth 4.4 technology.
8GB built-in memory. Includes 4GB Micro SD card (up to 16GB of storage) and Micro USB port for syncing and charging.


T be honest this looks amazing and I fully intend to follow this news very closely as this truly seems to be the watch of our dreams, that James Bond 'looking cool with awesome tech' thing, espcially as it has a camera. A camera on a phone!! I've never seriously considered a smatwatch before but if they look like this with this functionality I will find it very hard to ignore.
The BURG 27 smartwatch will debut at CES 2015 with availability in March 2015.  Suggested Retail Price will be announced at CES.  The BURG 27 includes a free SIM card, USB to Micro USB cable, 4GB Micro SD card that can be upgraded to 16GB, headphones, watch battery, Quick Start Guide, band tool, and language selector.
For more information, see their website www.burgsmartwatch.com and feel free to leave a comment below if you think this could well be the future of smartwatches…