This is less than £30 my friends, and inside there's a fat 8000 mAh battery. I say "fat" because of the capacity, not necessarily the size, although it is about as chunky as my wallet used to be before I had a house and child.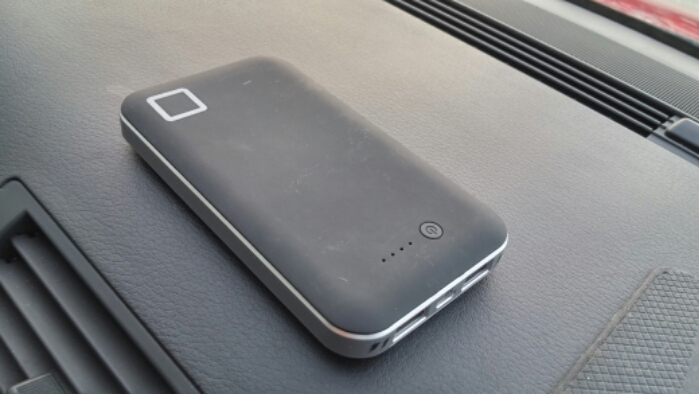 It's another one of those devices to prevent the "low battery sweats" that will probably creep up when you absolutely HAVE TO send out a tweet or Facebook update and the battery display is a big blob of angry redness.
Meet the Proporta Mohawk TurboCharger 8000. I know, it sounds like a car doesn't it? Inside is a battery which should be enough to charge a lot of smartphones twice from flat (divide the mAh battery size of your smartphone by 8000 and you should see roughly how yours will perform) plus it has two USB outputs – one that kicks out 2.1A and another which does 1A.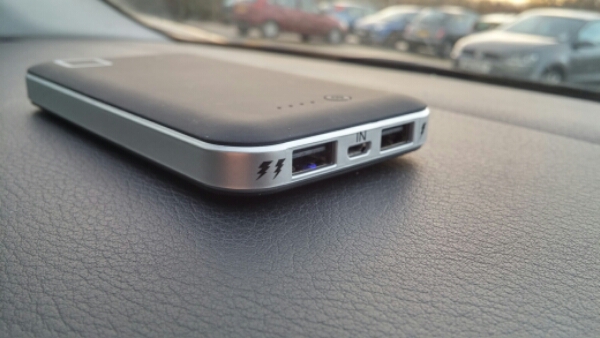 Their website actually states …
Approximate charges from TurboCharger 8000: iPhone 5S 5 times, iPhone 6 4.5 times, iPhone 6 Plus 2.75 times and Galaxy S5 2.75 times.
The 2.1A should keep an iPad happy and it'll mean faster charging for most smartphones too. Ideal when you're in a bit of a rush.
In the centre, a microUSB port for charging the actual unit itself. Inside the box is a microUSB cable which is separate, so you will need to carry this around. I personally love these mobile chargers to come with in-built cables, but it can be a bit tricky if you're using something that isn't a microUSB cable. At least here you can plug your Apple Lightning cable in, but just remember to keep it with you or get one of these clever Nomad contraptions to keep a cable on you.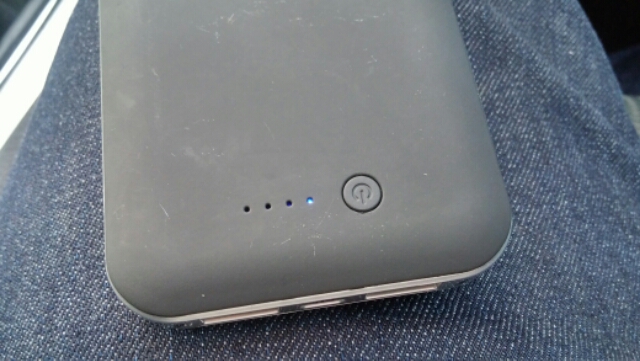 So a quick run-down for you then. It charges off the supplied microUSB cable, which I can plug into anything that presents a USB port (TV, laptop or a wall charger). When plugged in some blue LEDs illuminate on the front and pulse left to right to let me know that charging is happening, plus it lets me see just how full the battery is. Once unplugged, and when you're in the middle of nowhere without charge, you simply plug in your phone and press the small (and ever-so-slightly-hard-to-find) button on the front (it's not that silver square either, which I mistakenly pressed). The battery inside will then start discharging, and you can charge two devices at once if you wish.
On the silver strip you can easily see which port is the "fast charging" one by the two lightning bolts. The other will do your usual trickle charge that a lot of wall chargers do.
The top and bottom of the device is a curved rubber while the sides are polished silver.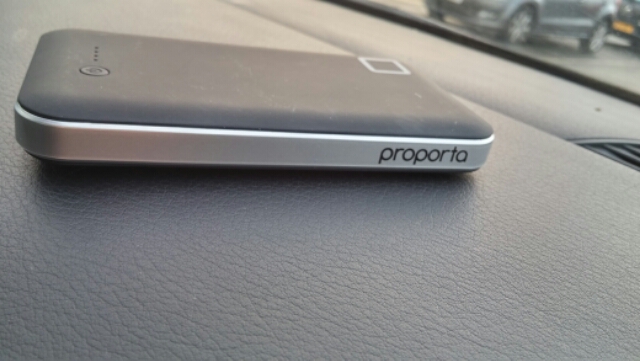 Overall
I was quite happy with this. I've got into the habit of charging the charger itself via my car-charger, so my car battery effectively charges this battery, which in turn charges my phone battery. Bonkers I know, but it does the trick and I find it works well whilst sat in my pocket listening to music.
The requirement to carry around a cable was a bit of a pain, but the sheer size of this battery pack meant that you could charge several times over without an issue.
The Mohawk TurboCharger 8000 Emergency Charger is £29.95 from Proporta. They also have various other chargers worth looking at if you need something bigger or smaller.
Proporta Mohawk TurboCharger 8000 Emergency Charger Review
Design - 8.9
Operating - 8.1
Price - 8.6
8.5
A chunky 8000mAh emergency charger that has loads of capacity ready for those flat-battery moments.