Fancy yourself a Nexus 6 dear reader? It seems to be popping up all over the place. Made by Motorola it runs Android Lollipop, has a 2.7GHz Snapdragon 805 quad-core CPU (with an Adreno 420 GPU) 3GB RAM, 13 megapixel rear camera, 2 megapixel front, 6″ 1440×2560 AMOLED screen at 493ppi, Bluetooth 4.1, WiFi, dual front speakers, GPS, NFC and it's waterproof too.
giffgaff have the 32GB version available for either £22.85 (then you add whatever goodybag you want) or you can pay £499 as a one-off.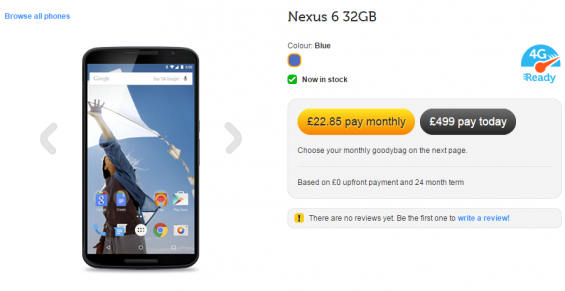 Parent network O2 have also added the 32GB version and you can either pay £479.99 on Pay & Go or get it free on Pay Monthly plans. For £33 per month you get the phone free and have unlimited texts, 500 minutes and 500MB of data, or get 2GB of monthly data and unlimited everything else for £38. Both of these examples are on O2 Refresh, which splits the phone and the airtime contract.
Vodafone are also selling it and it's free on plans costing more than £39.50 per month (2GB data, unlimited texts and calls).
Stock also briefly appreared on Google Play but it's ran out fairly quick. It might be worth your while paying a bit less with O2 Pay & Go.