Here we are folks, the long awaited Xperia Z3 Tablet Review. First things first, why has it taken so long to get this review done?
It's simple really. The first tablet developed a dead pixel line from top to bottom and needed to be replaced. I also decided that I was going to get a 4G version as there were some good offers around at the time of buying.
Design and Hardware
For those of you who have not seen my unboxing video that I did a wee while ago, here is the link again. It is worth a watch as it will give you a feel for the device.
The specs are as follows..
Display: 8.0 inch
IPS LCD,1200 x 1920 pixels, 283 ppi, Scratch resistant tempered glass
Processor: Snapdragon 801 CPU Quad-core 2.5 GHz
Internal Memory: 16/32 GB (I bought the 16gb), Micro SD up to 128 GB
RAM: 3 GB
3D stereo sound, High Res audio, S-Force Surround
Bluetooth v4.0
Battery: Non-removable Li-Ion 4500 mAh
GPS with A-GPS
Rear Camera: 8 MP, 3264 x 2448 pixels, autofocus
Front Camera: 2.2 MP, 1080p
Android 4.4.4.
Connectivity: 4G, 3G, Edge, GPRS nano sim
WLAN: Wi-Fi 802.11 a/b/g/n/ac
Waterproof and Dust resistant IP 68
Dimensions: 213.4 x 123.6 x 6.4 mm
Weight:270g.
These specs make it a very high end device, and this particular model costs £479 on the Sony store. However, it's worth checking to see if your mobile network offers it, as I would be surprised if they weren't offering deals with data bundled in.
So a quick tour around the device and the first thing to notice is how slim this device actually is. At 6.4mm thick it is one of the thinnest tablets on the market and is thinner than the new iPad Air 2.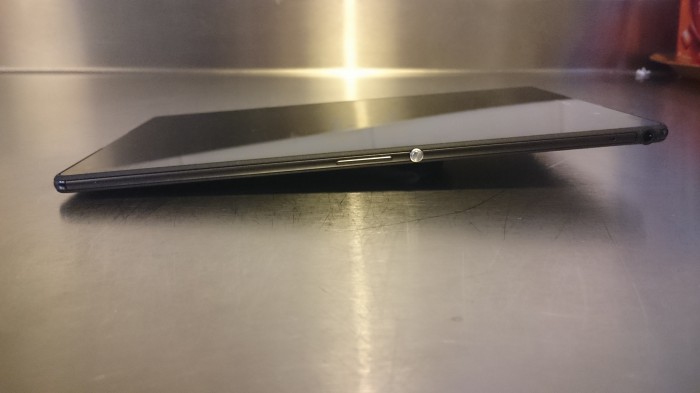 It also weighs in at just 270g – again half the weight of the iPad Air 2. That is the last comparison I make with and iPad Air 2, I promise! When it was put next the Nexus 9 it came in at half the weight of that until you added the case, which brought it up to just over 400g. This is is still easy to hold for a long time if needed.
The top edge has nothing on it. On the right hand side is the 3.5mm headset jack, which supports the Sony DNC cancellation technology.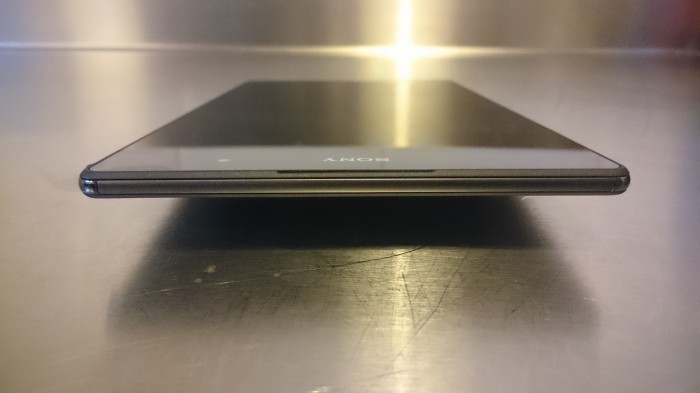 Next is the Xperia power key which is slightly raised and a design statement for the entire Xperia range. It's really easy to locate and sits just above the volume rocker. These keys, as with a lot of the features, will be familiar to anyone who has owned an Xperia device in the last couple of years.
There is no camera button here, but that is understandable as it'snot really a key point for this tablet ….or indeed any tablet. This was the same with the Z Ultra. On the bottom is a flap for covering the microUSB port. This can be used, as usual, for charging and transfer data to a computer on the go. Finally, on the left, is the magnetic charging port which is really a must if you are getting this tablet. It makes it so easy to charge. Sure, I would have liked QI wireless charging but I can cope with this format.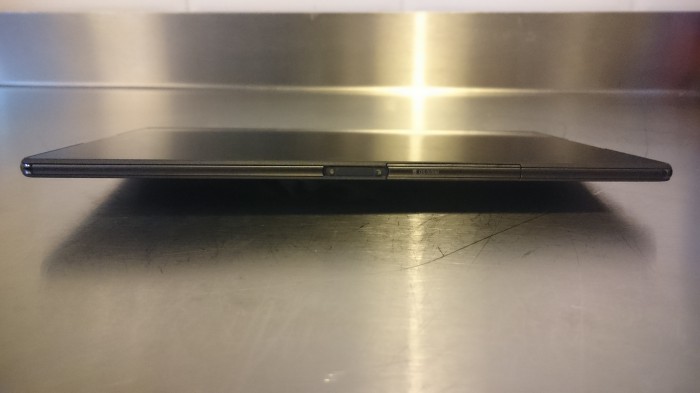 On the rear there's the Exmor RS powered 8 megapixel camera minus the flash. You'll also find that NFC lives here for all your NFC shenanigans, such as Xperia Link.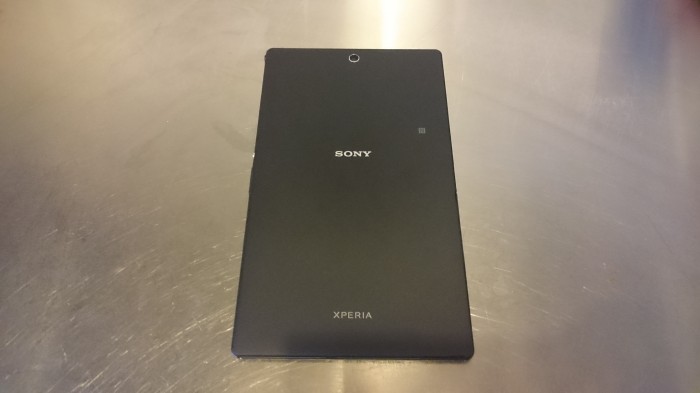 Up front is that display, which shares the relatively low resolution of some of its more budget-priced competitors such as the Lenovo Tab S8 – 1920×1200. Size and resolution is where the similarity ends though. The panel here is a very good one and it is bright enough for usage outside which is really important for a 4G-enabled tablet.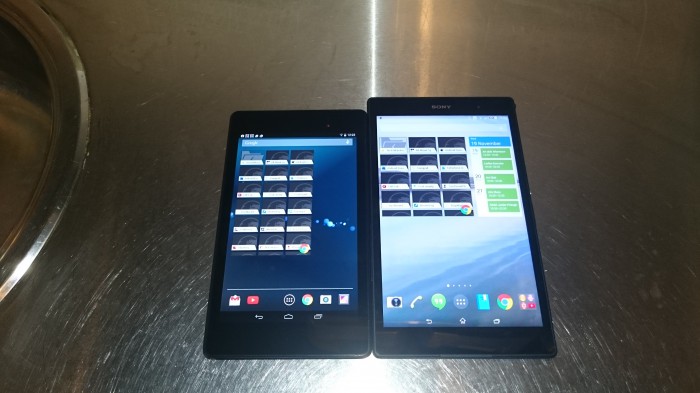 The Triluminos display really works well to make the screen an enjoyable viewing experience and I am as happy with it as I was with its predecessor, the Xperia Z2 tablet. I also really like the screen on the Z3 phone tpp. This uses the same resolution and the same Triluminos tech. As is always the case with Sony's displays recently there is a bit of tweaking done via the "Reality Display" engine when using videos or indeed photos. Although I liked this option some will want to turn it off to give a truer reflection of colour.
Lastly we have dual front-facing speakers and a 2.2 megapixel camera which is suitable for Skype and Google Hangouts, but not much more.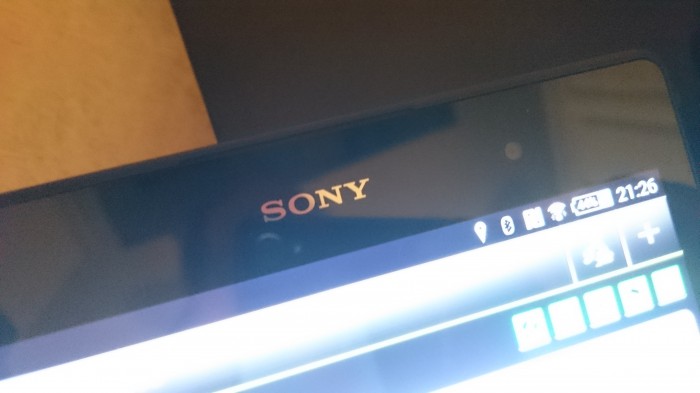 Overall I am very happy with the screen. I was not that happy with the adjustment in the scaling of the icons on the UI initially, however I am starting to see the benefit of this in day to day usage. So, as the saying goes I have "got over it". This does seem to be the way that Google are going with the icons. I've seen other devices like this including the Nexus 9 and will be seen on the Nexus 6. It would be a nice touch for Sony to include a tool to adjust this based on user preference. Just saying..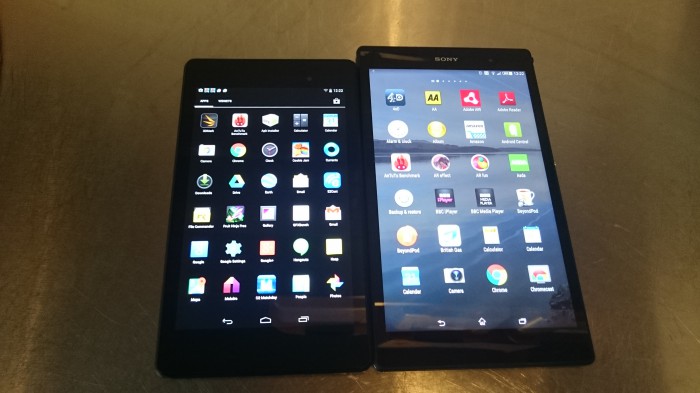 I nearly forgot! The best thing about this tablet and one that again makes Sony unique in this area, is that the whole thing is IP68 rated. This means that it is both waterproof and dust resistant. Now I have tested the Z3 phone in all sort of liquids including sea water and when I say waterproof, I mean it. I am now trying to think of times that I would need a waterproof tablet? Answers on a postcard please!
Software
Sony have not really done a huge amount of customization to the UI. To be honest that'll probably please a lot of people. Inside it's Android Kitkat 4.4.4 but they have added some other extra "enhancements" to what was already a very stable OS. The main things they have done is added some of their own custom multimedia apps. Now usually this annoys me, but I have to say that the Walkman Player and the Movies app are absolutely worthy enhancements to the core apps such as "Play Music" and "Play Movies". I prefer the way they work over the Googles offerings.
That being said, if you do want to use the Google services then you can do by all means. In-built into the Movies and Walkman Apps is the Unlimited Service in their respective forms. This will allow the user to buy or rent movies and TV shows and stream unlimted amounts of music for a monthly subscription (you can also pin albums and track for offline playback like Play music).
Another piece of software that is unique to Sony and the Z3 range is PS4 Remote Play. Yes, you read that right, you can now use your tablet as a screen for your console when your other half is watching Strictly (insert any other trivial show here). This is a huge feature for those amongst us that are gamers. I am not, so I haven't been able to test this one fully but those who have been using it love it.
What else have they thrown into the mix? They've bundled Wisepilot McAfee and a couple of apps looking to get you to buy content from other stores (instead of directing you to Google Play). To be honest these things do annoy me and are resigned to trash virtually instantaneously. Track ID is on here, as is TV Sideview. Both are fairly useful TV Sideview is a companion app if you're lucky enough to own a Sony Smart TV. Here s a wee overview of the software and UI..
Camera
The camera on the device is what you would expect from a Sony Tablet and it has not been improved since the Z2 tablet. It has a 2.2 megapixel front-facing camera, but don't expect greatness when it comes to Selfies as they won't be that good. Sony has always given more focus to the rear camera on their phones and tablets. I can understand the logic as it gives them a differentiator from the other tablets and phones, but the quality of the front cam is pretty bad.
Sony, we know you can make a good front camera as you have announced the C3, so let's do it already!
The rear camera is useable, but chances are you will have a better camera in your pocket. I will not get into a rant here about that I have said my piece.
There are few new modes in the form of "Multi Camera" mode and "Face In" mode but otherwise it is what we had on the Z2 Tablet. Here are some samples using the "Multi Camera", "AR Effect" and the front facing camera…
Summary
Sony's ad campaign is to "Demand Great". I think that you could safely say that in the Z3TC you can demand great, and from what I have found in day-to-day usage those demands will be fulfilled. We do need to address the elephant in the room though, which is that this is my second device after receiving a duff unit. However, I won't make any attempt to hide that fact the whole returns process was great and lived up to the slogan in the experience. I have complete and utter faith that if anything were to happen to my new device I would have a replacement promptly, this makes this a non-issue for me.
How does it compare with its rivals? It lines up quite nicely against the iPad mini (Retina and 3). In certain areas it is better and in others it is weaker. This is something that you will need to decide on as only you can know if you want iOS or Android. For me though the benefits afforded by the intelligent design outweigh the slightly better app ecosystem afforded by iOS.
So I would stay with the Sony Xperia Z3 Tablet Compact especially if you can pick one up on a data focused contract.
Xperia Z3 Tablet Compact review; Greatness delivered
Design and Hardware - 87%
Software - 76%
Camera - 85%
Value for money - 90%
A great option for those who need small, light weight but powerful tablet that has the added bonus of being water and dust proof.