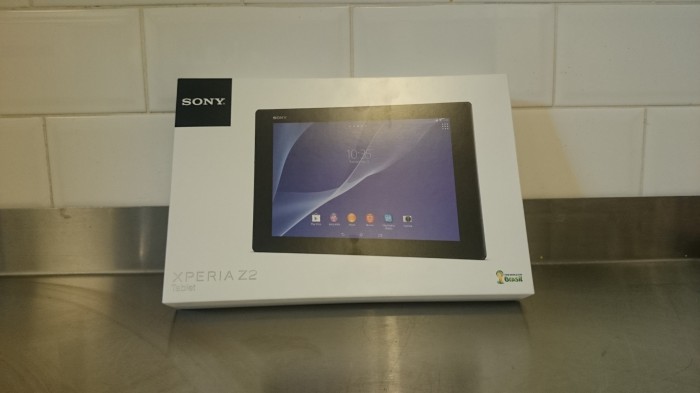 Firstly I would like to offer up an apology for the time I this taken for me to get this review up. I just wanted to make sure that I had enough time to test the tablet to its fullest.
So without further ado, the review..
Hardware/Design
Those of you who have seen the unboxing video and also my hands on first impressions will no doubt be aware of my thinking on the design on this tablet. The good news is that over the last month these opinions have not changed much at all, although I have discovered some minor niggles and annoyances. I will come onto them shortly
First let's go around the device from the left. First is the volume up and down rocker switch and power using that now distinctive Xperia button.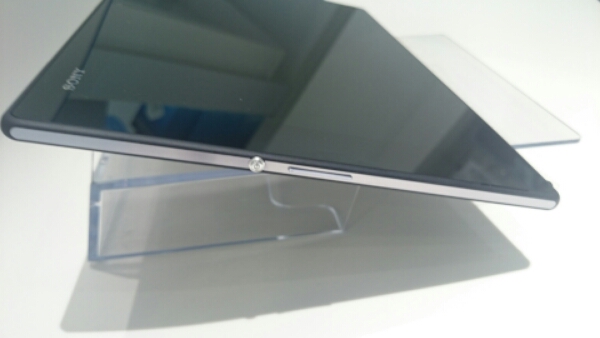 On the top we have a flap covering the micro SD card slot. If this were a 4G variant then this were the micro SIM would go too. Next to this, under another flap, is the micro USB which is for data and charging. This can also support USB on the go if the appropriate cable is used, which is handy. Next up is an IR transmitter for controlling TV's and other AV kit, then finally we have a microphone.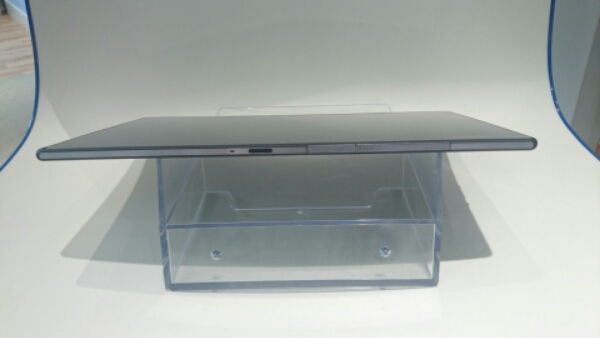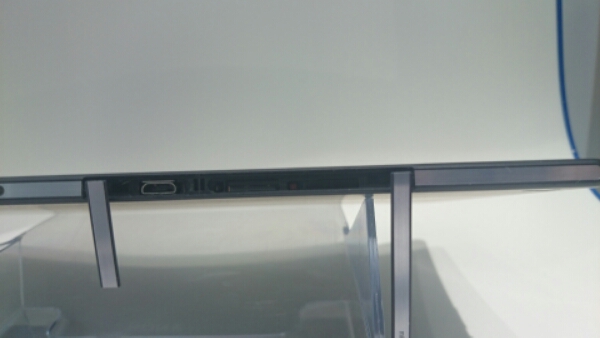 The right hand side is completely bare.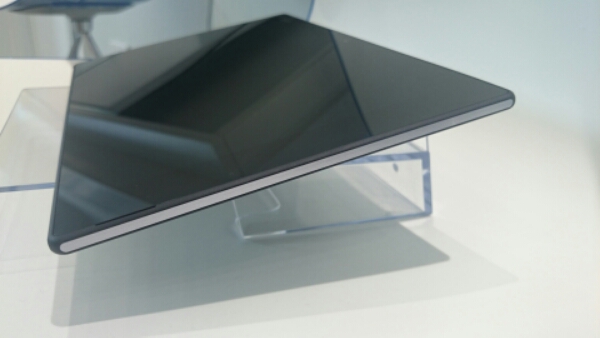 On the base we have a magnetic charging connector which is used with the DK39 dock. There's also some other accessories, but frustratingly no keyboard.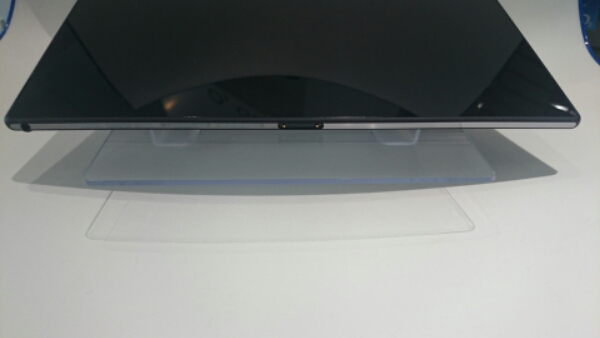 Up front and at the top is a 2.2 megapixel camera for Skype and the like and next for is a light sensor. Way off to the right is a charging light that doubles up as a notification LED as well.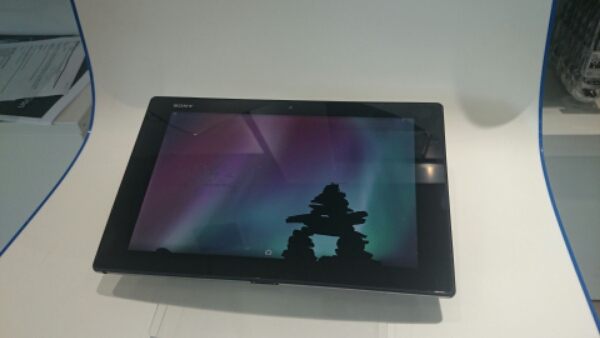 Sony have also now mounted the speakers on the front of the tablet allowing sound to be better directed towards you. The speakers are still fairly weak but, with the right tweaking of settings within the built-in equaliser, you can achieve a comfortable enough sound. Lastly we have a glorious 1920 x 1200 Triluminous Panel which just begs to be used for multimedia. I have been very impressed with the viewing angles thanks to the IPS display.
Sony have thrown in their usual enhancements in the form of X-Reality and you are also able to adjust the white balance on the screen you your optimum settings. I am more than happy with the display and I find it to be a really nice working environment.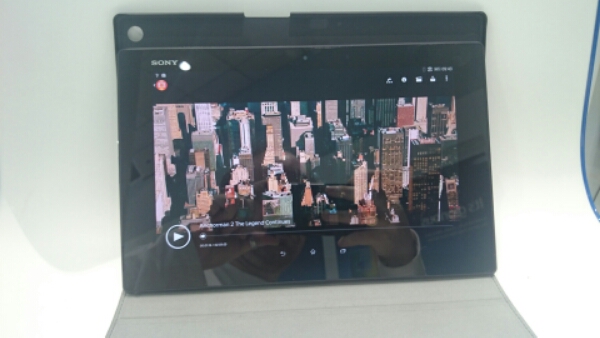 Around back we also have a rear facing camera rated @ 8 megapixels with an Exmor R sensor allowing for fairly good photos. Although the lack of flash hinders it for real world usage.
Finally we have a NFC chip as well to allow Sony's Xperia link app to be utilised easily and quickly.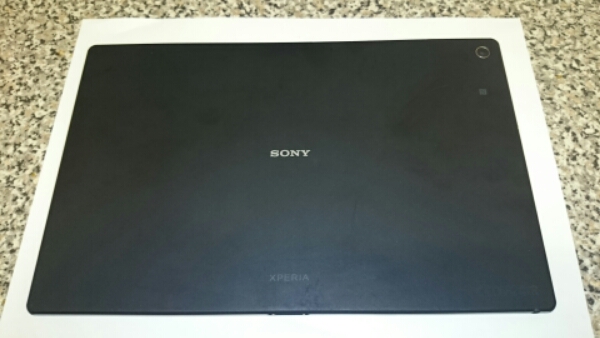 The thing that really blows my mind is what is going on inside the thin 6.5mm chassis. It's a whopping big chunk of processor – a Snapdragon 801 with 4 cores kicking out 2.3 GHz backed up by 3 GB of RAM. Thrown in you'll find some other goodies such as an FM radio, GPS and Glonass support plus WiFi 802.11 a/b/g/n/ac dual band with WiFi direct for good measure.
On paper we are looking at a very powerful piece of kit and I know personally I have not really managed to make it sweat so far. All of this power is driven by a rather weedy sounding 6000mah battery but again this is enough for me. With Sony's very good Stamina mode enabled I get through several days of light use and three of intensive. On a battery rundown test playing a HD video on a loop I was able to get just under 10hrs before it croaked. This is up there with the competition so I am happy.
The microSD supports up to 128GB if needed. I currently have a 32GB card and this is meeting all my media needs for now.
Last, but certainly not least, is that the whole thing is IP58 rated or, as Sony like to call it, life proof. This amazing bit of kit will survive being taken into the bath with you and maybe even a trip to the local pool, although probably not recommended from a child point of view (as any parent of a young child will know all about). Almost nothing will survive a few minutes with a small child!
Software
What to say about software? Well, first up, praise be to Sony. They have shipped the device with the latest version of Android – Kit Kat 4.4.2. Whilst I understand this is not that groundbreaking, it is nice to now that you're fully up to speed with the software.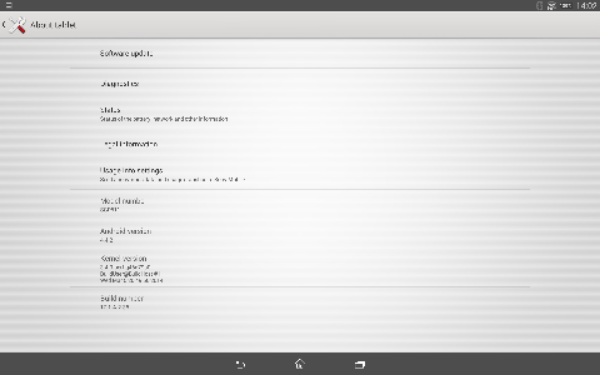 Sony have included all their multimedia apps in the forms of Walkman, Movies and Album…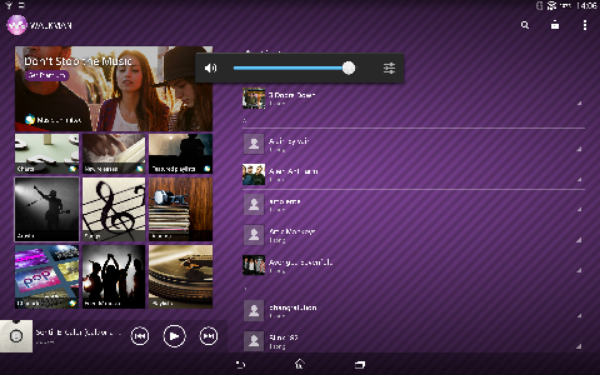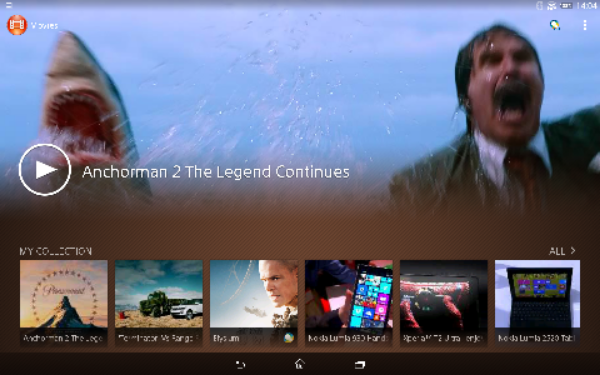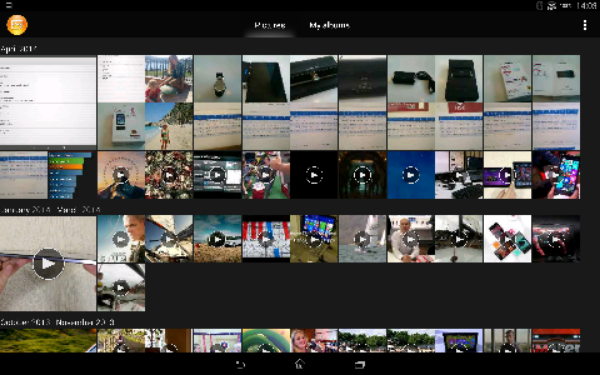 Whilst none of these actually replace the default apps from Google, they do certainly compliment them. I prefer using Walkman for my music playback over the Play Music. I can't really put my finger on it…. I just prefer it really.
The Walkman and Movies app also allow integration with Sony's Unlimited services in the form of Music Unlimited and Video unlimited. At the time of writing the prices on these services were £8.99 for Music unlimited and up to £9.99 for a new release on Videos Unlimited.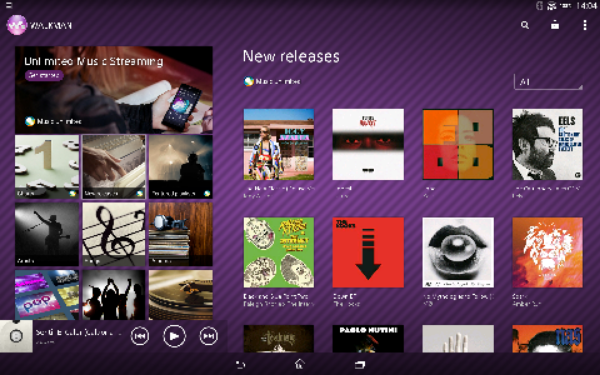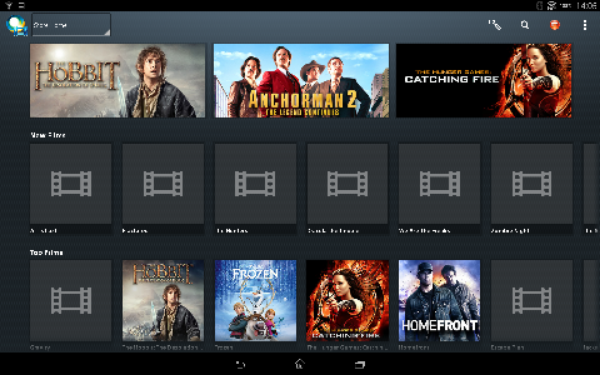 These prices are reasonable and you can bet that if Sony has had a hand in the making of the film then it won't be long until you can get it through Videos Unlimited. The Walkman also has a nice Sense Me feature which will analyse  the BPM of your music and aggregate it into playlists based on moods. This is a nice touch and saves you from having to make your own playlists. Although this can be done easily if you desire to do so.
One little irk that I've discovered after using a Nexus Device is that Kit Kat now dictates what can be saved onto your microSD. This is really annoying if you are intending to use the device to download media as it will download onto the internal first before you can move it to the SD card. Now for me I haven't got a huge issue with this as most of my content is Music/Video and this can be moved as required, but for those heavy gamers it may be worthwhile looking to the 32GB version as the other core Android apps are increasing in size.
I do feel however that this is something that is a backwards step by Google. I hope that the developers are able to tweak their apps so that this can be resolved asap.
Now, onto the way we interact with the tablet. The screen. A lot of people have been saying that the screen does have responsiveness issues, this is something that I am pleased to say I have not encountered. However, something I have come across is the new positioning of the Android software buttons at the base of the screen. I have lost count of how many times I have accidentally pressed the home icon whilst typing this review.
I understand the reasoning of the move but it is just really annoying. I would much prefer them to be on the side like they are on the phone UI. In fact I regularly find myself searching for the buttons there before realising they are at the the bottom. I am aware of the fact that this was a Google decision and Sony have just had to follow suite but is is really annoying.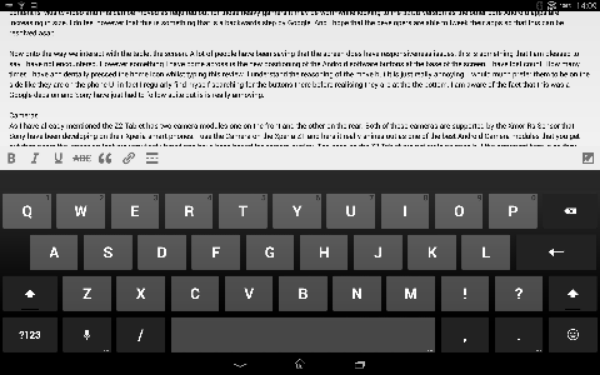 Cameras
As I have already mentioned the Z2 Tablet has two camera modules. One on the front and the other on the rear.
Both of these cameras are supported by the Exmor RS Sensor that Sony have been developing on their Xperia smartphones. I use the camera on the Xperia Z1 and here it really shines as one of the best Android camera modules that you can get. Then again, the lenses on that are very finely tuned and have been honed for camera quality. The ones on the Z2 Tablet are not quite as good, but the argument here is….. do they need to be?
I don't think they do.
Let me explain. Most of us now carry around a phone with an 8 megapixel camera at least. If you are using an Android device from within the last year then chances are that you'll have NFC on board as well. This means that you are going to be able to get better compose photos on you smartphone than anything you could get on a tablet.
Want to view on a bigger screen ? No problem, just beam them over using NFC. Job done.
That being said the camera on the Z2 Tablet is serviceable and is more than good enough for using in a pinch. Something I do use it for is when I am making notes after snapping a picture of my work rota. Here it has not faulted me.
All the features that we are used to are here from the latest Xperia line up. You'll see the Superior Auto, Manual, AR Effect, Creative Effect, Time shift Burst, Info Eye, Social Live and Sweep Panoramab modes.
I have included some samples of the photos for you have a look at. These are taken in the various modes available.
The video will also be recorded in up to 1080p resolution. It has the same interface as the Xperia phones with the exclusion of the flash control as that is not present here.
I have posted a sample of 1080p footage here for you you see what the quality is like…
One thing I would add is that the X-Reality software improvements can sometimes cause the pictures to appear slightly over saturated, but as I mentioned before, this is not my main photography device as that is work is done my by my smartphone.
Performance
Ones word sums this up for me – FAST.
I'll be honest. I am not one for really pushing my tablets to their extremes, but with this one I feel that I could start to do this. One of the most processor intensive things you can do on a tablet is to render videos and this is something that I am definitely going to try out on this powerhouse.
Even though I have not done video editing before, I have been able to test the rendering to an extent by using it to play RealRacing 3, which did not stutter or fault in anyway. It made for a visually enjoyable experience with high framerates and clarity.
The tab feels fluid in all navigation, and switching through apps is easy. When I finally get hold of the keyboard that Sony offer for this device then I honestly feel that it will cover my needs from both an entertainment and a productivity device.
Competition
It is impossible to do a tablet review with out a look at other options so here goes.
The main competitors here in my opinion are the iPad Air @£399 for similar spec or the Samsung Galaxy Tab Pro [email protected]£449 and the Nokia Lumia 2520 @ £299. I have narrowed it down to these choices as these are all premium tablets in their relevant sectors.
IPad vs Z2 Tab
IPad has better Screen res
IPad has better accessories available right now.
IPad is slightly smaller screen better portability
Z2 Tab is lighter better for holding over a long time
Z2 Tab is life proof
Z2 Tab supports up 128 GB Micro SD
Z2 Tab has more RAM
Z2 Tab has better camera both front and rear
Samsung Galaxy Tab Pro 10.1 vs Z2 Tab
SGTP has better screen res
SGTP has better accessories right now
SGTP has got a slightly smaller footprint due to smaller bezels
Z2 Tab is lighter better for holding over a long time
Z2 Tab is life proof
Z2 Tab supports up 128 GB Micro SD
Z2 Tab has more RAM
Z2 Tab has better camera both front and rear
Lumia 2520 vs Z2 Tab
Lumia has same res screen
Lumia comes with 4g&WiFi only
Z2 Tab is lighter better for holding over a long time
Z2 Tab is life proof
Z2 Tab supports up 128 GB Micro SD
Z2 Tab has more RAM
Z2 Tab has better camera both front and rear
Z2 Tab has better Store for content
Z2 Tab has a more evolved and better supported OS
As you can see there are some strong points for all the above competitors but I honestly thin that Z2 Tablet can stand up and be counted in this group as the best. If not the best then at least second only to the iPad Air.
From a technical standpoint it is one of the best tablets on the market, but it faces an uphill struggle in gaining market share against the beamoths of Samsung and Apple. This really is a true David and Goliath story.
Against Nokia is perhaps a more interesting comparison as the Nokia hardware is equally drool-worthy, but it is crippled by Windows RT 8.1. However, this may change when WP8.1 is released opening up the door for devs to be making apps for both OS's. This is one area I am going to be watching closely.
So should you buy a Z2 Tablet. Yes or no?
The answer to this question really depends on your needs how Android is butchered implemented. If you are after a Nexus-like device with some added enhancements, then go for it. If you want some glamour and street-cred then vgo for an iPad Air or Samsung Galaxy Tab Pro 10.1.
I for one am very happy with the Z2 Tablet and it was well worth the wait.
Xperia Z2 Tablet review
Hardware/Design - 98%
Software - 85%
Camera - 81%
Performance - 98%
Great tablet bringing the fight to Apple with some real big guns.