If I was in Los Angeles, and not in the middle of Walsall, I'd have seen a rather cool innovation from JLR (Jaguar Land Rover). It's called justDrive and it's not just built into their cars – this is an app that is available for Android and iPhone.
Once you have the app on your smartphone, just plug into the USB port in the car – but it's not just receiving a charge – this is talking to the vehicle over both Bluetooth and that USB port. Before you head out you can get the weather, news and traffic information, then you can touch the screen or talk to the system to communicate with the system.
Now, what all that means (as you'll see in the video below) is that you can say things like "Text my wife my location" and she'll get your position. You can also say things like "Text my wife" and then perhaps say "How about we go out for dinner?" Text replies will then be read out to you through the car speakers, then you can perhaps ask the system to put some music on so you have something to listen to.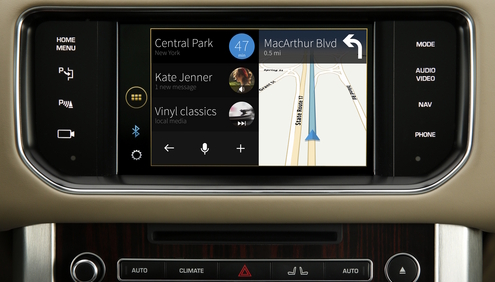 It's basically making the car clever, and using your phone to communicate with the outside world.
Using the underlying JLR InControl software, this will be available on all 2015 models from their range and those apps will be available shortly. Popular apps and services like Twitter and Spotify are also integrated.
Now, what I'll do at this point is ask Jaguar for a drive in one of their newly-equipped cars to test it out. If they don't laugh me out of the office, I'll let you know how it performs 😉