Well this guy just takes the biscuit. There was me, pedalling on a mountain bike from London to Paris a few months ago for charity. I was pretty impressed with myself, but no – this guy has done a loop-the-loop on his bike. Pah… not fair.
Microsoft, as you can see, have linked this with their Cortana voice assistant with the "#makeithappen" brand. Danny MacAskill, took a spin around the 5-metre loop, which was set on water in London.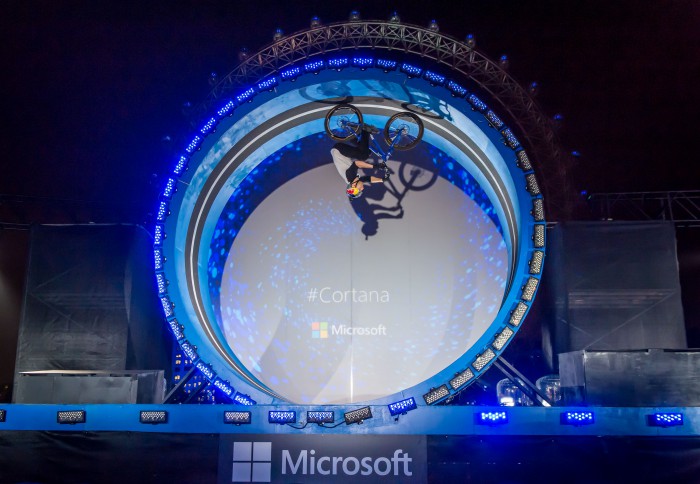 Danny used Cortana as part of his training, saying..
A career as a professional athlete can be quite hectic and as I prefer to spend as much time on my bike as possible – any help in organising meetings, travel plans and projects is great. This is one of the biggest set-ups I have ever ridden and the location is amazing. To have a five-metre loop floating on a barge is something surreal. I always look for new challenges and the chance to ride this massive loop with the help of Cortana is another achievement I can be proud of.
https://www.youtube.com/watch?v=WC1KwpRPm7s
Cortana helped by arranging meetings, setting reminders and playing music. I wonder if he had it in his Lumia in his pocket when he did the stunt?