GoPro cameras are, as you'll have probably seen here on Coolsmartphone, a cool way to record your sporting activity.
However, when I asked GoPro to load one of their cameras to review, they said… basically, no. The people at Garmin however, did loan me a device, and it was this, the Garmin VIRB Elite. You may remember my early look at the VIRB (sorry, they tell me it has to be in block capitals) while I was in training for my 270+ mile bike ride to Paris on my mountain bike. Now, I didn't tell the people at Garmin but I actually took the thing with with me on the journey to give it a proper "review".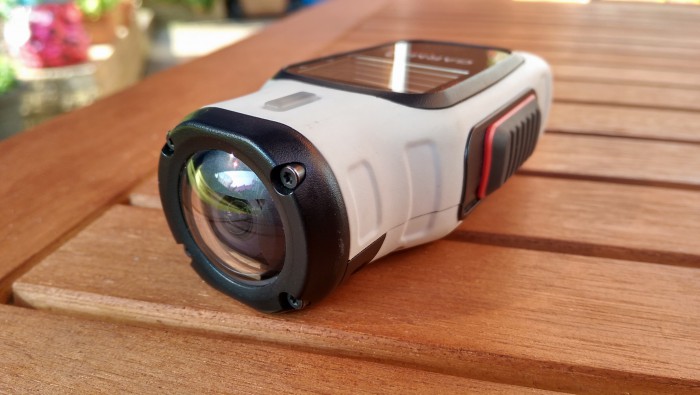 First up, I should congratulate the device for making the trip and getting back in one piece. There was a lot of drinking, a few tumbles and not very much sleep. I also forgot to charge it, but after 4 days it still had enough to document our journey.
Wait though, I'm getting ahead of myself. At £349.99 this thing isn't cheap, but if you have a quick Google around, believe me, you'll get it cheaper.
Fitted with a high-quality (and robust, I can tell you that) 16 megapixel camera, it'll do 1080p HD video recording and, shaped like this, it's aerodynamic.
If you're Googling around for this you may have found another "VIRB" camera. There's actually a couple – this is the "higher end" one which is fitted with both WiFi and GPS. I could go into a huge amount of detail here about how this gives you lots of additional data etc, but it's best seen on this demo video. The lower right of the screen shows the additional information which is provided through the Elite model..
On top there's a 1.4″ colour screen which is high-resolution and makes setup and control easy. Inside, the rechargeable (via a miniUSB port) lithium-ion battery will give you 3 hours recording at 1080p. I found that filming short bursts was the best way to do things.

You also, via a smartphone app, can connect to the camera and actually see what the camera is seeing. This is great if you have the camera on your bike helmet (for example) and want to check that you have it positioned right, or you have it mounted somewhere else and you just want to check that it's pointing at the spot you think it is.
Here's me giving that a spin. It'll also give you access into all the settings, just in case the on-screen menu system isn't to your liking..
In effect, after you've turned on the on- board WiFi hotspot on the VIRB, you get yourself a wireless webcam..
As you'll see in my initial test video, I can vouch for the durability and waterproof feature. This is IPX7 and the ruggedness of the camera is very reassuring. The video below was recorded in terrible weather conditions and you can see the rain on the lens. The Garmin VIRB didn't flinch..
Up top, that "chroma" display stays on when you're using the camera, but it hardly uses any power at all. Best of all, when you're busy riding, running, skiing, driving or whatever; you're not going to want to worry about how to start recording. Luckily there's a chunky and oversized slider switch on the side which is easy to locate. Push it forward and you'll hear a series of beeps (which you'll learn quickly) to tell you that the recording has started.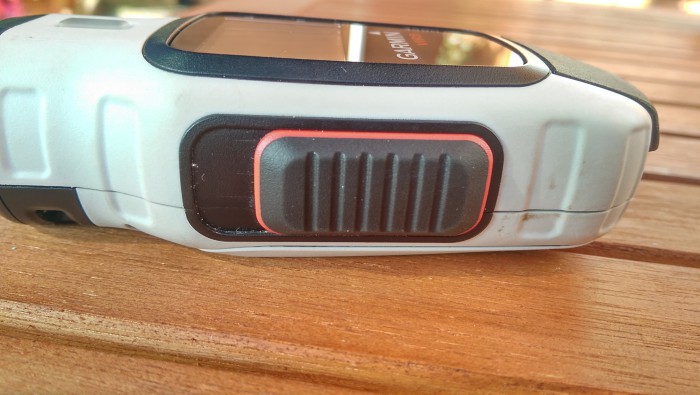 Digital Image Stabilization and something called "Lens Distortion Correction" makes sure that the recording looks good too, so you really don't have to worry much about setting up a shot all that much. Push that slider back and you'll hear another series of beeps (with a different tone) to let you know that the recording has complete. There's other beeps to let you know when you're running low on battery power or running out of storage space on whatever card you've inserted.
The device takes a microSD card and, when you plug it into your laptop, there's a very easy "mass storage" option which lets you drag footage off without fuss. You can, of course, remove the microSD card and stick into your laptop via a card reader if you wish. Either way, it's simple enough to do.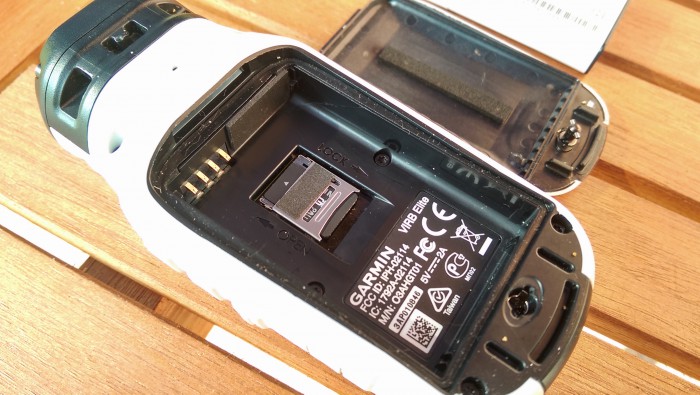 You don't, however, have to necessarily record in full 1080p @ 30 frames per second. Sure, if you've got a 64GB microSD card (like the one I used) and you're going on a fairly short-ish ride and don't want to chop up your footage (maybe you're using this to record those naughty car drivers on your journey to work) then you'll be fine. If you want to cram more in through, you can switch to [email protected], [email protected]/60fps or 848×[email protected] Oh yes, don't forget that you can also record in dramatic slow motion up to 120fps.
OK, let's talk about it now shall we?
Editing.
Bloody nightmare.
Imagine, if you will, my face when I came back from France. I looked at the footage and noticed that I had hours of video, and chopping all that up was going to annoy the flip out of me. Getting a video editing package, faffing about finding one that'll actually work … gahh.. I wasn't looking forward to it.
Luckily there's a completely free editing package from Garmin called, appropriately, VIRB Edit. It's free, which is always a good thing, and because it's made by Garmin you know it's going to work perfectly with your Garmin camera and footage. Not only that, but check out this tasty bit of information…
VIRB Edit can automatically match video and your Edge bicycle computer data to add speed and cadence to your cycling video or add heart rate to your sky dive. Once you have the video you want to share, upload it to your favorite share sites for all your friends to see.
Even if you don't have the additional kit required for that or don't need to edit your footage, you can still use the Garmin VIRB to take 16 megapixel still photos at the same time you are recording video. Just touch the button on the camera. You can also, if you wish, take a screenshot from the footage after too.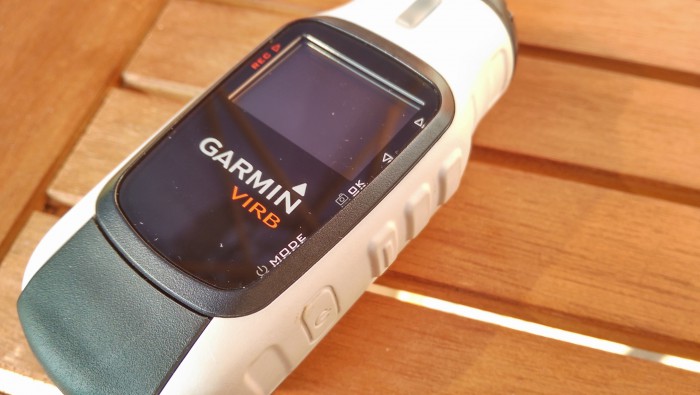 As you might see in some of these shots, I had some cable tie holding the camera mount. Don't be scared by this – I only used this purely because the PR people didn't send me the required "bit". It wasn't their fault – a previous reviewer had obviously forgotten to put it back in the box so I … improvised.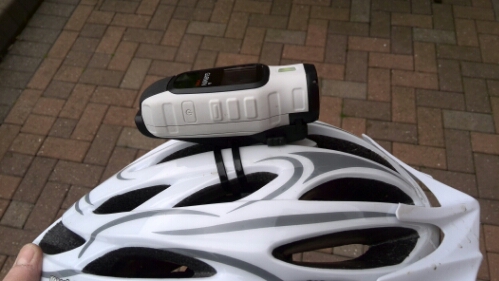 There's a selection of mounts which let you mount this camera to a dashboard, handlebar, helmet, shoulder or a multi-use strap. You can even go diving with this (as it's waterproof) but, if you plan on going more than 50 metres down, there's a case for going deeper.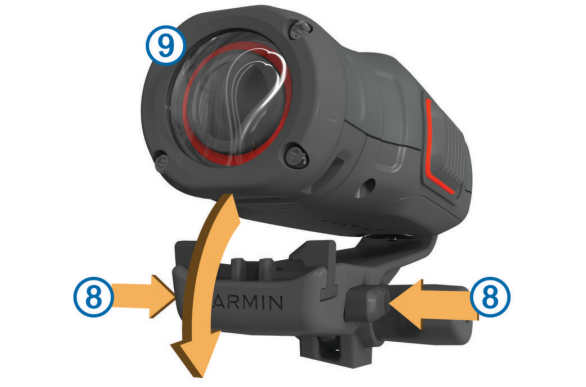 The camera clicks easily onto the main mount in a "tilt and click" style, and it's easily (but not too easily) removable when you want to unmount it again – just press two release catches at the same time and it'll lift off.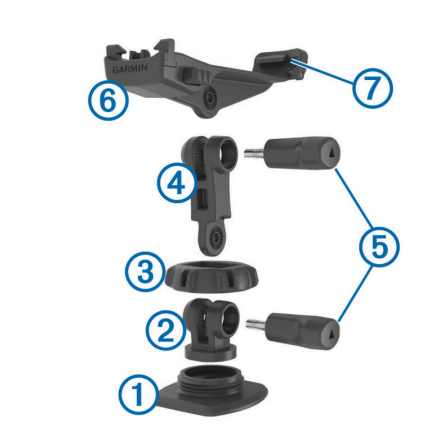 As mentioned before, the HD camera is a 16 megapixel 1/2.3″ CMOS unit and it records in MP4. It has an in-built microphone but, should you want to, there's the option of a USB to 3.5 mm stereo mic adapter.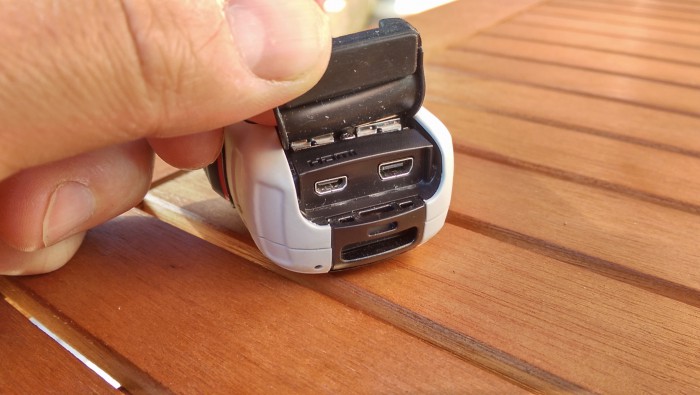 Two ports are hidden under a waterproof flap – one is the mini USB port and the other is the micro HDMI, so you can push your footage out onto a TV or DVD recorder and edit / create your movie that way.
Before you set off, there's also a setting to check that you have the camera level. Head into the settings through the easy-to-navigate the menu system and you'll find an aircraft-like screen to help you ensure that your mount is correct and the camera is level..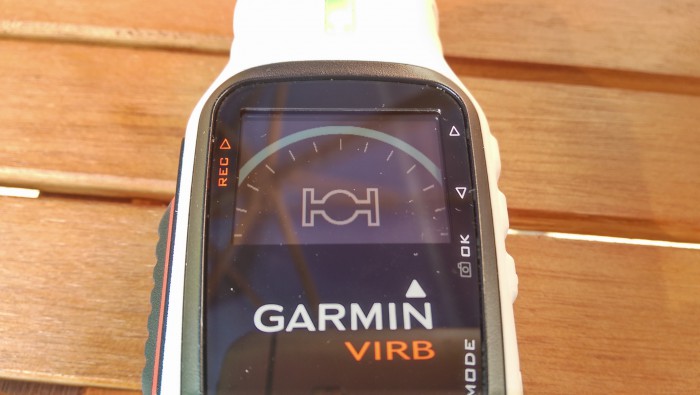 The settings screens come with a whole host of options, including the video mode and whether you'd like "auto-record". This removes the need to use the chunky switch on the side, and you can instead have it auto-start when you're moving. The on-board GPS will detects that for you.
The VIRB Elite also has a stack of dashboards which show you information about the distance, speed, elevation, G-force and, if you have the necessary kit attached, heart rate etc. I've pinched some shots from the manual here as it was tricky to get a shot of the screen..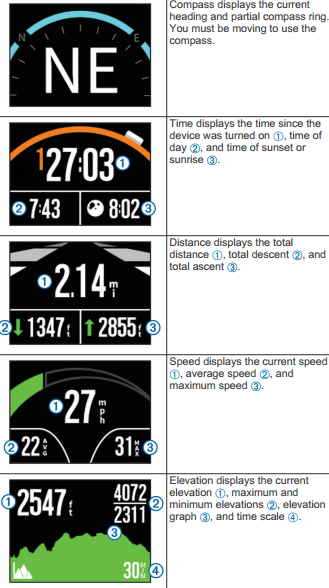 Example video
During my charity bike ride from London to Paris on the Avenue Verte I used the Garmin VIRB Elite to document our adventures. Here, then, is the result. A little bit of editing, some free music from YouTube and boom….
Gallery
Conclusion
Overall, a very lightweight, strong and durable camera which has gone through storms and to Paris and back. I can definitely vouch for the reliability and strength of this thing and, because it's the "Elite" model, I was able to use the smartphone application to quickly check that the camera was pointing in the right direction and tweak the settings.
The video out of this thing was clear, stable and moving it to my laptop was easy. The added benefits of GPS and WiFi weren't perhaps fully utilised by myself, so if you're just looking for a rugged and powerful sports camera (and don't mind the lack of GPS and WiFi), the regular Garmin VIRB is a touch cheaper.
Get the Garmin VIRB Elite or the Garmin VIRB on the Garmin website or check your local friendly stockist.