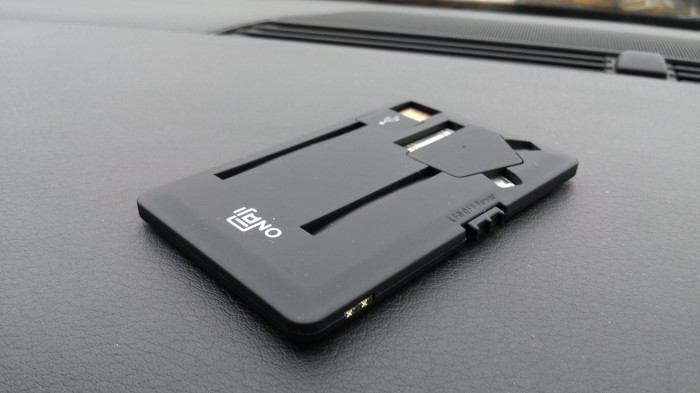 Remember me mentioning the Onaji Pawa recently? It's a slender battery, complete with USB cable (for charging the in-built battery) and an interesting three-port connector for plugging your iPad, iPhone or other smartphone into.
Straight out of the gate, I have to tell you that this isn't going to put up much of a fight against your standard wall charger. As an example, my LG G3 has a battery inside of it that's 3000mAh. Whether you understand mAh or not, it matters not, because the Onaji Pawa card is basically a 500mAH. Do some maths and you'll soon find out that even if you let the Onaji fully unload into your LG, you're only going to get a battery (assuming it's completely flat) than you'll only get it 1/6th charged. In other words, my LG G3 will charge 16.67%.
That's not a great deal, but the guys who make the Onaji Pawa card do readily admit that it's not going to fully charge your phone. For some handsets with a smaller on-board battery, you can get as high as 30%.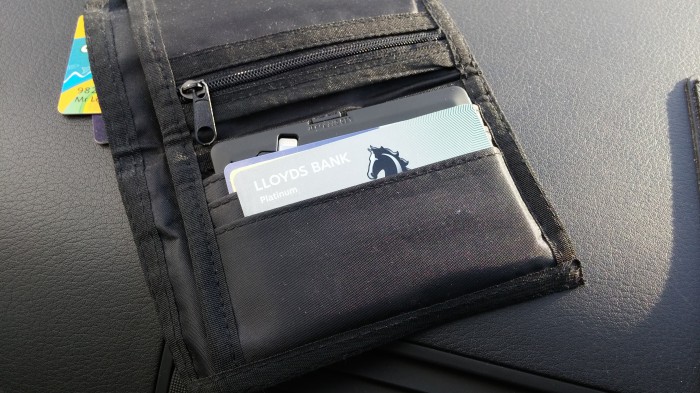 No, it's not going to perform miracles but it will help you out of that "oh crap, I've only got 5% battery and I need to call a taxi" situation. Slip it into your wallet and purse (in which it fits quite easily, I must say) and you can almost forget it's there really. In fact, just to prove the point, I thought I'd lost the thing and was hunting around for it to do this review. Guess where it was?
Yeah, you know.
So, to get charging you'll need to pop out the USB cable. Slip this into your laptop, TV, car charger or wall charger and it'll charge up. There's a switch on the side which you'll need to have set to "off" to charge the thing. There's the switch to the right on the below shot..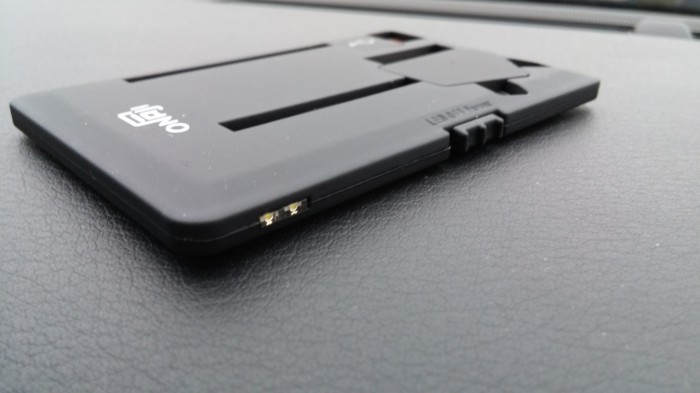 What does that switch do? Well, I'll tell you. That's the whole purpose of this review my friend. I'm not just here to witter on and pad the article out because THAT would just be wasting your time and mine. No sir-ee. See, that switch tells the Onaji Pawa (see how that's pronounced "Power"? Clever huh?) to start spitting it's juice out. Once it's charged you simply plug your phone into the appropriate plug and flick the switch to "charge". Boom, your phone is now charging up (albeit slowly, I did get a warning on my phone about the fact that it was a trickle charge, but if I'm honest I didn't really mind as long as it actually was charging).
However, flick that switch the other way and, my child, let there be light…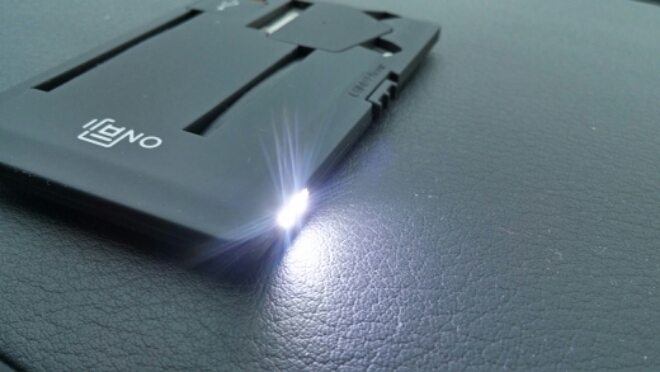 A pretty bloomin' bright LED light comes on and this, should you have a flat phone and just need a torch quickly, will illuminate that keyhole or show you the way home. Pretty nifty idea that.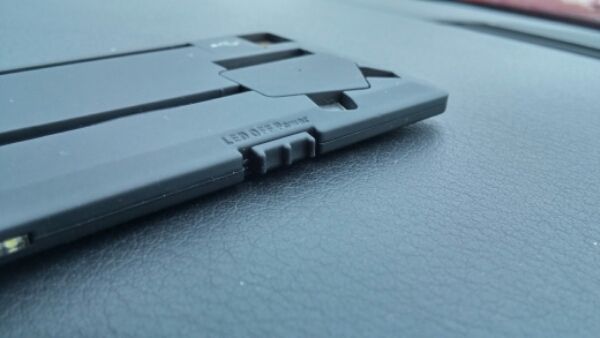 Getting charge into the Onaji Pawa, as I mentioned, involves you switching the thing to "off". However, when I started charging my card the LED lights and the small green LED on the output cables came on. I thought it was faulty at first, but after charging for a short while the LED light went off, so I'm guessing it's some sort of indicator to let you know when the card is fully loaded up.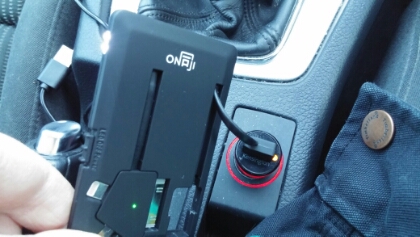 I couldn't find much in the instructions (which were brief) but either way, after a while the LED light went off and it seemed to have enough juice to charge my phone up quite a bit.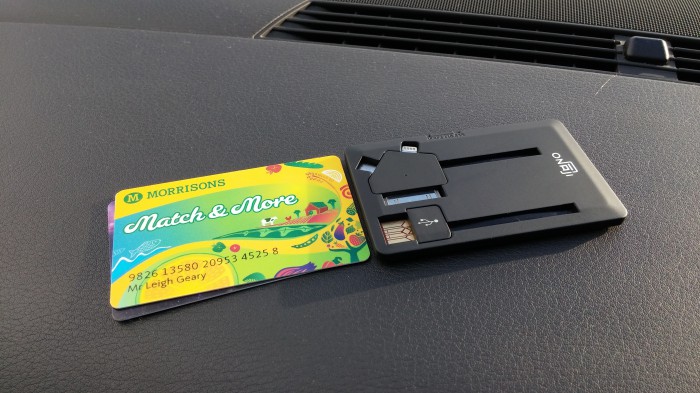 The Pawa card is about 4-6 times thicker than a credit card but about the same in other dimensions. Oh yeah, that's my Morrisons card right there. Check me out. I'm livin' the dream baby.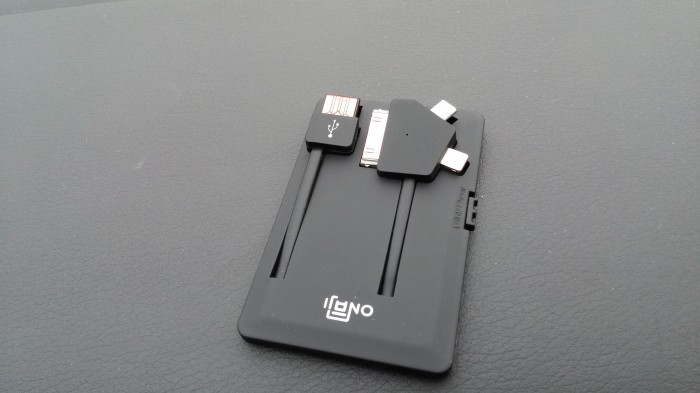 The cables are pushed out and pop back in easily without falling or flopping out of the main unit. Due to the way they're inserted I could charge my phone and have the Onaji Pawa card at the back of my phone out of site.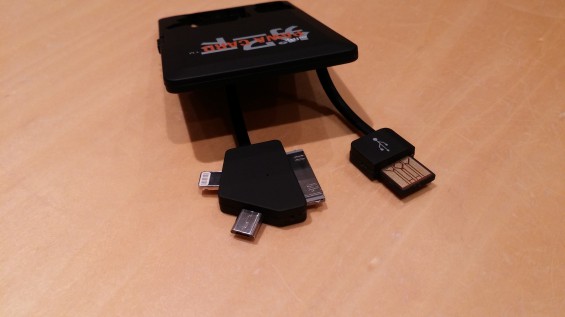 Overall
I liked the fuss-free three-in-one cable and the ruggedness of this little puppy. Whilst it won't fully recharge your phone, it'll get you out of a fix and you don't really need to think about where it is, because it's handily and readily available without being too annoying or thick.
At £19.99 it's not too badly price (although I'd like to see it a tad cheaper) and it's not something you need to remember before you leave the house. It's a natty solution to those moments when you're out the house a little longer than you planned and you need a little helping hand battery-wise.
Head to MyOnaji.com for more details or to buy one.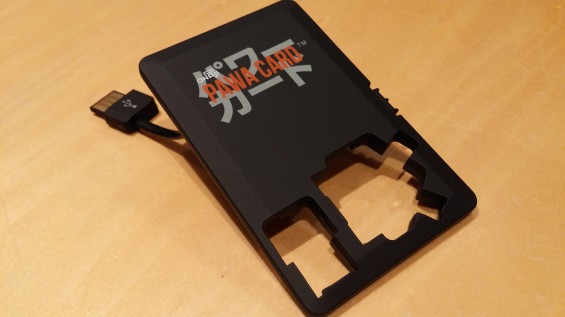 Onaji Pawa charger review
Build - 9.2
Price - 8.4
8.8
A simple, easy to use and handy battery charger that you can carry easily. Don't expect a huge charge though.