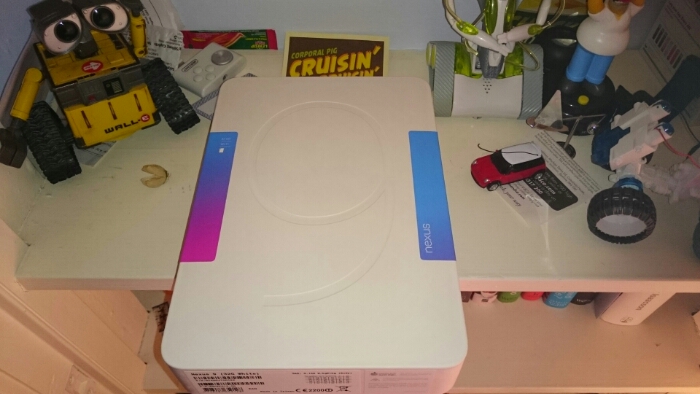 Every once in a while a tablet comes along that you think is going to really up the ante and raise the bar. This is what I was hoping the Nexus 9 was going to be. Now is the time where we start to find out.
Those of you who have seen my unboxing video will now doubt be aware of how my initial feelings on the device were. After doing that video I have had some time to spend with the device and unfortunately I have and some issue with regard to the build quality and also some software. Whilst software is almost excusable, as these are things that can be tweaked and improved by updates, however the build quality issues can not be fixed that easily.
Hardware
Here is a recap of the specifications for anyone who missed them first time around.
Display: 8.9 inch.IPS LCD,1536 x 2048 pixels, 281 ppi, Gorilla Glass 3.
Processor: Nvidia Tegra K1 CPU Dual-core 2.3 GHz 64bit.
Internal Memory: 16/32 GB (I bought the 32gb).
RAM: 2 GB.
Stereo speakers with Equalisers.
Bluetooth v4.01.
Battery: Non-removable Li-Ion 6700 mAh.
GPS with A-GPS.
Rear Camera: 8 MP, 3264 x 2448 pixels, autofocus LED flash.
Front Camera: 1.6 MP, 720p.
Android 5.0.
WLAN: Wi-Fi 802.11 a/b/g/n/ac.
Dimensions: 228.2 x 153.7 x 7.9 mm.
Weight: 425g.
So what is actually going on here well the first thing I noticed after doing the unboxing was that I have been lucky enough to get a machine with a dead pixel right bang in the centre of my screen. Now that I have seen it I cannot unsee the damn thing. This was joined by backlight bleed around the edges and also a looseness of the back panel next to the Camera module. These issues aside the device is pretty good, however I personally don't feel that it is worth the £400 that I paid for it. That aside though the device has a really nice screen which is very bright and vibrant. The front facing speakers do make a big difference when it comes to listening to music or watching videos. It is a much better audio experience that I had on my old iPads. You can really feel the power of the Tegra K1 Chip working here and the benchmarks on the whole reflect this. Quadrant did have issues but this will just be optimization issues with the app not the hardware.
Here are some benchmarks comparing it too the Xperia Z3 Tablet compact
Nexus 9
Quadrant 11943
Antutu 52481
Sunspider 995.1 ms
Xperia Z3 Tablet Compact
Quadrant 20803
Antutu 42117
Sunspider 1020.0 ms
When moving around the UI the transitions all feel fluid and it is nice place to be and to work. The DPI of the display is pretty high but this is clearly just the new setting brought in by the Material Design UI. It is a shame that there were the problems with the hardware that I have had as it is a really nice bit of kit and I did really want to like it.
Software
The software on the device is really a great step for Android as it makes the whole UI more usable and it actually gets rid of some of the clutter that we have previously experienced on the old version KitKat. The biggest problem here is the one faced by all early adopters, in that third party apps have not been optimized for the new OS. Whilst some of the more active developers will get their apps updated soon there will be a time period where some apps will not be working to their best. I also think that there is more work to be done on making the OS get the best out of the Tegra chipset as it does seem to bog down at time which was concerning especially as the device did get quite warm whilst this was happening. I think we will see some great things from Lollipop once the initial kinks have been ironed out, add to that the fact that the Nexus 6 will be arriving on the scene soon and then the Developers will be all over the apps issues.
Here are some screen shots an showing Lollipop in all its glory.
Camera
The camera UI has had a much needed update. Gone is the viewfinder based setting control as these are now accessed via swiping in from the left side of the screen to give you the main modes options well as there being some other deeper buried settings under the settings key. The Flash on  the back also actually has an effect on the picture which is a nice touch and is appreciated. The front camera is a basic unit and will be good for Skype and Hangouts but will not really selfie friendly. As I have mentioned a few times, tablets really are not the best thing for photos so I will leave it there for now.
Here a few shots of the UI and some camera samples
Initial verdict
Well as much as I would love to say stop reading this and go out and buy one of these devices right now, I cannot in its current state. If however you are able to wait for a few weeks maybe a month then by then most of the software issues will have been fixed and the build quality will hopefully have been improved. So by the time for Christmas shopping starts then this may very well be an item to add to the Christmas list.
We will be doing a review of this in full in the near future but for me the journey is done with the Nexus 9 as it is going to be winging its way back to Google very soon. This quite a sad decision but I feel that for me right now it is the correct one.