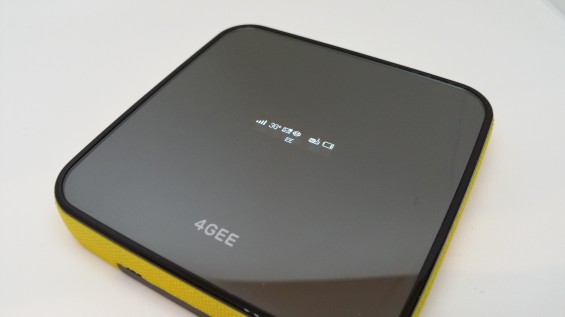 EE recently announced a range of new mobile connected devices including a new tablet called Eagle, an in-car WiFi option called Buzzard and this new MiFi – the Osprey.
Whilst in London for a few days I was given the opportunity to try out one of these and see just how good 4G on EE really is. We're now two years after the network launched 4G in the capital.
Not only was I able to try it out in London, but also back home in Torquay where some areas also have 4G switched on.
Here is the full review…
Ignoring the strange name, the Osprey is an Alcatel OneTouch device but branded under the EE name. This is just like we saw with the EE Kestrel device which was actually Huawei hardware with network branding.
It allows up to 10 connections at the same time if you should need that. The most I used in testing was two – an iPhone 6 and my Apple MacBook Air.
Being WiFi you can use any compatible device such as games consoles, tablets, phones, computers and more.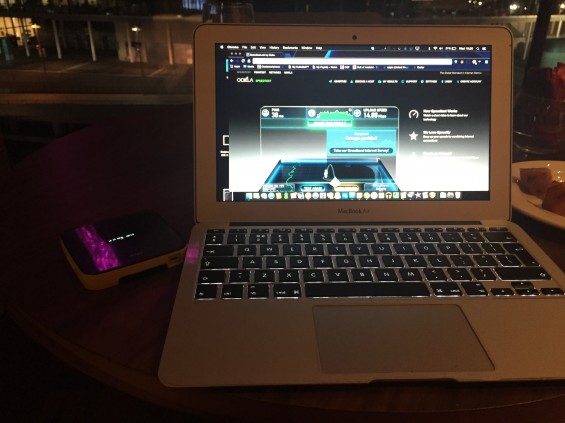 Staying in a hotel at Wembley this was the perfect location to try 4G on EE out fully (especially considering the deal arranged recently where EE will soon have a 300Mbps network live in Wembley).
Whilst the Osprey is not one of the devices able to reach those 300Mbps speeds (this technology is called CAT6 LTE. CAT4 is what EE call 'double speed' and is up to 150Mbps. The Osprey does support this). It was more than fast enough for most things. I was quite happy downloading app updates on iTunes, streaming Netflix and keeping in touch with friends and family using social media sites.
Also remember if you drop off the 4G network you still have the impressive 42Mbps DC-HSPA backup. Speeds are usually around the 20Mbps mark if not overused.
You might think this is strange getting higher results on 3G than 4G, but if the Osprey were on 3G in Wembley I would have expected speeds around 5-6Mbps due to the amount of traffic.
There is not much to see on a device such as this, on the front there is a screen which is hidden when in standby. This is like most of the top-of-the-line MiFi devices. On the back is an EE logo and the slide cover which is where you put in the SIM card. You can also insert a microSD card for mobile storage on the go.
Looking around the frame there is a lanyard loop as well as the power off/on button and a WPS button for quick pairing if you prefer to use this method.
Apart from that there is a single micro USB port for charging the  internal battery. I've not been able to find the actual capacity of this, but press information expects 6 hours of continuous use, and in real world testing will get you through a large part of the day as long as you have a strong signal. A weaker signal and constant searching will drain the battery quicker.
Most of you will want to check this review to see the speeds I was getting on this new device, and anyone who knows me well or follows me on Twitter will know I am a sucker for using Ookla's SpeedTest.net app for comparing speeds anywhere I go.
Here are some of the results I had whilst in Wembley.
Whilst speeds were nowhere near the maximum 150Mbps I did see some peak speeds of 30Mbps, which for most things is more than enough and it is the ping (less latency) that makes the pages load faster.
Plus also remember that upload speeds on 4G +is around 15Mbps. This is important for uploading video clips to YouTube (such as the unboxing I did) as well as photos to Facebook etc…
As you can see in the photos, I have the black and yellow version of the device. However, there is also a blue and white one available if you like a lighter colour, and both are available on both Pay as you Go and Contract options depending how much data you really need.
1GB on contract will cost you just £10 a month but there are other plans offering up to a maximum of 50GB a month for a rather costly £50 a month over a 2 year deal.
Although there are also 30 day contracts available, should you prefer to stick the PAYG route with no credit check needed then you have two options available.
2GB will last you a maximum of 30 days and the device will cost you £59.99, where as the 6GB option for up to 90 days will set you back a little more at £74.99.
Final thoughts
Overall the Osprey is an impressive device for mobile connectivity, it looks a little different from standard MiFi device designs like the EE Kite for example, but what you get is a great, sturdy, well thought out product that will not break the bank if you want one.
This will be perfect for a family to have in the car for those long trips, or for anyone at university or college instead of a dedicated internet line with the fast 4G speeds and the affordable price the EE Osprey is a winner for most people.
A big thank you to EE for allowing us to loan this device for review.