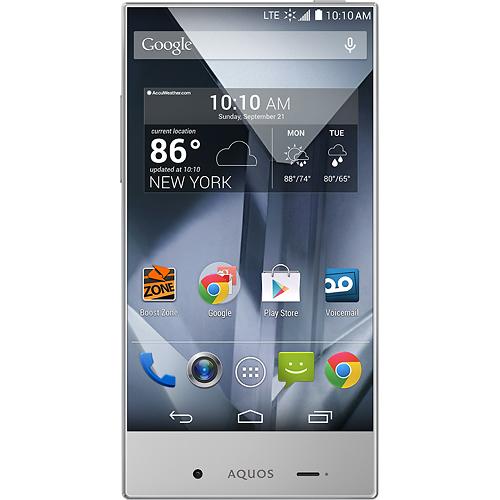 There are some phones that just leave a dry taste in the mouth and a yearning for more.  While some manufactures like to stick to a winning handset formula, others are quick to innovate.  One example of the latter is the Sharp Aquos Crystal phone. It might be a pain to pronounce, but it's a beauty to behold. Ian certainly thought so when he mentioned its announcement back in August!
Sharp handsets usually are restricted to the Asian market. Not so the Aquos – it has now been released in the US and at a bargain basement sim free price of $149.99 (about £100 to you and me). That's the good news. The bad news is that it doesn't look as if it'll be made available in good 'ole Blighty. The good news is that it will work on UK networks and there are a number available to import on Ebay, albeit more expensively priced.
The specs are mid-range but then the pricing is great, though it's the phone's appearance that makes this an attractive proposition:
Quad-core processor
With 1.2GHz processor speed ensures efficient operation.
Android 4.4.2 KitKat operating system
Allows you to stay connected and productive on the go.
4G LTE speed
Provides fast Web connection for downloading apps, streaming content and staying connected with social media (available in select markets).
Bluetooth 4.0
Enables simple wireless pairing with compatible devices.
5″ high-definition edgeless touch screen
With 1280 x 720 pixels resolution simplifies navigation of features and content and showcases media in striking clarity.
Memory card slot
Allows you to expand storage up to 128GB with a compatible card (not included).
8.0MP rear-facing camera
Lets you preserve special moments in crisp detail. The front-facing camera makes it easy to shoot self-portraits.
Harman/Kardon Clari-Fi and Live Stage technologies
Produce rich, clear sound.
Music player
Enables you to enjoy your favorite tracks on the go.
Up to 13 hours of usage time*
With the included lithium-ion battery.
Source: BestBuy