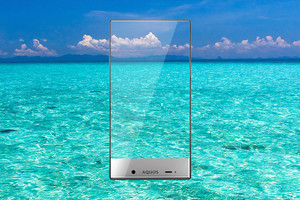 Now I've got to admit it had been some time since I've laid eyes on a phone made by Sharp, and that was a feature phone nothing in the current crop of smartphones. Now Sharp has unveiled a new smartphone, with a truly bezel-free design.
The Sharp Aquos Crystal manages to cram a 5-inch screen into a body that stops right at the edge of that display.
If the leaked image above is to be believed not only great looking device the Aquos has some decent specs too. Not today's flagship level but respectable none the less.
The 5-inch screen runs at 720p resolution, it has a Snapdragon 400 quad-core processor, 1.5GB of RAM,
On-board storage is at 8GB (with no mention of microSD.) and it'll be running Android 4.4.2 KitKat. Last it'll have a 2,040mAh battery. Which all racks up to be a mid range device.
The phone comes with a Harmon Kardon sound effects engine that delivers "Clari-Fi" to restore quality lost in music compression. There's also "LiveStage" streaming and native compatibility with the Harman Kardon Onyx Studio Bluetooth speaker.
No news yet on pricing or if it's going to be available in Europe as yet, but as soon as we hear, more we'll let you know.
Source Pocket-lint