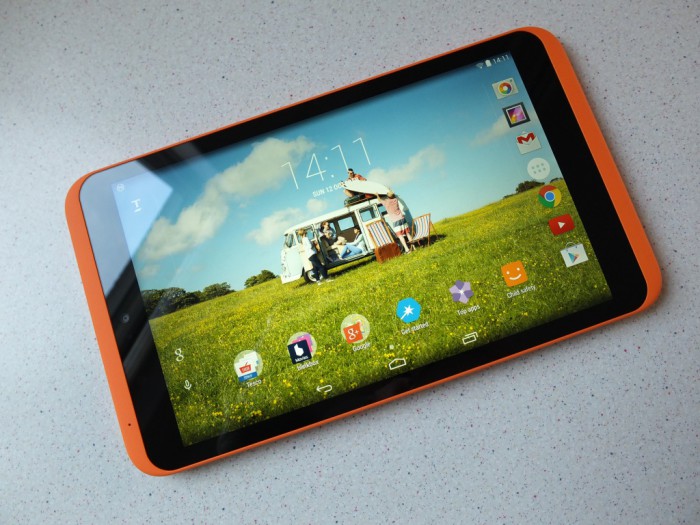 The tablet market is as competitive as the phone market, with many manufacturers releasing devices in all different shapes, sizes and colours. Tesco are on their second device now, the original Hudl was a small seven inch tablet that seemed to be designed for kids or people who were deeply invested the Tesco BlinkBox media system. I didn't really pay much attention to last years model as I'm a great fan of 8″ tablets, they offer the best of both world, they can just about cope with phone apps in portrait and can handle those few landscapes optimised apps that sometimes surprise you. I picked up a Hudl 2 from Tesco during the weekend, mainly to see if it could replace my aging LG G Pad 8.3. So lets crack on with my initial impressions, starting of course with my good and bad points.
Good Points
Great feel in the hands.
Nicely placed speakers.
Great design and accessories.
Intel chip really feels quick.
Screen is spot on.
Software is all a bit Nexus like.
Bad Points
The Tesco apps/bloat is quite annoying.
Only about 8.4 GB space left out of the box.
Micro SD slot feels odd without a cover.
Power button below volume button is annoying.
No smart stay functionality for the flip case.
Design
Tesco have made a bold move this year, they've made the tablet bigger, better looking and a whole lot brighter. The Hudl 2 is a great looking tablet, upon opening the box I was actually taken aback by it, yes I'd ordered the bright orange one, turning it round in my hands I was really impressed.
The front of the Hudl 2 has a splash of colour at the edges and the screen has extra bezel at the edge too, this makes it nice and easy to hold in landscape, your fingers won't catch the display. The front also houses a microphone and the front facing camera.
Holding it in landscape you've got port and buttons all over the place, starting at the bottom edge you've got the Micro SD slot, the Micro HDMI port, then on the right the Micro USB port, on the top edge are the power and volume rocker and one the top the headphone socket. I should point out that the power button size and placement bugs me, it's a little small and it's below the volume, so I find myself going for the volume instead of the power. It's only because most of my other device have power above the volume, I'm sure I'll get used to it.
Take a look at the gallery and hands on video below.
Tesco Hudl 2 – Hands On:
http://youtu.be/hiJ13nRBnPo
Hardware
Spec wise the Hudl 2 is pretty good, it ticks all of the boxes for what you'd require in a modern day tablet.
Display: 8.3″ IPS LCD, 1920 x 1200 pixels, 273 ppi.
Processor: Intel® Atom Quad-Core Z3735D at 1.83 GHz.
GPU: Intel HD Graphics.
Internal Memory: 16GB (8.4 GB free out of box).
RAM: 2GB.
Wi-Fi: 2.4GHz and 5GHz, Dual Antenna, 802.11a/b/g/n.
Micro-SD (up to 32GB).
Android 4.4 KitKat.
GPS, Glonass, Bluetooth 4.0, Micro USB, Micro HDMI, 3-axis Accelerometer, e-Compass, Gyroscope, Ambient Light Sensor, Sound & Speakers – Dolby Audio.
Battery Life 8 hours.
Front-Facing Camera: Resolution 1.2MP, Video 720p.
Rear-Facing Camera: Resolution 5MP, Video 1080p (Full HD).
Dimensions: H 12.8 CM, W 22.4 CM, D 0.9 CM.
Weight: 0.4104 Kilogram.
Highlights in the spec list are the display, it's bright, clear and sharp. Also the 2 GB of RAM help with the overall quick feel to the device.
The camera specs are a bit low, but no doubt people won't be using it for any real photography.
The Intel chip is for me a bit of an unknown quantity, I haven't used a device with one of the new quad-core Intel chips in, so I'll be eager to try out games and multi tasking on the Hudl 2.
Software
The Hudl 2 runs Android 4.4.2 and Tesco have opted for their own launcher. The launcher looks like a modified Google Now Launcher, whereby the left hand pane shows you links to Tesco products and information. It is easily circumvented by installing another launcher from the Play Store.
Tesco have also opted to pre-install a lot of their own software, which explains why there is only just over half of the internal memory left out of the box. If you're a Tesco customer it's handy having the BlinkBox apps installed. If you're not it's rather annoying.
Tesco have also installed a Kids Zone which allows you to pick and choose what they can access. I've barely touched this yet, I'll have a good play with it for the full review.
A lot of people assume that the Intel chipset will mean that some apps won't be available, in my experience things have improved over the last few years and most apps are designed to be Intel X86 Compatible. I certainly haven't found any missing apps in the last few days.
The official cases (or the two I've bought)
I bought the flip case (soft touch case) and the standard case (soft protective shell) with holes in. So far I've been impressed with both. The protective case with the holes in looks splendid, the fit is a bit tight but it does the job. It feels quite strange with the bump and holes, but again I'm sure I'll get used to it. The flip case feels nicer than the other case, it's like a soft touch faux leather almost and it offers more protection to the entire device as well. The flip part has ribs in it that can be used to support the tablet in landscape, it's ideal for watching films on in this mode. The only annoying thing is that opening the flip case doesn't turn the screen on, I guess the tablet needs a magnetic switch under the screen and also a magnet in the case itself.
Conclusion
My initial conclusion is that the Hudl 2 is a cracking device, especially as it only costs £129. Having a nice big display and a Micro SD slot lends itself to so many things. So far I can see it replacing my G Pad and my Nexus 7, performance wise it's easily on a par with them both.
Over the next few weeks I'll be testing out the Hudl 2, so if you've got any questions please leave them in the comments section below.