I had the old HTC Zoe Beta app installed until just a few days ago. The app ran fine on my LG G3 but hey, I want to try the new version which appeared just yesterday.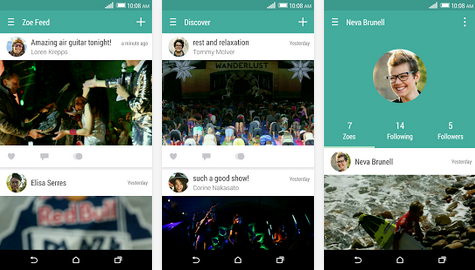 However..
It turns out I can't. The app isn't compatible with the LG G3. In fact, it's incompatible with a lot of Android phones out there. What we weren't told was the fact that HTC appear to be doing the same thing that they did with the beta version. The new HTC Zoe app currently only seems to be available for select HTC devices and, if you're using another handset, you now can't install the previous beta version, as this has now been removed from the Google Play store.
Doah.
During the big launch just the other night HTC told us..
Zoe 1.0 brings flexibility to the community, enabling short, medium and long Zoes that can be made up of just a couple of still images… Available free of charge on Android now and coming on iOS later this year, Zoe 1.0 ushers in the next generation of creative social networking.
If you cast your mind back to the way that HTC originally released their beta Zoe app it was first available purely for HTC devices and only later made available for other Android devices.
Here it looks like history is repeating itself, so it's not quite right to say that the app is "Available free of charge on Android now" because it's not available on all Android devices. In fact, as I've had a "number" of Android devices in my time, I decided to check the compatibility with my device list. Looking deeper into it, it seems that the app is only available for the following…


We've emailed HTC to ask for clarification, but based on our investigation it seems that..
1 – If you're using a device which ISN'T one of the above, you can't download the app.
2 – If you were running the beta version and want to upgrade (but you don't have a HTC One device), you can't right now.