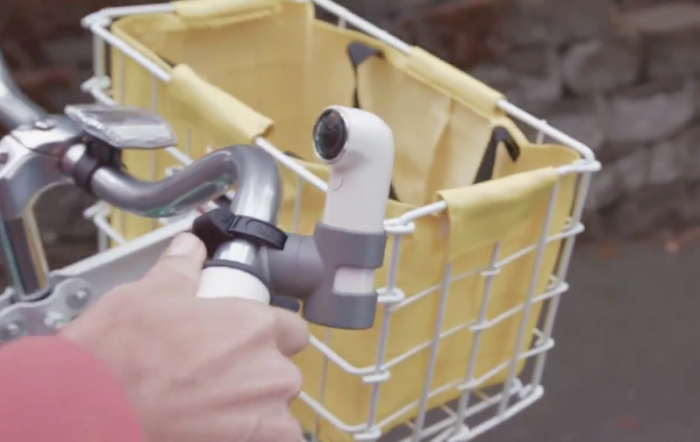 Back in September we noticed this, and James guessed it to be an add-on camera. I thought it would be a selfie-camera of some kind but now we've got the full details – it's called the RE.
Instantly I'm taken back to Religious Education lessons from school, but no – this is a powerful handheld camera which allows you to "naturally capture" those important moments. Oh, and it's pronounced "ree".
It's got a pretty cool cylindrical design which slots into your hand comfortably and perhaps more naturally than your phone. Inside there's a lot of cleverness too – a grip sensor will activate the RE when you pick it up and there's one pure shutter button for taking snaps. Press longer for a video.
The RE has a 146 degree wide-angle lens (so you don't have to worry too much about framing the scene), slow-mo capture, a 16 megapixel CMOS sensor and full HD (1080p). It's waterproof and has clever stabilisation tech so you don't get video vibration later. Plus, if you want a bit more protection, there's a Protection Pack which adds a waterproof-enhancing cap, protective lens cap, and neck and wrist lanyards.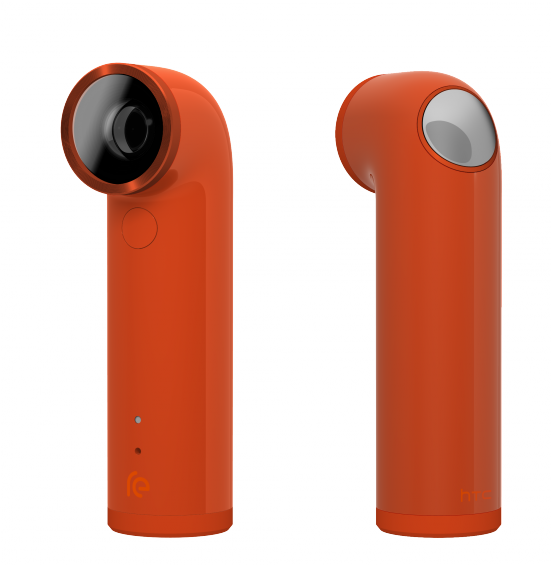 Wait. I can hear you already.
"What about the viewfinder??"
Well, there's an app that goes along with the camera – the viewfinder is beamed onto your mobile device so that you can see what the RE is pointing at without having to be sat right behind the RE. Imagine holding it over your head at music festivals, attached to a bike, as a webcam etc.
You can also use this app to, of course, look at the shots and the video you've taken with the device. HTC are also planning real-time streaming from the RE to YouTube too. That RE App by the way, will be available for all Android devices and iPhones too.
Imagine – with such a wide-angle lens and an unobtrusive, faff-free device, you no longer have to live your best experiences through viewfinders. No more living your life through a screen. Pretty cool. Live in the moment, or capture it? Now you can do both.
Software updates will be rolled out to the RE automatically. As for storage, it's all capture on microSD with an 8GB card supplied. You can add up to 128GB via a microSD expansion slot too. It has a tripod connector, microUSB connector, WiFi, Bluetooth 4.0 and an 820 mAh rechargeable battery. All of this is good for 1,200 16 megapixel photos or 1 hour 40 minutes of continuous Full HD video recording. It'll do time-lapse captures too.
The HTC RE will be available from EE, Three and "selected electronics retail stores" from early November. No prices as yet, but head over to recamera.com for more detail on this natty new gadget. It's well worth giving this 360 degree tour a go too.
Full details below..