Ever since Android Wear hit the news, the Moto 360 has been the device most of us wanted to get our hands on even though the Samsung Gear Live and LG G Watch were on sale first.
In fact many of us purchased one of the other brands with a view to sell and get a Moto 360 once it went on sale here in the UK.
Maybe it is the metal design that we love, or if could be the more traditional round watch face that makes this so interesting, one thing for sure is the Moto 360 is the watch most of us wanted once Wear was announced many months ago and not much has changed.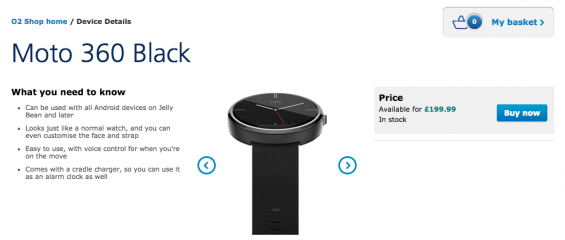 Well the great news is that day has arrived, UK network O2 seem to have the first stock of this new watch and has put it on sale today on their website for the price of £199.99.
And the best news is anyone concerned this is an order to ship later on and the product is not in stock, we can confirm it is indeed in stock and some orders have already been dispatched tonight.
I put an order in at 6:10pm this evening and after my confirmation email, at 8pm received a dispatch and tracking email with delivery due tomorrow.
At the time of writing this only the black model is available, Motorola have made a silver one and that looks to be shipping at the end of October in other places, but if you want a 360 right now and do not mind black, head to the O2 store and get your order in before it sells out.
Oh and if anyone has concerns over the battery life, a recent update that came out just days ago seems to have REALLY improved battery life, well over a day in most reports.
Link: O2 (Moto 360)