Sure, smartwatches might be a new thing, but can you get one for your child? There's a range of tracker watches that'll help parents and carers monitor movements yes, but how about a full-blown smartwatch?
The new VTech Kidizoom is just £29.99 and it's about the closest thing to a smartwatch for kids. It's a bit chunky when compare to the adult versions but it has a 1.4″ touchscreen display and 20 different analogue and digital watch faces to select. There's a camera on the top edge for snapping shots, although it is only VGA so those shots will look OK on the 1.4″ screen (there's an on-board photo gallery) and bloody horrible on your HD TV later.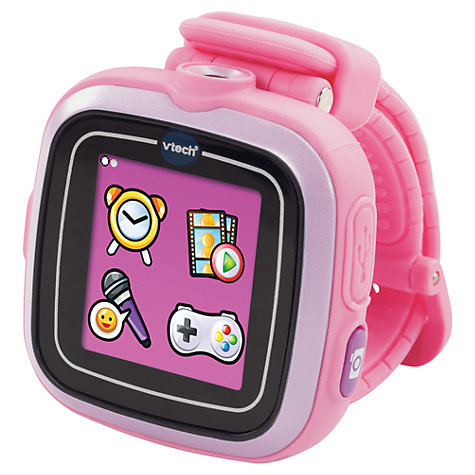 Charged via USB cable, you can also transfer files that way too. You get a stop-watch, timer, alarm and three games. Not only that, but you can record your voice and add some different effects.
I dare you to wear this to work and tell everyone it's the new Apple Watch. Go on. I dare you. 😉
Anyway. Don't ask me why but the pink one is £29.99 and the blue one below is £26.39. I'm not sure why that is. Perhaps boys are better or something. 😉