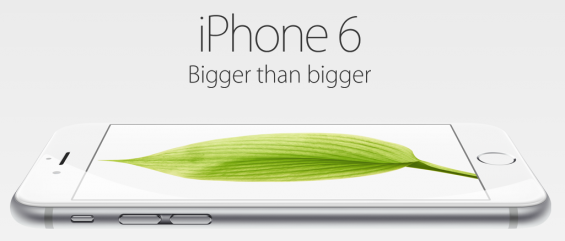 Well, we've currently got almost every network and retailer in the planet trying to work out pricing for the new Apple devices, so here's an early look at what we've been told. It's fair to assume that the iPhone 6 and the iPhone 6 Plus will be available pretty much everywhere you look. 🙂
Short version? Pre-order this Friday. Get the device next Friday. No real pricing as I speak. Get more information on the new iPhones on www.apple.com/iphone. It's fair to say that the networks appear to have received very little if any information on the new iPhone 6 / 6 Plus, as most "pre register" pages show no sign of any iPhone imagery or specs.
Vodafone
No pricing as yet, but they've told us that you can register your interest here on their website and they'll keep you up to date. As we mentioned earlier, they're offering double the entertainment content if you sign up to a 4G Red XL or Red XXL plan. This will get you a six month subscription to Netflix and a choice of either Spotify Premium or Sky Sports Mobile TV too for the full 24 months. More detail on the beefier entertainment packages here.
EE
They'll be offering the iPhone 6 and iPhone 6 Plus. The pre-order will commence at 8:01am on the 12th September ahead of launch at 8:00am on the 19th of September. You can register your interest at www.ee.co.uk/iphone.
O2
Not a great deal from O2 other than this tweet. You can register your interest with them too..
Pre-order, 12 September. Register for updates: http://t.co/SRolWgiPoN #AppleLive pic.twitter.com/EXXtGPYtPK

— O2 in the UK (@O2) September 9, 2014
Three
The network will offer iPhone 6 and iPhone 6 Plus beginning 12th September 2014 with delivery on the 19th.
They tell us..
Three customers will benefit from:

Feel at Home – allowing customers to use their phone or tablet in 16 destinations worldwide without incurring additional roaming charges.

4G at no extra cost. 

Free calls to 0800 numbers.

All you can eat data
.
You can pre-register interest today here or get more information on their site. 
Virgin Media
They will offer iPhone 6 and iPhone 6 Plus beginning 19th September. Head here for more detailsb or to register.
Virgin Media cable customers can still get an exclusive £10 monthly saving on all Virgin Media pay monthly mobile deals and get unlimited calls and texts to other Virgin Media mobiles.
giffgaff
The iPhone 6 and iPhone 6 Plus are to arrive completely unlocked onto giffgaff. Members can pre-register interest today here or you can go to the giffgaff iPhone page for further information.
Apple direct
You can head to your local Apple for pricing in your country, however here in the UK you can expect to pay the following…
iPhone 6 Plus – (5.5″ display)
– 16GB – £619
– 64GB – £699
– 128GB – £789
iPhone 6 (4.7″ display)
– 16GB – £539
– 64GB – £619
– 128GB – £699
Pricing, especially on the US website, seems a lot cheaper, but this is dependant on you entering a contract with AT&T, Sprint or Verizon. The prices above, however, are for the handset unlocked here in the UK.