Fishing around, I actually found a news item we ran last year for this very same phone. The S4 Zoom, at the time, was a steal at just £442.80. Since then, the K Zoom has appeared so it's knocked the price of the original phone down quite a bit.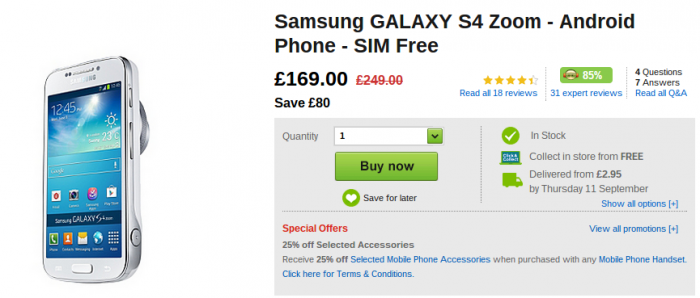 So, if you're in Asda at the weekend and fancy a cameraphone which is a bit more "camera" than "phone", you can get the S4 Zoom for just £169 SIM free. It has a 16 megapixel camera with a Xenon flash and, something you don't get on a lot of phones, a 10x optical zoom. There's also a dedicated shutter key, a zoom ring and HDR mode.
The handset has a 4.3″ 540×960 pixel screen, 8GB storage (plus a microSD) WiFi, Bluetooth, and a secondary 2 megapixel shooter up front.