Some months ago I wrote up a review of this TouchAbility waterproof case. If I remember correctly I splashed it with water, got the hose-pipe on it and gave it some positive feedback.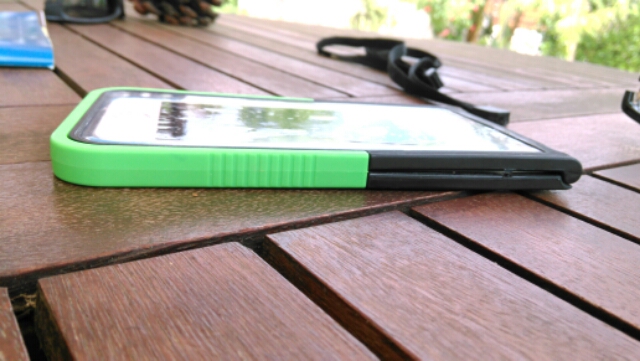 However, it's rare that reviewers get enough time to do a full-on test. Say, for example, I did a real-world test of the iPhone – I'd pretty much have to own it for several months to give you a full overview of how it works in my daily life. So, the hose-pipe test was good enough, but the TouchAbility case was still sat on a cupboard at home when I started packing for our holiday, and it was a real last-minute decision to throw it in the suitcase.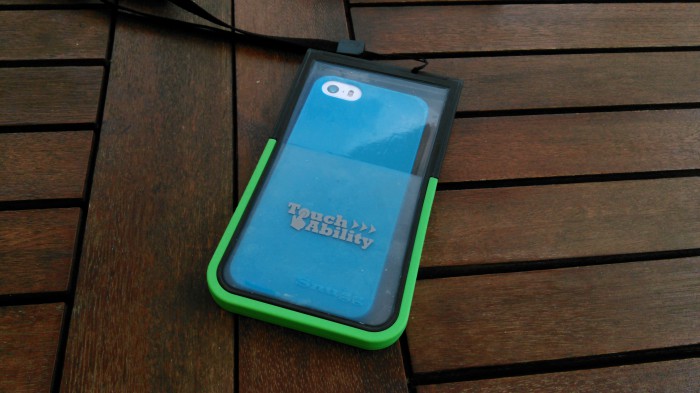 Luckily I did, as the case has rescued me from having a completely destroyed iPhone 5s which I'm reviewing at the moment. The iPhone 5s, which was loaned to me by the nice people at Vodafone, came out with me on holiday so that I could submerge myself into the iOS world and give it a proper full on test. I've used Android for so many years and, although I have an iPad, I've not used the iPhone itself as my daily driver for any real length of time.
As this phone doesn't belong to me, I've been taking great care with it. I brought an Android phone to use when I went to the beach or sat near the pool. It worked well until, one day while swimming in the pool, I realised that my wallet was in my shorts. As I felt inside my pocket I suddenly became aware that it wasn't my wallet, it was my Android phone. I'd been swimming for a good 30 minutes and, despite putting it in the baking 38 degree heat to dry (which it did quite quickly) it was a dead duck, showing just a white screen when I tried to power it up a few days later.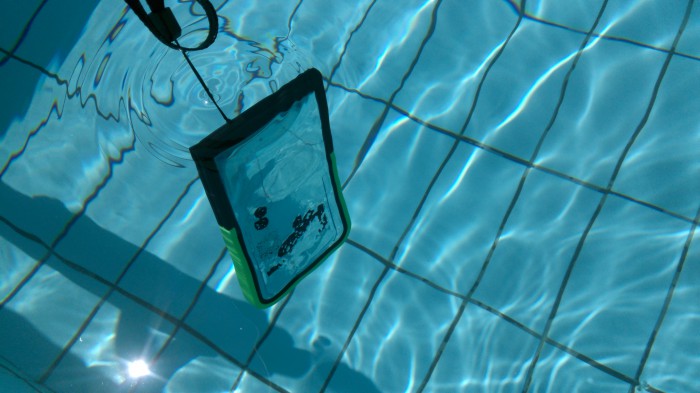 Out on the beach and around the pool, the iPhone started to become my one and only book-reader and camera. These are both risky areas to take phones, and I noticed at a local water park that some people had taken to using waterproof handsets like the Sony Xperia line. I decided to start using the TouchAbility waterproof case that I'd nearly forgotten about. Pretty instantly this proved its worth when we went for a long drive to a remote beach. I kept the phone with me just in case we got lost or had car trouble, and had put it in the case before setting out.
After a few hours at the beach I retrieved the phone to find that the case was absolutely covered in sand. Thanks to a few ice-lolly wrappers and sticking fizzy drinks, it also had a mixture of water, Fanta, Callipo ice-lolly wrappers and all sorts of other things. It was a state. The iPhone inside wasn't. It was absolutely pristine when removed the phone later and, after a quick rinse of the case, it was ready to go again.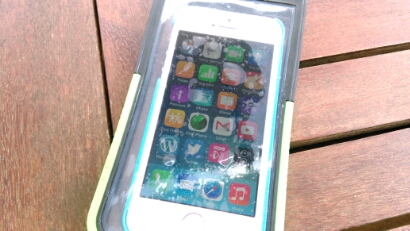 The case itself uses a rubbery plastic for the clear sections. It's tricky to describe, but imagine those rain-covers for pushchairs and mix that in with some elastic and your there. It sticks to the screen of the phone, meaning that you can still use nearly all the functions. Sure, pressing the volume up / down keys in the side is a bit tricky and yes, if you have a phone with a power button on the side it's not possible to turn it on. I managed to get to the top power key on the iPhone quite easily though thanks to the elasticity of the covering material.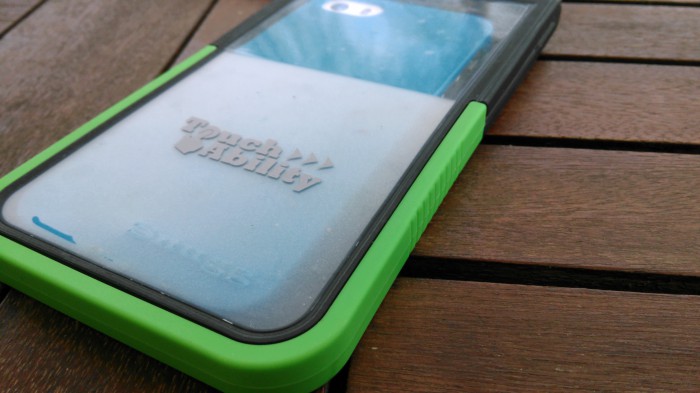 The front and rear has the same look pretty much, although the rear has a frosted section and logo taking up half of it. Most cameras are at the top of phones, so you can still take shots and they'll come out very well indeed thanks to the figure-hugging material.
To place your phone inside, just slide the bottom green lock, place your phone in, then close and slide the lock back on. It'll ensure that the entire unit is sealed and held closed. There's also a lanyard for attaching to your wrist or belt loop should you want to keep hold of the phone.
Back to my story though, and although I had started using the case on the iPhone I didn't really want to test it more than the odd splash or drip. This is really as far as we pushed it in the earlier review, but one day in the pool it somehow ended up taking a dip into the deep end. All the way down, about 1.80m down. I dived down and used the floating lanyard to grab it, and this is when everything changed. It was fine. Absolutely fine. Not a drip of water, condensation or anything. The phone was fine, which should stop the guys at Vodafone invoicing me for a new one. Phew.
From then on I had a growing confidence in this particular case. Due to the rigid sides it was robust and, under water, I could still operate the screen. I recorded under water movies in the pool to help my son with his swimming technique, I took it to a water park, in the sea and even went paragliding with it (although I did have to smuggle it past the guy hooking me up, who told me that they wanted everything out of my pockets as things had got wet in the past). Here's a video I shot in the pool just to prove it…
Honestly, some of the footage I filmed on my holiday would've never been possible without this case, as you have the confidence to take the phone anywhere. A simple trip to the beach ended up with me and the family paragliding and I took shots I'm going to keep forever up there.
The camera on the iPhone, as you'll see in my upcoming review, is really rather fantastic. Great low-light shots, brilliant action images and great clear images throughout.
For £9.99 a case like this is a lot cheaper than an insurance claim too, because the excess is usually around £25 or so. It's not just protecting your phone, it's letting you capture moments that you wouldn't have ever recorded without the protection. If you're interested in getting one, head here.