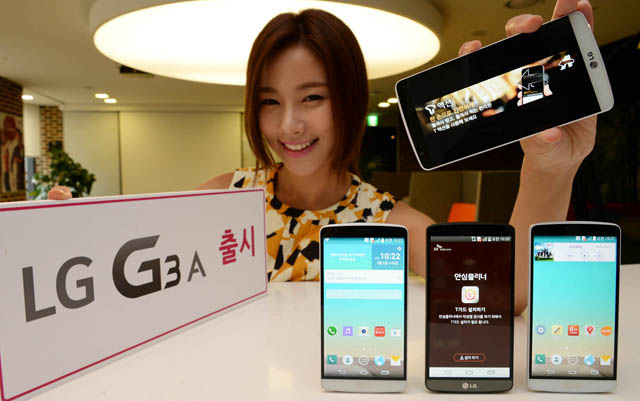 LG have announced another variant of the G3, the G3 A. It is a weird device, that is smaller and lower spec'd than the G3, but larger and higher spec'd than the G3 S. It seems to be a Korean specific model so I shouldn't be too upset about it really.
It's basically has the spec of the LG G2, with the design of the G3, the laser assisted camera, Micro SD slot, a removable battery, the rather intuitive rear buttons and it's a tiny bit smaller.
 G3 A Specifications 
– Size 141mm 71.6mm 9.8 mm.
– Weight 146.8g.
– Colour White, Titanium.
– Network LTE-A, LTE.
– Chipset 2.26Ghz quad-core (Qualcomm Snapdragon 800).
– Display 5.2 "IPS Full HD 1920×1080.
– Camera Megapixel rear 13MP, OIS + Laser Auto Focus, Front 2.1 million pixels.
– Battery 2,610 mAh removable.
– Memory 32GB eMMC / 2GB LPDDR3 / Micro SD Slot Support.
– Operating System Android Kitkat 4.4.
– Bluetooth 4.0, USB 2.0, NFC.
The phone is SK Telecom specific at the moment, but it shows that LG really don't mind diluting a brand in a Samsung kind of style. Personally I'm happy with my G3, but many people have been put off because of the size, so a smaller version would be useful. Smaller but not lower spec, this G3 A might just be the one as the G3 S was quite a bit lower spec'd.
Source – LG
Via – PhoneArena