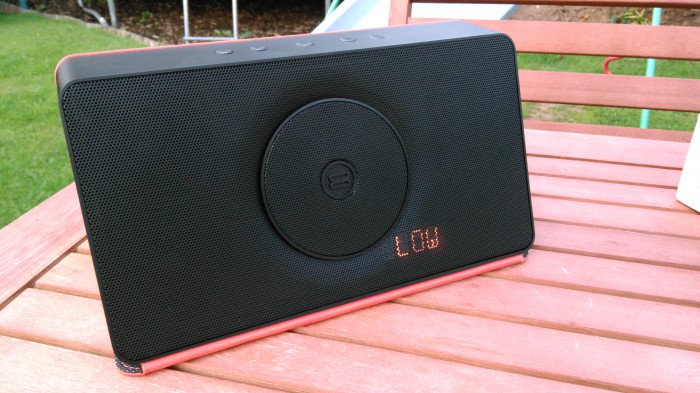 Well, this is a weighty thing. You may remember our review of the original Soundbook we looked at about a year ago. The first thing I noticed with this particular model was the weight of it. It's something that isn't mentioned in the specs, but after sticking it on the scales it tipped in at around 1.4kg.
That said, I have to admit that it's my only issue. It might look like the previous Soundbook we looked at, but oh-my-lord, this is such a meaty speaker which is styled brilliantly and is soaked in quality.
Available in silver or the black shade we have here, it's £249.99, which is a lot. However, there's cheaper versions such as the Soundbook GO for £79.99. Not only that, but Bayan will give you a 30 day home trial so you can give it a try out yourself.
This, though, is the very latest addition to the Soundbook range. Getting started is so simple it's unreal – switch on the NFC on your phone and it'll automatically ask you to pair with your phone. There's no passcode to enter, you're just straight in. If you don't have NFC then don't worry, just head into your Bluetooth settings and look for new devices. Either way, it's simple enough.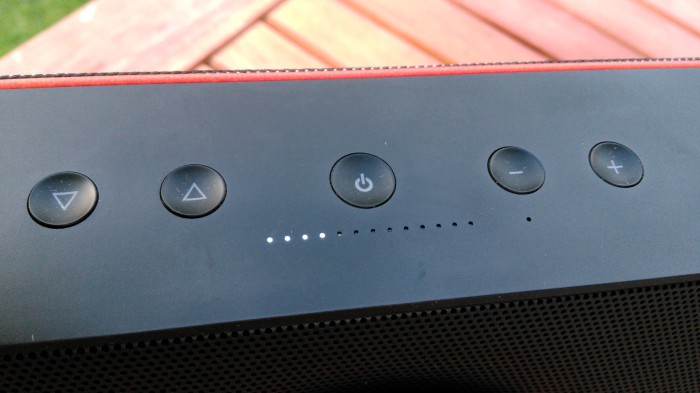 The device can pump out your tunes or podcasts via Bluetooth, but you can also switch to the 3.5mm audio port on the back. A cable is provided, so if you switch devices regularly or want to output the sound from a TV, CD player or something else it's easy enough. You just tap the power button at the top to cycle through the choices – either Bluetooth, AUX or FM radio. The latter can be tuned by using the left and right buttons at the top and you always know what's happening thanks to a rather cool orange status LED on the front. As you can see in the first picture on my review, the battery was low when I first took it out of the box. 🙂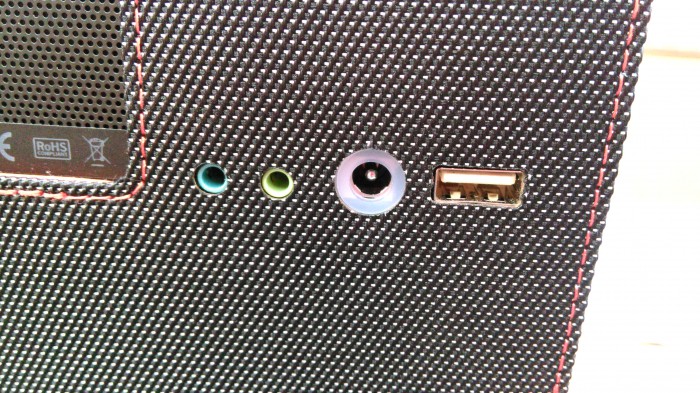 The device uses the latest Bluetooth 4.0 tech and the FM radio has an integrated aerial so you do get the national and local stations too. Around the back there's a USB port and you can use this to charge a phone, so you can listen to music and charge the phone or tablet that's playing the music at the same time. The Soundbook itself is charged up via the circular power port and a red light shows that it's charging. Once that turns to green you're charged and ready to go. You're good for about 10 hours continuous playing time at around 50% volume.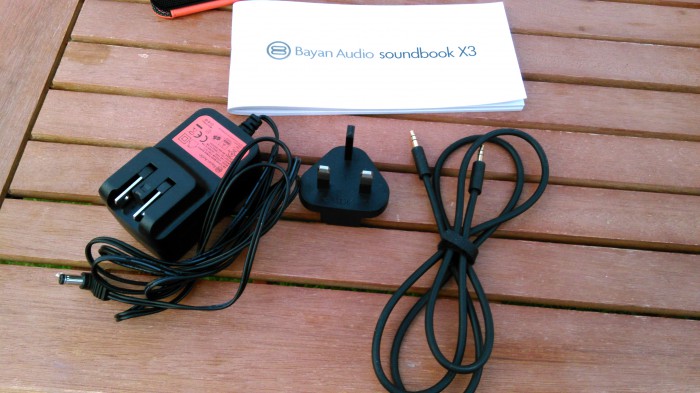 That's the explanation of how it all works, but honestly it's more than just a Bluetooth speaker. We see stacks of Bluetooth speakers here at Coolsmartphone. This one is made from high grade aluminium and has precise red stitching on the outside with soft rubbery material on the inside. Once you open that flap and took it under the device it'll automatically turn on.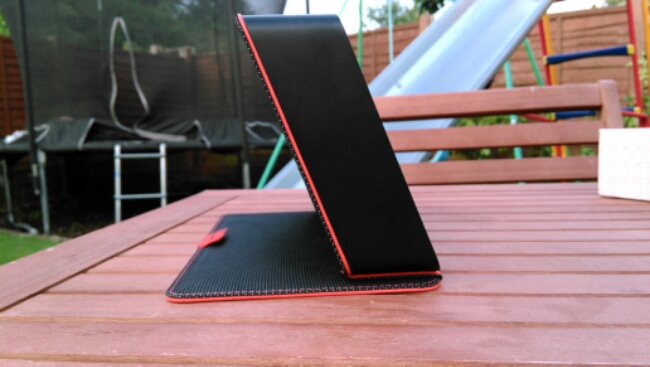 Let me talk about that flap for a bit too, because it's important as it holds the device upright. It's strong, tough and has virtually no flex in it. Considering the weight of the speaker I can still hold it using just that flap – it's that strong.
The front grill may look fairly funky but the magic happens behind it. There's a 20W amplifier and four 1.5″ speakers which, Bayan tell me, are "long throw neodymium" units. There's also a fifth speaker, which is a 3″ "passive bass radiator".
Yeah. Technical huh? Just look at them all in this shot. Look at them. This isn't just one farty little tweeter. This is a proper set of decent speakers.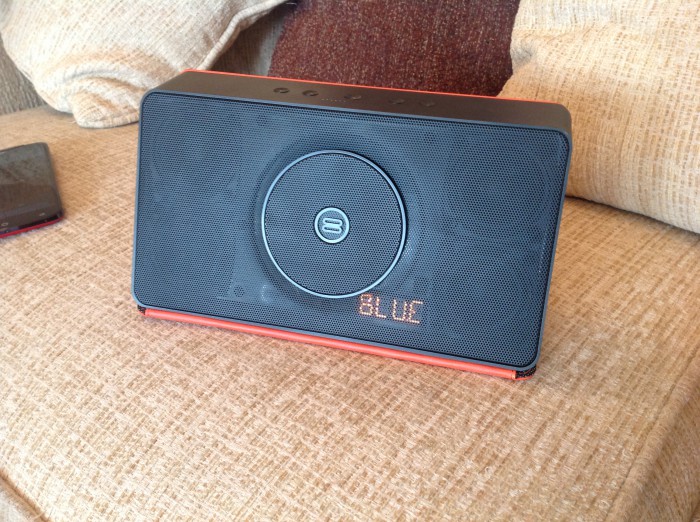 Put it this way. You suddenly forget the weight and the specs when you turn it up. There's no distortion, and I mean no distortion, even at full tilt. Crank it up full blast and you'll feel the air pumping out of the front grill along with the music. In the video below I've got it cranked up a bit but it could go higher. Actually, I should be honest and admit that my wife had gone to see a neighbour four doors down and could still hear the music I was playing.
Overall, yes. This fills a room with absolute easy. The bass is chunky and deep, but doesn't take away from the higher notes or the mid-range, which come out with ease. Every part of the music I played out sounded good, and there was no rattling or break-up at all.
The device itself is brilliantly put together and has a professional and high-quality feel to it. Yes, it's a lot of money, but it's worth it. It's really worth it.
You can get more details on BayanAudio.com or you can buy it here.
Bayan Audio Soundbook X3 Review
Sound quality - 9.9
Build quality - 9.8
Battery life - 8.9
9.5
Another really high-quality item from the boys at Bayan Audio which has more than enough power