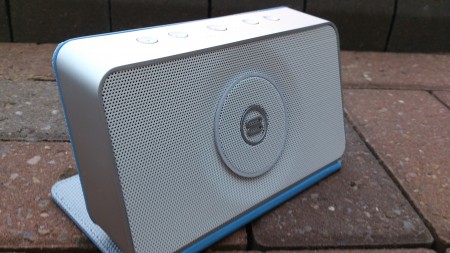 Yes. Fair comment, we do review a lot of Bluetooth speakers here at Coolsmartphone. It's the new thing though. Gone are the days of kitchen radio, CD and tape players. Now it's a speaker which you pair with your phone or MP3 player.
What about FM radio though? Well, if you do have FM radio on your phone then, traditionally, you could hook up via the 3.5mm audio port and pipe it out to speakers that way. Perhaps just use the phone speaker. Maybe.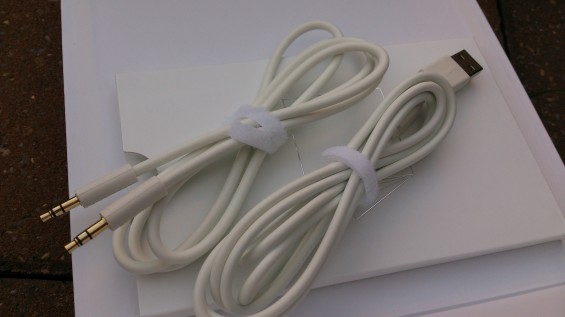 This is where things differ a little with the Soundbook. It'll accept audio via line in and Bluetooth but inside there's an FM radio too.
Did I mention it was designed in the UK? Sure, it's made in China. Everything is made in China, but according to Apple it's important that things are designed elsewhere, so I must quite proudly state that all Bayan Audio products are designed here in the UK.
We should start by getting a little heavy, because this is. It weighs 530 grams and is surprisingly hefty. Imagine carrying a big hard-back book in weight, but a soft-back book in looks. It's as if you've pushed the front cover of a book across somewhat, and opening that front cover – which is held closed by a magnet – is done by pulling the Bayan Audio tab. It'll also turn on the device when you do so.

In the box there's a charger with the appropriate plug for your country. You also get a miniUSB charge cable and a 3.5mm audio cable if you don't want the use the Bluetooth capability.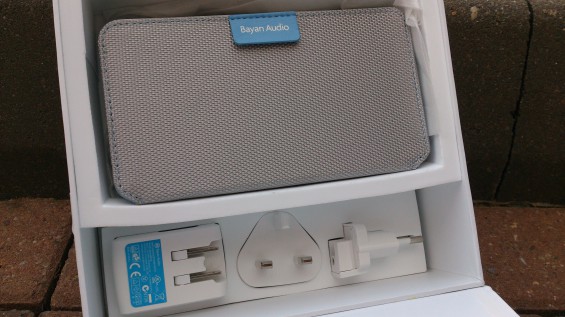 Up top there's a few easy buttons. Firstly, there's tune up and tune down – you can press and hold to scan up and down the FM frequency band or press it quickly to scan up by 0.1MHz (more about that in a moment).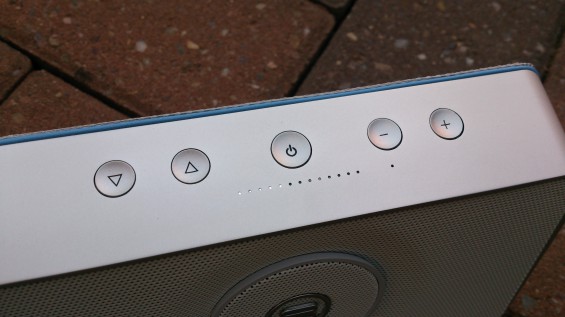 Next, the power button. It'll do the obvious when you press and hold it but, if you tap it, it'll change input. This, this is where the Bayan Audio Soundbook is a little different. Yes, you can pair it with your device on Bluetooth and play music, yes you can use the 3.5mm audio cable and select direct input, but as I mentioned earlier, you can also choose FM. Using those buttons I just mentioned, you can listen to radio.
The volume up and down buttons are just to the right and they're all indented a little.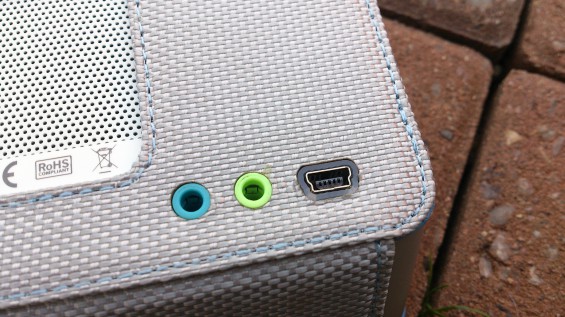 Now, a little look at the back of the device again. There's a blue 3.5mm audio port and a green one. The blue one is for audio in. Y'know, if you have one of those devices without Bluetooth. However, that green 3.5mm port is an audio out, so you can pipe your FM radio or Bluetooth tunes to a bigger sound system. Plug this into your expensive home entertainment system and boom, you've got some big-ass speakers to pair with.

The most difficult part about any Bluetooth speaker is pairing the thing. Luckily it's a lot easier here – NFC is in the device and will help to get the process going. If that's not your thing you can just tap the power button to start the Bluetooth pairing process. Oh, oh, while I'm here – another excellent feature I should mention – this has a microphone too, so you can use the speaker for conference calls or as a speaker phone. Cool.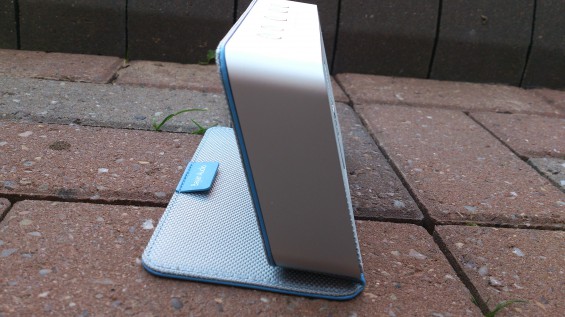 OK, when you're connected via Bluetooth you'll see the display at the front show "BLU" and it'll show a solid connection light. If that light is flashing then you're not connected as yet. If you switch to different inputs you'll see it simply say "IN" for line input or the FM frequency (e.g. 107.8) for FM input. The volume display on the top is so nice too. Pure white LED's light up as you increase the volume to represent how loud things are getting.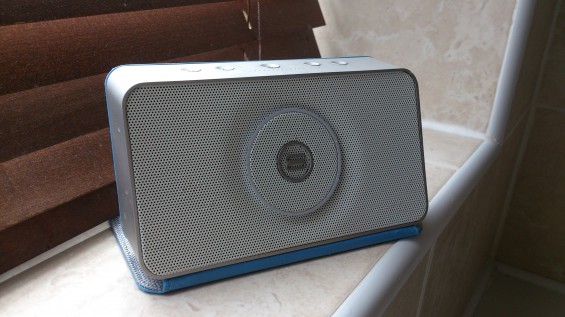 Open up the front flap and tuck it under the device to help the device stand up. There's a soft blue leather underneath to keep the speaker in place. When paired I tried using a software equalizer but, if I'm honest, the speaker seems to adapt better to the pure, unfiltered sound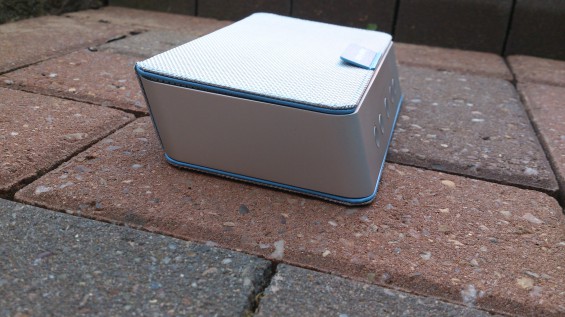 Now yes, I should mention the price here. The Bayan Audio Soundbook is £149.99. It's a tad expensive, but the battery lasted for a good 10 hours via Bluetooth and that external casing (which is ballistic nylon by the way) looks almost space-age. This has the feel of a premium product. It's beautifully designed and looks amazing. It's well built and the sound quality is very decent indeed. Sure, deep down I'd like the windows to rattle when I turn up the music, but a device of this size can't do that. What it can do is suit any environment – it'll sit in your kitchen, office, study or bedroom and fit right in.
Sound quality has been an important part of this device – you can really tell when you listen to music. This isn't just a cheap device with cheap sound, this is a very, very nice product producing extremely good sound. I was very impressed indeed.
As usual, we've got a full gallery of pictures for you to enjoy below…