You might be confused already. A phone with two numbers in the title – one written as a word, one as a digit?
It's basically the shrunken-down version of the HTC One M8 which I spent a week with very recently, but of course you're going to going to have to accept that it's perhaps not as good as the bigger model.
But wait.
First of all, we should remove some misconceptions. "mini". Is it? Really? The latest iPhone has a 4″ screen. This has a 4.5″.
Price? It's just a big fat nothing up front and plans start at £22.50 per month on Vodafone, who loaned us this.
Oh and specs? A compromise? Let's see shall we.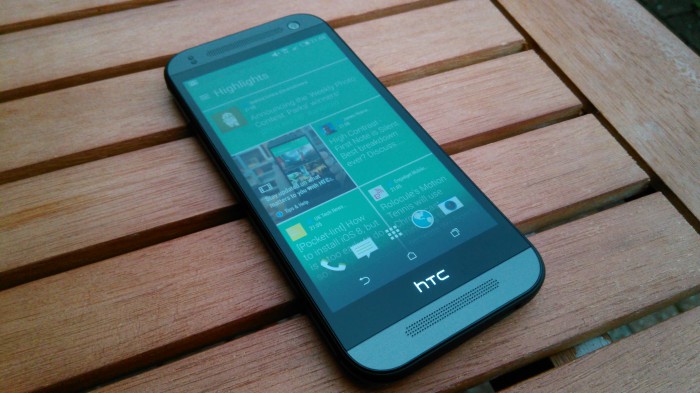 Specs
Inside there's a quad-core 1.2GHz Snapdragon CPU with 1GB RAM and 16GB of storage on board. You can also slap in a microSD card for up to 128GB of additional storage. Around back, no ultrapixel shooter but instead you get a 13 megapixel unit with a BSI sensor, f/2.2 and 1080p video recording. Up front it's a 5 megapixel unit with 1080p video recording and a BSI sensor.
Measuring in at 137.43 x 65.04 x 10.6 mm and weighing 137g I wouldn't call it too "mini". Sure, it's smaller than the M8, but it's not going to get lost in your pocket.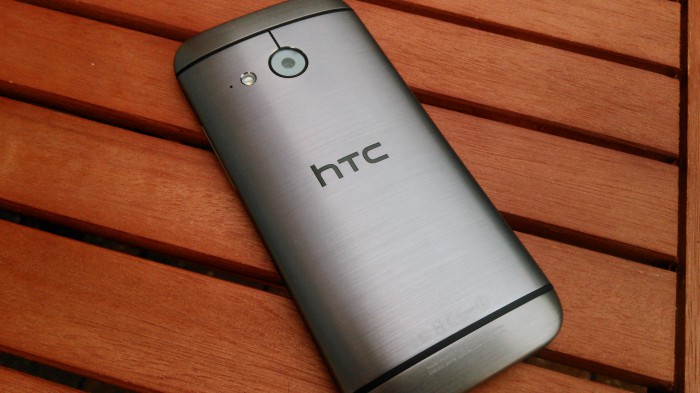 The mini 2 uses a nano SIM and has 4G capability with the usual ambient light and proximity sensors along with an accelerometer, digital compass and the noise-cancelling HTC Sense Voice system. NFC is there, as is Bluetooth 4.0, DLNA, a 2100mAh battery, GPS, a 3.5mm audio port and WiFi.
The screen is a 4.5″ 720p display and you get HTC Blinkfeed on top of Android 4.4.2. Not only that, but you're getting BoomSound via the dual frontal speakers too.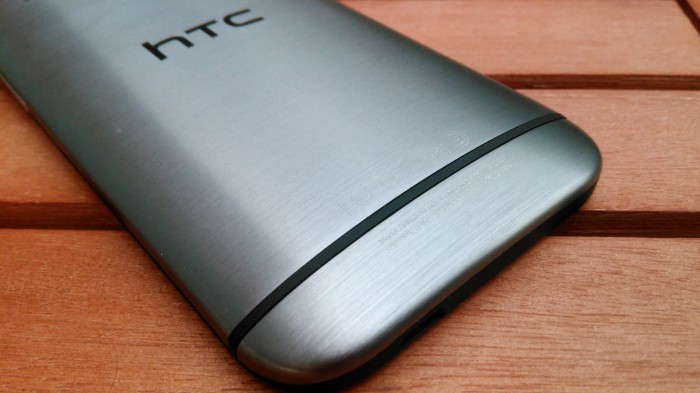 How does that compare against the One M8?
Well of course you're getting a slightly smaller screen – half an inch less than the 5″ display on the M8. The mini 2 has a 720×1280 pixel 326 ppi screen compared to the M8's 1080×1920 pixels, 441 ppi one too.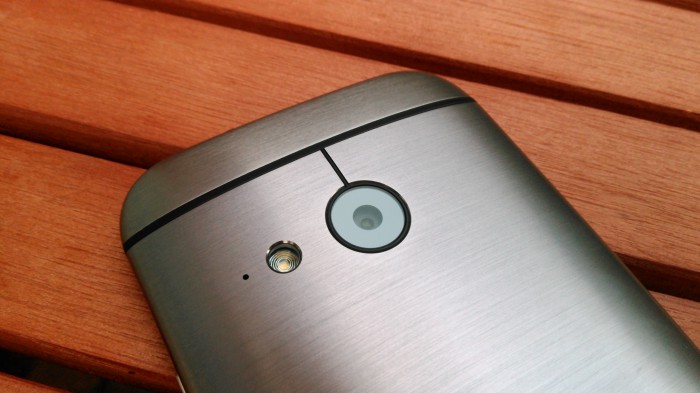 The camera on the M8, at the back at least, is a 4 ultrapixel / megapixel unit, whereas it's a 13 megapixel and therefore has more pixels if that's your thing. You do lose out on some of those camera features found on the M8, including Duo Focus or U-Focus that we spoke about. The front camera is similar to that on the M8 (we believe the M8 has a slightly wider angle lens) but you can still do skin-tone touch-ups and a countdown timer etc.
The CPU isn't as fast as the quad-core 2.3 GHz beast on the bigger brother, however you do pretty much get everything else. It has that stylish, almost custom-made feel to it and the all-metal construction still feels just as good on this ever-so-slightly-smaller model.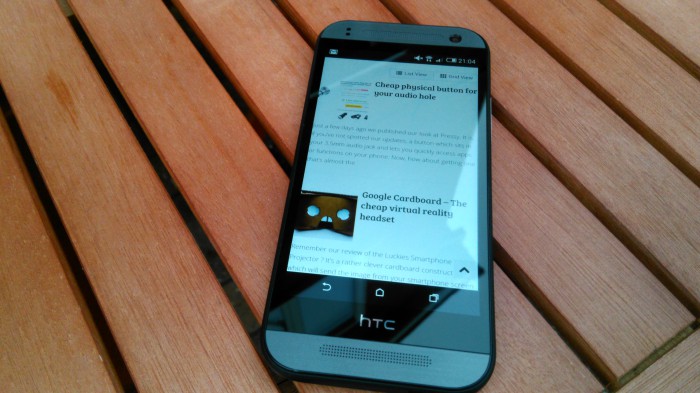 BoomSound too. It's still here and, as I constantly mentioned in the M8 review, it is something that really should be included in every phone. Put simply, it'll boost the sound and, thanks to the fact that the speakers are both bigger and front-mounted, you get to hear your music properly. The HTC people tell me that you'll get up to 95 dB thanks to the built-in amplifiers. It's good. Believe me, it's good. It's changed my opinion of all other phones, it's that good.
So are you accepting a compromise? To be honest the HTC One mini 2 is a lot cheaper than the M8 and, apart from a slightly lower-res screen and a slightly slower processor (and at present you can't do that clever double-tap to wake the device stuff), you're not exactly going to be moaning. You lose the IR blaster, so don't expect to be able to control your TV with this one – you'll need the M8 for that.
Tour
Let's take you around the phone and yes, the first thing we should mention is the strong and industrial design. It really makes these HTC products stand out and it gives you a certain amount of confidence when you're using the thing. It's a cool, understated design coupled with a whiff of grit and iron. I'm loving it, I tell you.
The front of the phone has those two speakers and they'll confidently go "oomph oomph oomph" when you want them to. When you're on a call they become your earpiece and microphone.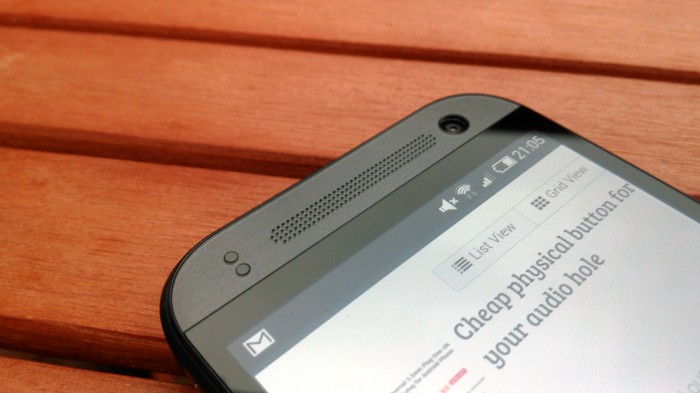 Up top there's the sensors and the 5 megapixel shooter.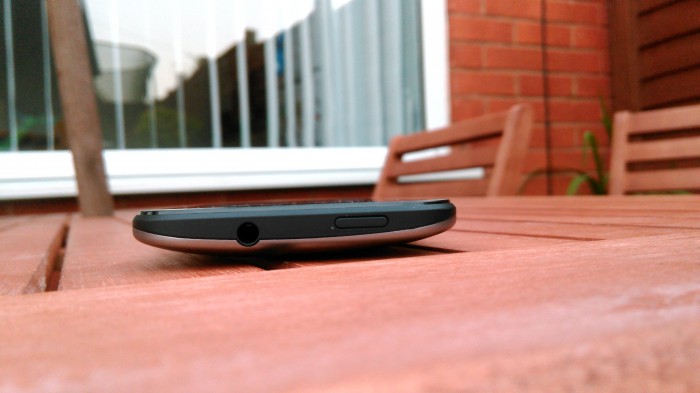 On the very top edge, and hopefully you can see the lovely curvature on the metal here, there's the power button and 3.5mm audio port. You're going to need that power button a bit as, unlike the M8, the mini 2 doesn't respond to picking up the handset and swiping or double-tapping while the screen is off. That screen, by the way, isn't quite as vivid as the one on the M8, but it's still pretty decent.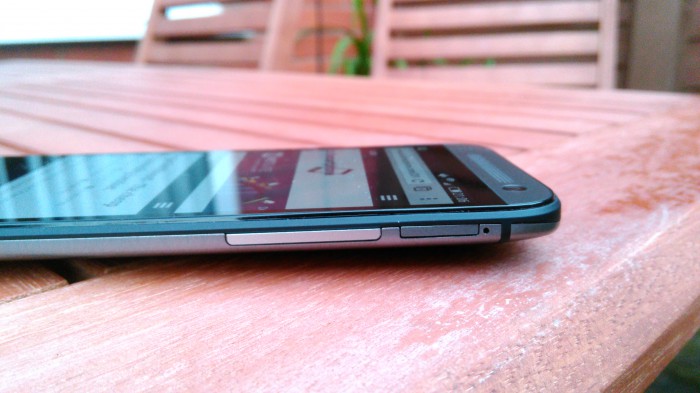 On the right side of the handset there's the volume and microSD card slot. Those volume buttons aren't too pronounced and should, if I'm honest,be a little more pronounced. It's not that they're hard to access, it just feels like they could do with a little "more".
There's also no dedicated camera button here. I'll leave that up to you to decide if it's a problem but to be honest there's a range of quick- access options on the lock screen, and the camera can be fired off quickly that way without too much fuss.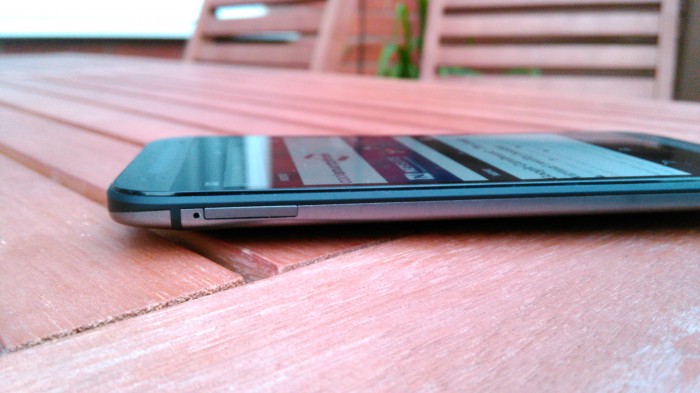 At the bottom, the micro USB port and, on the left the micro SIM card.
Inside
We have a lot of the same interface tweaks as we saw on the HTC One M8. The BlinkFeed interface is here and it's definitely better than before, bringing you news and feeds that you're interested in quickly and in a stylish interface. The HTC Zoe system makes short and fun videos from your daily pictures. It's just as fun as it is on the bigger brother, and you can add and re-sequence the daily montage vids with different soundtracks and pictures or videos from your daily activities.
The latest version of Android, as is usual, will sync your contacts, diary appointments and files if you jump totally into the Google Cloud. Google Drive, GMail, YouTube, Maps, Hangouts, Play Music and your previous apps (if you had an Android before) magically re-appearing on this new phone right when you take it out of the box. The usual drag-and-drop icons, folders and widgets can be placed on the well-known interface and the on-screen buttons do a great job of hopping around when you move the screen or switch into different apps etc.
You can always stick certain shortcuts to the bottom of your screen and they'll stay there no matter which screen you slide left or right to. You can hop into the settings too and setup POP3 email, Exchange Mail, Google Mail and, as you add more apps, you can use the central "Accounts" screen to add different accounts for all the apps you've installed, whether it be Twitter, Facebook, LinkedIn etc.
The battery didn't seem to last quite as long on this as the M8, but there are various power / battery saving options that you can tweak to enhance this. It'll turn various bits off in order to prolong your usage, plus there's the "Extreme Power Saving" option that you can use in emergencies to really lengthen the amount of time you have on the phone.
The "Do Not Disturb" functionality and other features including "Daydream", which displays content on your screen when its' docked or idle, were particularly welcome, as is Google Now for displaying content automatically based on what you're doing – the flight times for your holiday, the weather at work, the traffic en route, the latest sports news and more. It's all very clever and learns your routes and patterns.
A personalisation option in the Settings menu brings together everything you might want to adjust on the phone – home screen panels, widgets, wallpaper, themes, sounds, ringtones, alarms and there's pop-up tips and help to guide you through every inch of the phone.
Now, don't worry if I'm not mentioning everything. If I do miss something out it's generally because it's perfect. The browser, for example, is bang on the money – you get the stock Android one and Google Chrome out of the box and they both let you zoom into content, it'll reflow text, share pages and displays content quickly and clearly in a format that is both comfortable and easy to read.
NFC, allowing you to exchange content simply by touch, is on-board and you can setup VPN connections or push media out via DLNA. You also get the new slide-out bar at the side of the screen for quick access into parts of the phone or apps that you may need frequently.
Camera Examples
Despite this not being an Ultrapixel camera, the 13 megapixel shooter performs very well indeed and the images came out rather well indeed.
Overall
Another top quality handset from HTC, with a lot of the latest innovations that we saw on the slightly larger HTC One M8. If money isn't an option, or if you can get a good contract deal, I'd still go for the HTC One M8 purely because of the sheer amount of kit you're getting. Here on the One mini 2 you're getting battery life which isn't quite as good and you're missing out on some of the clever camera trickery and the IR blaster. Other than that though, it's a still a great performer and spins along without fuss.
The HTC Zoe system, which I love, really brought photos to life and that BoomSound tech via the dual front speakers was yet again something I want every handset to have as default – it's that good.
Now, whilst I'd still personally choose the HTC One M8 if you've got the money, the HTC One mini 2 really isn't a massive compromise. The build-quality is spot on, the metal construction is strong and has a quality feel throughout. This particular one was borrowed from Vodafone and you can get one free on plans over £22.50 per month as I write, so you can see it's cheap too. Overall, it comes down to personal choice for most of the time, with the One mini 2 being smaller but still very capable.
HTC One mini 2 review
Battery - 7.4
Build quality - 9
Software - 9.2
Camera - 8.2
Screen - 7.8
8.3
Some bits removed, but still all the right bits left in. Another excellent handset from HTC with fantastic build quality at the right price