This is a special one for me, because – apart from using Windows Phone in a few example videos over the years, I've been a really big Android and iPhone user.
Put it this way, Windows Phone has a big hill to climb with me. It's going to be an even bigger ask for the OS when it's running on this £129 phone.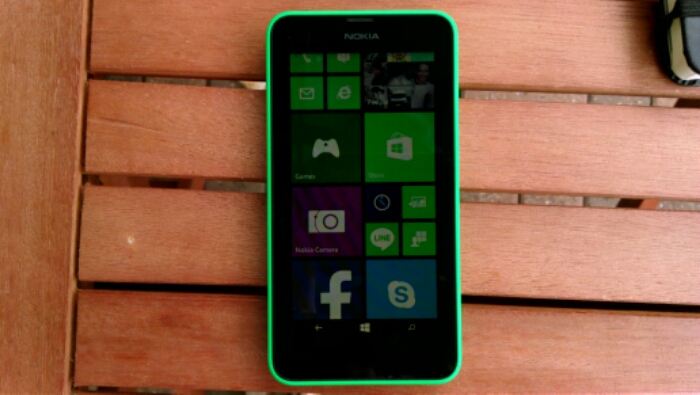 History
Microsoft have had to make some pretty big decisions with their OS. Back in the days of Windows Mobile 6.1 the OS looked laughably outdated compared to the new iPhone. Microsoft took too long to react and everyone pretty much forgot about the OS. Windows Mobile? What's that?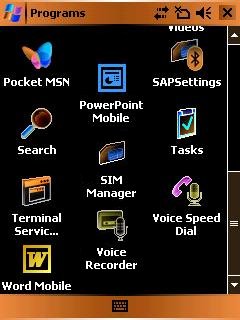 Windows Phone 7 came along, but if any kind of traction happened it was pretty much stopped when Microsoft went and rebooted the OS again with Windows Phone 8 – an OS that existing owners couldn't upgrade to.


Specs
The Lumia 630 is priced up at £129 on the Microsoft Store but, believe me, you can get it a lot cheaper in most places. Think about £96 on O2 Refresh.
The specs scream mid-range but, spoiler alert, the OS really doesn't suffer.
Inside you'll find a quad-core 1.2GHz Qualcomm Snapdragon 400 CPU, 512 MB RAM, 8GB storage and a microSD card slot for some more storage. It doesn't do 4G, but there's the usual WiFi, GPS and Bluetooth. The screen is a 4.5″ FWVGA (854 x 480) ClearBlack IPS LCD unit with Corning Gorilla Glass 3. It has 221 ppi.
The battery, which you can remove, is 1830 mAh and gives you a standby time of 25 days, which translates to about 13.1 hours of talking on 3G.
The camera, of which there's only one, is a 5 megapixel auto-focus shooter with 4x digital zoom and 720p HD video recording.
Oh and yes, we did say no 4G. If you want that, the Lumia 635 is the one to go for. A little confusing perhaps, so we've made it simple..
Lumia 630 – 3G only
Lumia 635 – 4G too
Cool? Good.
Inside – Windows Phone 8.1 – What you should know
Budget this may be, but this is the first to run Windows Phone 8.1, the version which – according to what the Microsoft PR people tell me – will finally see the OS compete directly against iPhone and Android. Microsoft have done pretty well at the lower end of the market, so this fun-looking Lumia should bring that new version at the right price.
Cortana, the personal voice assistant, is on here but the UK version isn't quite ready yet. However, the interface, the apps and the tech you've grown to expect in other handsets from other OS's is in there.
There's something called "quiet hours" – a similar feature to one found on the HTC One which makes your phone quiet when you're at work or school, only letting through vital callers. There's also a swype-style keyboard so that you can type really quickly.
HERE Maps, which OK – isn't quite as good as Google Maps (no Streetview fanciness) – is onboard and will do a decent enough job of getting you around and doing the usual zooming in of various parts of the world. It'll also let you find local points of interest along with directions and reviews (via TripAdvisor and other HERE members)
My initial thoughts were, after struggling a little with the fresh boot, pretty positive. I'm a picky soul, and I liked the little touches such as how social networks such as Twitter and Facebook were all piled into one category on the "Share" screen. However, this only seemed to be the case in the HERE Maps app, so if you're sharing a location it'd categorise Twitter and Facebook (plus whatever other social networking apps you have) into a "Social networks" category, but do the same in other apps and that doesn't happen – it just lists everything.
By the way, I should just point out how much the "Share button" looks like a "Refresh button". I couldn't get that part of my brain reprogrammed. Sorry guys, but that looks like a refresh button to me.
That said, I did – to some extent – like the fact that the user experience was maintained and controlled through apps. It meant that you knew what to expect, and didn't really have to waste time having to figure out how a particular app was laid out. This is something Android is only really just getting to grips with, but they have a huge array of apps to handle in the Google Play store, so any controlling of the UI is going to take time.
Ahh yes, that question of apps.
It's July 2014 as I type this, and Microsoft now have most of the major apps available in their store. Twitter, Facebook, Skype, Tunein Radio, WhatsApp, Spotify, eBay, Instagram, they're all there. For the most part they work just as well as the Android or iPhone equivalents too.
However, although Microsoft have been successful (whether it be by paying people or doing the apps themselves) to get some of the big apps on there, you'll still find holes. The WordPress app isn't made by the WordPress developers and it's pretty much just a IE window into the mobile version of WordPress. Meanwhile, if you're looking for Snapchat, Sky Go or Sky+ you won't find it.
It's here where – despite the obvious improvements in the OS – you'll start to feel the burn slightly. The OS, let's face it, isn't as popular as Android and iOS. If you're out shopping and want to grab the apps you see advertised in shops (or online, on TV etc), you'll find that apps from Argos, Boots and Auto Trader aren't there. It's a little annoying, especially when every man, woman, dog, pizza place, supermarket, football club and newspaper wants you to download their app – but the magical Windows Phone logo is missing from their advertising, and you're just left grumbling in a corner.
What can be even worse, in some circumstances, is when the official app is there but it's nowhere near as good as the iPhone or Android version, or it's several versions behind. However, for the most part, for most people, the apps are now there and they function well enough. You're not going to get billions of fart apps, but you need to decide if you need billions of fart apps.
The OS is, and I don't find this hard to say, really very good. You quickly learn how to navigate and there's a logic, simplicity and clarity to the interface. The tiles interface wasn't actually all that bad (compared to my feelings some years ago) and – although I still had the odd grumble about my "Pictures" tile displaying some random stock images instead of my latest shots (you have to choose some favourites to get that to update or manually change the setting to show your recent shots), it was all pretty swish. The camera and pictures app will also backup your shots to OneDrive too, so everything is nice and safe (that's a cloud-based storage system from Microsoft if you're worrying).
Swish, yes – that's a good word. I saw a tiny bit of judder when scrolling through the menus, but there is a definite control within the OS. As an example it would stubbornly only download one app at a time. No multiple downloads, you had to wait. I'm impatient, but I quickly understood that this prevented the OS from getting all flustered by installing and downloading multiple apps all at once. It's control, but for all the right reasons.
The main screen now has slightly more options for customization. As an example, I can now add another column of tiles into the start screen and there's a more colours to choose from too. However, when I tried to set a background picture on the start screen, it only seemed to show "through" on some tiles. On others it wouldn't, and the end result was a picture I could hardly make out. It was like something from a game of Catchphrase. This example shot from the PR team looks nice enough, but get the tiles in a different configuration and you don't get to see all your picture.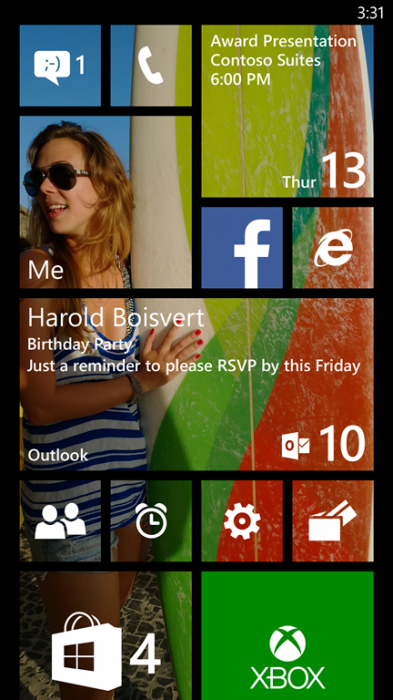 Also, this "background image" option is found in the settings, under "Start and Theme", however if you want to alter the image on the lock screen you can't find it here. You have to hop out, go into Pictures, find an image, then use the option in that app to change the lock screen. Either that or go into the "Lock screen" settings option.
Microsoft have added some "Sense" options such as "Data Sense" and "Storage Sense" to keep an eye on your usage. There's also the traditional business settings such as a certificates store and VPN access that hark back to the Windows Mobile days when Microsoft phones were the first and only choice for business handsets.
There's a myriad of other settings in here, including a "brightness" setting for the screen which, disappointingly, only had three settings and didn't seem to automatically adjust to light. There was, under another settings option, a "display" option which let you tweak these levels though.
There's also a "find my phone" option, an online backup and audio options which let you mute an incoming call when you flip the phone over. Add to that the call and text filter to block unwanted contacts getting hold of you, navigation bar adjustments, ease of access options and all the settings for your various apps and you're sorted for adjusting most of the bits on the phone. I did, though, have the feeling that some of these settings should be lumped together – the navigation bar colour and whether it was viewable were in two separate sections, which I found a bit daft.
I'll sum up the all-new Windows Phone OS in one sentence. Yes, it's far better than it ever was and yes, the majority of apps are now there. However, regaining that momentum, that brand, that awareness and grabbing enough users to keep developers interested – that's the tricky part, especially in the current mobile market.
Design
This green Lumia 630 has, as you can see, a pretty distinctive look about it. Despite all the changes at Nokia and transitions under Microsoft it's still a very good looking device with a brilliant build quality and design.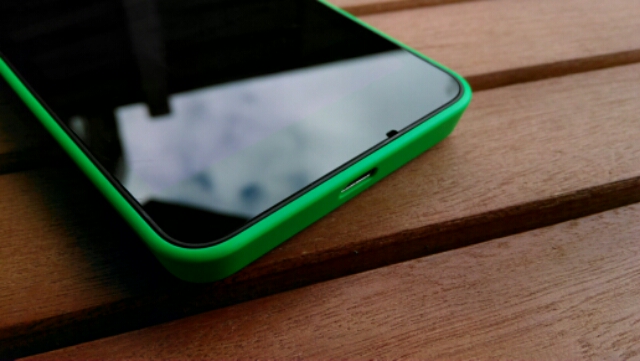 Under the battery cover, which is popped off in a certain way using two hands, things do start to look a little less polished, but this is under the cover and – if we're honest – nobody cares about that a great deal.
The handset has space for a microSIM card and the micro SD card slot, plus you can get different cases and covers, so it doesn't necessarily have to be green. That said, I did get quite a few comments down the pub about this particular phone and the colour. My wife, who's never used Windows Phone, found it easy to use and fast to get around – indeed, this is quad-core CPU seemed to perform rather well. Also, as someone who has been well and truly pulled into the "Google cloud" I and my wife didn't really feel like we'd lost a great deal by switching. Sure, you use Bing out of the box, but there is a Google Search app if you're really feeling lost and the Microsoft OneDrive cloud storage is the same as the Google Drive offering, letting you back up your stuff safely. That 8GB on-board might not sound like much, but don't forget that there's the microSD and this cloud storage to bump that up.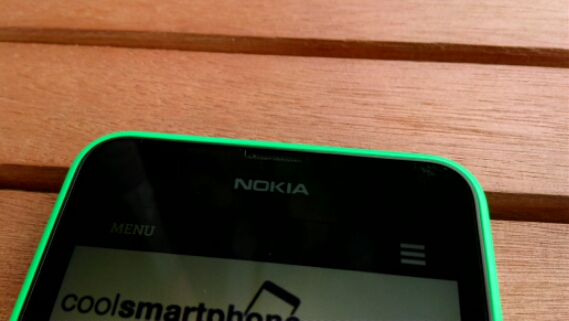 Up front, and within the rear panel that surrounds the main chasis, you have a polished black screen and a simple Nokia logo with a small indent for the microphone down the bottom.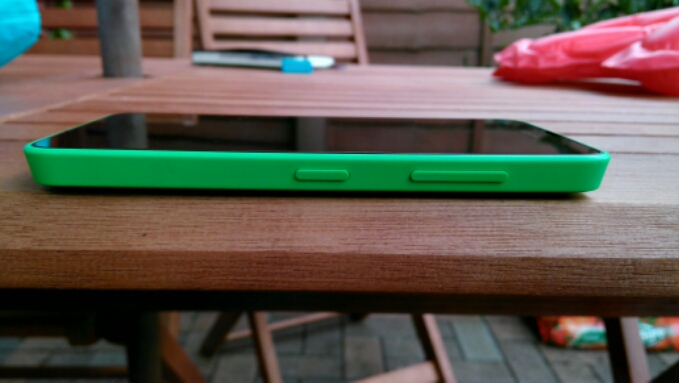 On the right side, a power button and the volume up / down. You can also use a combination of the volume and power to take screenshots if you want. As you can see, there's a chunky (in a design sense), rugged but fashionable look to the Lumia 630. It's a slightly rubberised rear and it gave you a sense of confidence too. I gave this particular phone to some children and didn't feel like it was going to get damaged as that rear panel seems to protect the phone very well indeed.
The back, which is flat and understated, has a small hole for the speaker and another for the camera. No flash here and it's a 5 megapixel unit.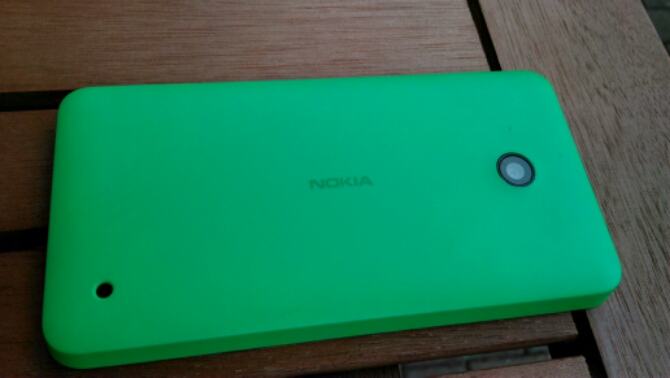 Down the bottom there's the micro USB port for charging and data transfer, although to be honest most people will just be transfering their files using cloud storage.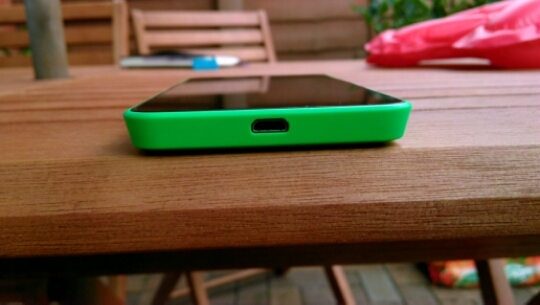 Up top, the 3.5mm audio port.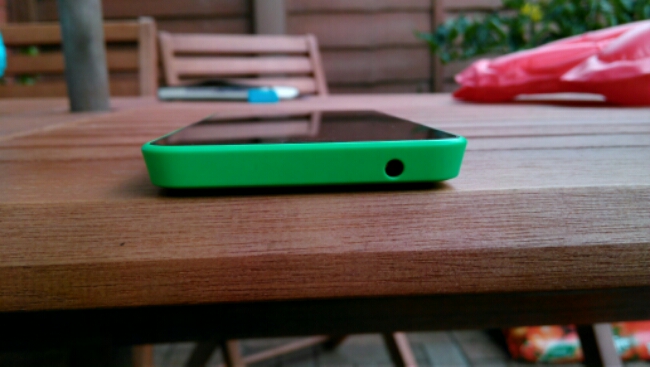 Windows Phone versus iOS and Android – Thoughts
I'm not quite at the summing-up stage yet, but I wanted to put some of my initial thoughts down as my first experiences were tainted slightly. Yes, I was initially surprised that an incorrect time setting on the phone would reduce the Lumia to a house-brick, however there's much more good news.
Microsoft, from what I've seen on Windows Phone 8.1 here, are really going for gold. The progression, the improvements, the tiny tweaks here and there – they really matter. It makes me feel that Microsoft are now progressing just as fast as the other OS's. They really are trading blows at the same level as the other mobile OS's. Sure, there's a few apps missing here and there, but what surprised me most about this Lumia 630 in particular is the sheer fact that this isn't a top-end device. This is, at a push, a mid-range handset, but it operated and felt like a much more advanced machine.
Discount the camera quality for a moment and the fact that there's no face-pointing shooter. Discount the small amount of screen blur due to the resolution and you have a very capable operating system which has advanced faster than I've ever seen it advance before. If Microsoft continue at this rate then Android and iOS really need to start worrying.
Camera
This handset only has one camera, and there's no flash. Immediately you know what you're getting so you know that this isn't going to win awards for photography. Out and about this performed very well indeed, and when I actually transferred images to a PC the images looked even better than they did on the phone itself.
Below we've included some test shots from the handset so you can see what you should expect. It'll do geotagging, auto photo-upload to web services and you can use the Nokia Camera app to do some additional fun things. However, I used the standard camera app as there was a bit of a delay when taking shots through the Nokia Camera application.
Either way, Nokia apps will let you refocus images, create a browsable timeline and you can do the usual panorama shots too.
Overall
This is a well-built handset with lots of features for your money. The addition of Nokia apps such as MixRadio – where a radio station effectively becomes one where you control all the music – are really well done. You can send media to your TV over DLNA, share content to all your favourite social media destinations and create a WiFi hotspot while you have your lunch.
Yes, I've been picky. Yes, I've been slated for mentioning the problems I had when I turned it on for the first time but, really. Let's sit down and talk about this shall we? I've used Android and iOS for years. I have some pretty high standards and I honestly thought that this wouldn't get near them.
But it has.
It has, and then some. Windows Phone has improved immeasurably since I last used it and, when I'm having to pick out fairly small things in a review, you know it's a good device. Yes, there's still some improvements I'd like to see in the personalisation side of things (more background options etc) and I'd like to see a few more apps introduced here and there, but this is a very good phone with a very good OS that'll compete on an equal-footing with Android and iOS devices.
The browser? Good. Worked well, rendered pages as I expected. Camera? Also good, sure it would be better with a flash and a higher resolution. I would have liked a higher resolution screen too, but for the money it'll do just fine thanks.
I loved the gallery and how nippy the interface was. Twitter? Facebook? Instagram? Again, no problems and an interface which stayed familiar throughout. The keyboard was fast (thanks to the Swype-style data entry), the notifications and lock screen has improved and I did less unnecessary "fiddling" with the device. It worked for me, it supplied the information I needed when I needed it, and this is a device at a great price-point too.
Overall yes, Windows Phone 8.1 has impressed me. The Lumia 630 has impressed me. This is a well designed, well built, well thought-out phone with an OS that isn't a compromise. This is a well-formed package that you should consider. Go and check one out and see for yourself, honestly.
Update – Thanks for your comments. I've updated the app situation which, I can happily say, is constantly changing for the better. More and more apps are now available.
Nokia Lumia 630 Review
Battery - 9.1
Build quality - 9
Software - 9.2
Camera - 7.7
Screen - 8.1
8.6
For this price-point, the camera and screen resolution have been pegged down a bit, but the OS and build-quality is top-notch and Windows Phone is a now a real player.