As part of the Google I/O event last night, Google announced some new additions to the Android Wear range. This, the LG G Watch, was one of them. It's a device we've actually already seen and the company announced that they were .. err.. working on it back in March.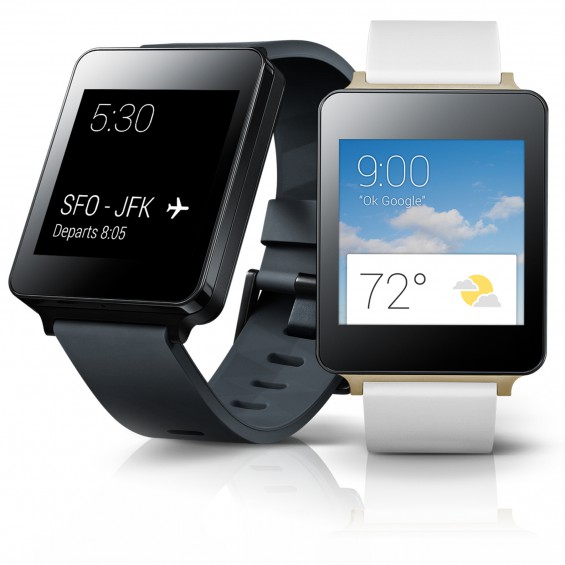 http://www.youtube.com/watch?v=0k3KLjVUzF4
The LG G Watch uses Android Wear which extends the familiarity of the Android operating system to wearable technology. The G Watch features a button-less design which LG believe will appeal to a mass audience with quick and "glance-able" access to lots of useful information thanks to seamless connectivity to their Android smartphone so users can easily stay connected wherever they are.
Sundar Pichai, Google's SVP of Android, Chrome and Apps had this to say about the G Watch:
Watches powered by Android Wear aim to show you the right information and suggestions you need, right when you need them, it's been great to work with LG on the launch of the G Watch — especially given its simple, easy-to-use design.
The key specifications of the device are…
Chipset: Qualcomm® Snapdragon™ 400 processor

Display: 1.65-inch LCD IPS (280 x 280)

Memory: 4GB eMMC / 512MB RAM

Battery: 400mAh

Operating System: Android Wear 

(compatible with smartphones running Android 4.3 and above)

Size: 37.9 x 46.5 x 9.95mm

Weight: 63g

Connectivity: Bluetooth 4.0

Sensors: 9-Axis (Gyro / Accelerometer / Compass)

Others: Dust and Water Resistant (IP67)
The screen is "always on", which means you can actually use it as… a watch ! Not only that, but you can view all your notifications and access useful information at the touch of a screen. The watch will display messages, allow music playback control and see who is calling without removing phone from your pocket. The UI is based around cards, which provide information at a glance and voice recognition which can be accessed by saying "Ok Google" in the same way as Google Now on your phone.
The LG G Watch will be available in two colours Black Titan and White Gold. It's made of stainless steel coating with PVD (Physical Vapour Deposition). This provides a hard coat over the top for extra protection. The watch will come with a rugged silicone wristband in a matching colour although it can be personalised using a standard 22mm watch strap. The G Watch is due to be available for pre-order via the Google Play Store later tonight in 12 countries including the UK, USA, Canada, France and Japan with another 27 markets added shortly.
If you want one, keep an eye on the Google Play store. Expect to pay around £180. Get more detail here.