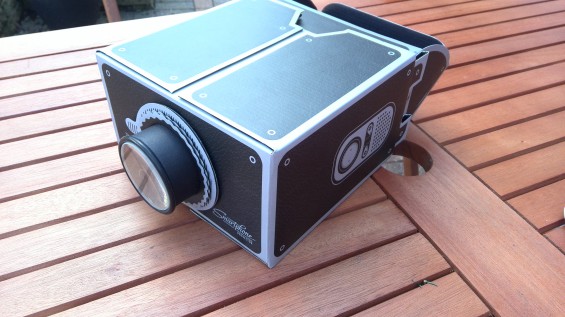 You may remember us talking about a smartphone projector some months ago. For really not-that-much-money you it'll project the image from your smartphone screen onto your wall.
Just before I went on my little bike ride the buys from Luckies of London delivered us a review unit, so let's take a look eh?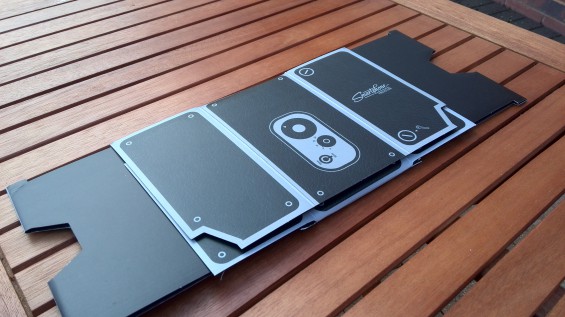 It arrives flat-packed, and there's a small amount of construction required. The whole thing is relatively simple – it's strong cardboard and a lens at the front. That's pretty much it effectively and you put it together pretty easily using some easy-to-follow instructions printed on the inside of the main box.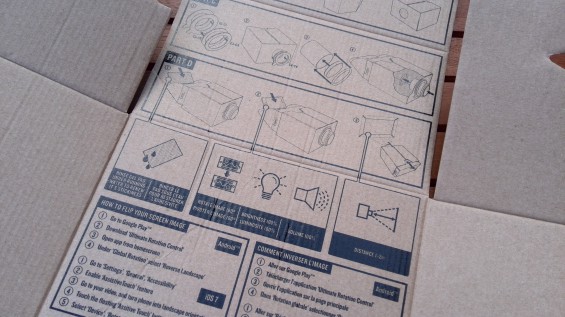 The projector arrives in a box. You simply slide out the contents, which include a cardboard tube, a lens and some rubber seals. You'll also need some super glue, which doesn't actually come in the box. This is the quickest way to get things done and, although you could probably try wood or paper glue, the super glue solution is quicker and gives the whole thing a more sturdy finish.
Your smartphone is designed to slide into the back of the projector and is held in place with one of those sticky gel pads so that your phone doesn't flop forward.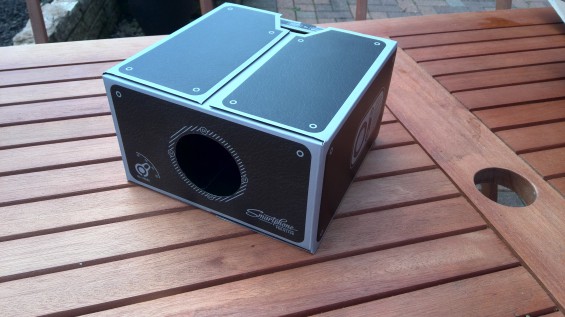 To be honest I rather enjoyed creating the projector myself. It didn't take too long and, although I had to keep my son well away from the super glue, he helped me with the instructions. It's all pre-folded and cut so you simply glue the relevant bits together and off you go.
The final piece of the puzzle involves popping the lens on the end of the cardboard tube, then you're ready to go.
Then that's pretty much it. You'll need to download a little app which will flip the screen on your smartphone, plus you'll need to crank up the brightness to full, but you can start projecting your screen onto the wall.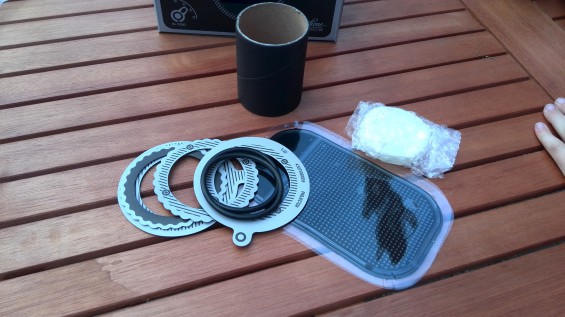 The box itself is said to project the sound from your phone to make it sound louder, but I actually found that the sticky pad blocked a lot of the sound. I tried it with various different handsets and there's a small element of adjustment you'll need to make to begin with. The back of the projector is a slide-out tray. Slide this back or forward to change the sharpness of the picture. You can also bring the projector closer to the wall or door you're using as your screen to make it larger.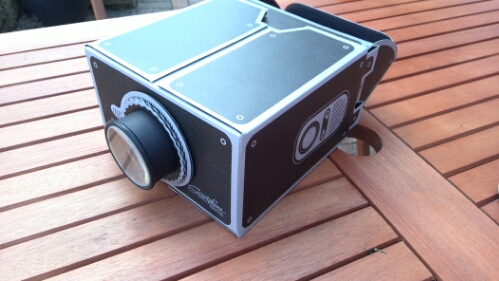 In practice I found that a perfectly white door, like a cupboard door, worked best. Unfortunately there's really nothing that can be done to boost the brightness of your image any further than the slightly battery-sucking brightness fiddling on your smartphone screen. With it cranked up at absolutely full blast and "automatic" backlight adjustment disabled, I found that the resulting projected image was watchable only in an absolutely pitch-black room with a gloss-white door to project onto. The resulting image seems to be around 10-20 inches wide depending on the width of your smartphone screen and how far away from the wall / door you are. You should be able to see how dark the room needs to be on this shot of the projected image.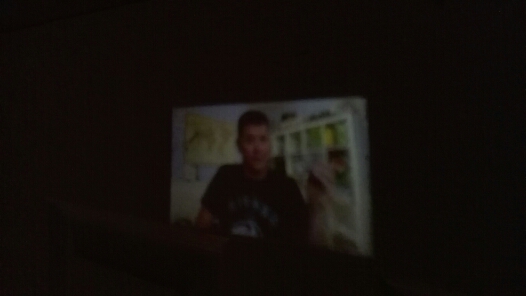 If you're looking for a cheap and fun present to keep a smartphone fan entertained, it could be worth a punt. Do remember that you'll need to be sitting completely in the dark and you'll definitely need to keep your charge cable plugged in while you use it as it'll use more of your battery with the brightness turned up full. Also remember that the screen rotation app (which forces the screen to appear upside down so that it shows the right way up when projected) needs to be turned on each time you intend on using this. If you're in a caravan, or out camping, it's a fun thing to use to perhaps have a little mobile movie.
It won't replace a DLNA "beam it to your TV" option if you're after the full cinema experience and it won't really show a great deal if you've got a light on in the room. However, if you're after a fun gift for someone who needs to get it slightly larger in a darkened room, this could be your thing.
The Luckies of London Smartphone Projector is available to buy here for just £15.95.