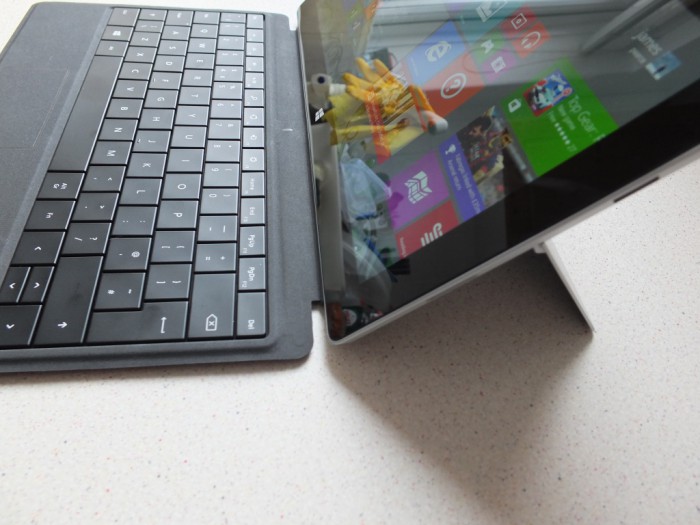 Windows RT is an interesting creature, some wonder why it exists, some love it for its limited nature and some like me now and again get a device running Windows RT and just try to get on with life using the tools provided. The Surface 2 4G price (£539 inc VAT) wise sits slightly higher than high end Android tablets like the Sony Xperia Z2 tablet (about £500) and cheaper than the 64GB WiFi and Cellular iPad Air (£659) on paper spec wise the Surface 2 with 4G certainly compares well to them. Given the choice personally I'd struggle to pick one out of the three. I had the original Surface RT (review is here if you are interested) so getting my hands on the updated model was something I was eager to try out, so let's kick off the review with my good and bad points.
Good Points
Great build quality.
Useful two position kickstand.
Full size USB port.
Micro SD slot.
4G built in (Micro SIM).
Great full HD screen with decent viewing angles.
Bad Points
The limitations of Windows RT eventually becomes the main downside.
The angular nature of the Surface isn't the most ergonomic.
The cameras aren't the best.
Design
The Microsoft Surface was a great looking device and the new version is no different. It's almost a joy to behold, with those sharp lines and angles. This model feels less metallic than last year, which is possibly down to the plastic strip along the top allowing the antennae to sniff out connections and also the kickstand feels more plastic that metal. The whole Vapor-Mag coating from last year feels more like a soft touch coating now, if anything this new model feels better in the hand than the previous model. Although after a while holding it, it becomes a little uncomfortable, so playing Halo: Spartan Assault for a few hours leads to me getting dead arms and pins and needles.
The front of the Surface 2 doesn't really have any features, you get the Windows button, the front facing camera and some bezel. The back again is also devoid of features, with the rear camera which is angled slightly and the kickstand which like previous models hides the Micro SD slot. The kickstand now has two positions to rest in, one fairly upright for normal  activities or the second position which is more relaxed and suits typing onscreen, it unfortunately doesn't have the third position like the Surface Pro 3.
The sides of the Surface house the power button, volume rocker, stereo speakers, USB port, Micro HDMI port, the Micro SIM tray, the magnetic keyboard dock and the headphone socket.
Hardware
Spec wise the Surface 2 is miles ahead of last years model and for the price you certainly get a decent selection of parts.
Processor: NVIDIA Tegra 4 T40 Quad Core 1.7 GHz Cortex-A15.
GPU: ULP Geforce 72 Core.
Display: 10.6 inches, Resolution 1920 x 1080, ClearType Full HD, 6:9 (widescreen), 5-point multi-touch.
Storage: 64 GB.
Ram: 2GB.
Dimensions: 275 x 173 x 8.9 mm (10.81" x 6.79" x 0.35").
Weight: 676 g.
Battery: 8400 mAh.
Network: Wi-Fi (802.11 a/b/g/n), 2G GSM (Quadband: 850/900/1800/1900), 3G UMTS (Bands 1, 2, 5, 8), 4G (Bands 3, 7, 20)8.
Bluetooth® 4.0 technology.
GPS, Assisted GPS, GLONASS, Digital Compass.
Ports: Full-size USB 3.0, microSD™ card reader, Headset jack, HD video out port, Cover port.
Software: Windows RT 8.1, Microsoft Office 2013 RT.
Cameras, Video and Audio: Two video cameras on front and back,  5.0 megapixel rear-facing camera, 3.5 megapixel front-facing camera, Two microphones, Dual stereo speakers with Dolby® audio and virtualised surround sound.
Sensors: Ambient light sensor, Accelerometer, Gyroscope, Magnetometer, Proximity Sensor.
Out of the box you I got 42.9GB of storage available, although the review wasn't brand new and it had been subjected to Microsoft Updates as well.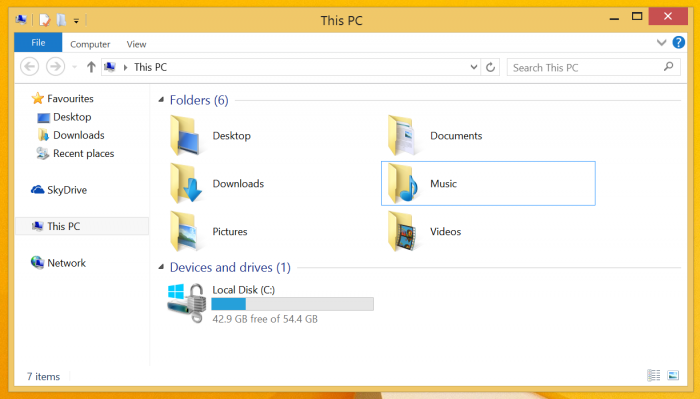 Highlights of the specs are the screen which is just glorious, sharp, colourful and viewable from pretty decent angles. The Tegra 4 chip is an interesting choice, which shown by benchmarks is a little behind a SnapDragon 800, you could argue it is better for gaming but not many games available for Windows RT would really benefit from the extra GPU cores. The internal memory, RAM, Micro SD card and 4G all make for a device that you could adapt to suit many use cases.
Software
The Surface 2 4G runs Windows RT 8.1 so it has the slightly redesigned UI that the 8.1 update brought. The nice thing about the Microsoft Surfaces is that there is barely any bloat at all, just a few core apps, anything you don't like you can easily uninstall. Windows 8 is maturing somewhat. Developers are moving to the platform and you can basically use a Windows 8 device to do whatever you want. You want a gaming device, no worries. You want a multi media device, no worries. You want a home office device, again no worries. You want a social media device, yep no worries. It just does stuff, no worries.
Other notable stuff
Camera
The rear camera on the Surface 2 is a 5MP unit, which to be honest is really strange for taking pictures with. It is angled slightly which if I remember correctly was to help with filming or taking pictures with the tablet in kickstand mode, so you basically point it at what you want and then adjust the screen to actually capture what you want. I'm not a fan of tablet photography, if I was in a scrape I might use one, but I would normally always have a camera of some sort anyway.
The camera also doesn't really focus before I takes a shot, there isn't a way to pre-focus either. You just get what it gives you. There isn't a flash either so don't go out in the dark with it as your main camera.
Benchmarks
I took these scores using 3DMark. The higher the score the better, the results aren't really that unexpected. Apart from the Nokia Lumia.
Microsoft Surface 2 with 4G – 14132
Microsoft Surface RT – 3758
Nokia Lumia 2520 – 16256
So the Tegra 4 lags behind the Snapdragon 800 chip in the Nokia but it's miles ahead of the Tegra 3 chip in last year's Surface RT.
Conclusion
Overall I liked the Surface 2, the addition of 4G and the updated hardware and software made my time with the Surface a whole load more pleasurable than when I had the original Surface RT. The one thing that holds me back from using Windows RT personally is that you know if it ran normal Windows 8.1 that it would be so much more powerful. But it doesn't and it isn't. This is painfully demonstrated with Internet Explorer, which is available in two version, desktop and Modern UI versions, I constantly come across websites that just don't display properly leaving me hunting for another device.
As to which out of the three high end devices I mentioned at the beginning of the review, I still don't know. I just wish Windows RT would just become something a little bit better.
The Surface 2 with 4G along with a few other models is available here.
Microsoft Surface 2 with 4G - Review
Design - 7.5
Hardware - 8
Software - 6
Battery Life - 8
Camera - 6.5
Screen Quality - 9
7.5
Overall I liked the Surface 2, the addition of 4G and the updated hardware and software made my time with the Surface a whole load more pleasurable than when I had the original Surface RT.