I've had my Surface tablet for a few weeks now and I've tried out basically everything that the Surface has to offer. I am still torn whether I like it or not, over the past few years I have tried out a whole range of Android tablets, an iPad recently and of course no end of laptops and netbooks. The Surface is an odd mix of all of them. The Surface marks the beginning of Microsoft's foray into the world of the hardware manufacturer and lo and behold the initial release was not as smooth as everyone would have liked.
So to start off the review lets have a look at its good and bad points.
Good Points
Nice big screen
Decent spec
MicroSD slot
HDMI slot
USB slot
Kickstand and keyboard increase usability
It has massive potential
Xbox and Windows Phone integration is great
Bad Points
Screen is a fingerprint magnet
The large size makes it hard to hold in landscape mode as a tablet
The slow rate of new apps appearing is frustrating
Strange desktop mode keeps rearing its head
Price is definitely a gamble
Design
The Surface tablet is a great looking device, compared to other tablets on the market it has a unique design. The Surface is all straight lines and angles, with only the corners being rounded. The Surface is wide and it definitely wants to be used  in landscape orientation. The kickstand makes the Surface a great way to watch a film or listen to music and when combined with one of the keyboards you get quite a useful little laptop replacement.
The Surface has a good selection of ports, holes, connectors and slots. With only the MicroSD XC slot being hidden, it took me a while to realise it has four speakers around the casing making for an adequate sound experience listening to music.
An interesting design idea from Microsoft was to put a big capacitive Windows button on bezel. It is right in the middle of the tablet. Right where you would support it one handed to use whilst in bed or sat on the sofa, so I keep accidentally pressing the home button. Quite where they would have put button instead I don't know.
The longevity of the keyboard and the kickstand are of a little concern as well, with reports of keyboards splitting (mine looks like it might split soon) and the kickstand looks like it might break at any point. So far Microsoft have been replacing damaged keyboards pretty quickly.
As the screen is an 11.6" screen it is very wide, my normal use with the Surface is sat on the sofa holding it in one hand or playing a game with two hands. Reaching the middle of the screen is sometimes an issue. The rumoured smaller Surface tablet would certainly be of interest to me.
Here are a few shots of the Surface:
Hardware
The hardware spec of the Surface is basically the same as all of the other Windows RT devices. But here it is anyway:
OS – Windows RT; Microsoft Office Home and Student 2013 RT Preview (Word, PowerPoint, Excel and OneNote). Works exclusively with apps available in the Windows Store.
Dimensions – 10.81 x 6.77 x 0.37in
Weight – 1.5lbs
VaporMg casing
Dark Titanium colour
Volume and Power buttons
Storage – 32GB or 64GB
Display – 10.6″ ClearType HD Display 1366×768 pixels 16:9 (widescreen) 5-point multi-touch
CPU – Quad-core NVIDIA Tegra 3
2GB RAM
Wireless – Wi-Fi (802.11a/b/g/n)
Bluetooth 4.0 technology
Battery – 31.5 W-h
Cameras – Two 720p HD LifeCams, front- and rear-facing 1MP
Two microphones
Stereo speakers
Full-size USB 2.0
microSDXC card slot
Headset jack
HD video out port
Cover port
Sensors – Ambient lightsensor. Accelerometer, Gyroscope, Compass
Power Supply – 24W power supply
Warranty – 1-year limited hardware warranty
Apps (included) – Microsoft Office Home and Student 2013 RT Preview1 (Word, PowerPoint, Excel, OneNote); Windows Mail and Messaging; SkyDrive; Internet Explorer 10; Bing; Xbox Music, Video and Games.
It is missing NFC although I can't see why a tablet needs NFC. Wifi is very good with the Surface as it has two antennas, so I get a connection where I would normally struggle.
A lot has been said about the internal storage of the Surface, yes Windows RT does take up a lot of space. You really have to remember that Windows RT is different to any tablet OS we have seen before so comparing the OS size is a bit wrong.
Other notable points from the spec are the Tegra 3 chipset which makes for a smooth experience moving around screens and apps. Also having a MicroSD XC slot is great for loading it up with films and music, it makes for an ideal device to take on a plane or something like that. The SD slot is useful, the USB slot is great, I have tried a few different mice out and they work instantly, I found browsing some large websites with the small trackpad a little awkward.
Talking about the keyboard, I got a Touch Cover with my Surface. It is a great thing to behold, with a furry backing and an almost sponge like top, to use it takes a bit of getting used to. With barely any feedback from the keyboard having Windows RT make a pop after each button push is handy. Sat on a nice solid surface you can type quite quickly with it and I imagine the Type Cover would be even faster.
The other various buttons on the Surface all work nicely, the volume button even has a nice solid feel to it. The power button feels a little redundant though, it turns the thing on and to turn it off you perform a selection of swipes and presses from the menu (or press Power+Home and choose shutdown). The keyboard and the tablet form a nice unit when combined and the case even wakes the tablet up at times. When you meet a certain criteria of screen off time (it sometimes wakes up when opened and sometimes doesn't) . A setting to change this behavior might be nice.
The Surface has two cameras whic are a little disappointing. They are sold as HD cameras which is true, 720P video recording is acceptable really but for taking photos the cameras work out a 1MP. Which basically leads to low res, slightly pixelated shots. Also with no flash the camera is only really usable in well lit areas. The Surface cameras are only really included for video talk and basic video recording, no one really tries to take good photos with a tablet now do they?
Software
Perhaps the hardest part to review and yet the most crucial part of any tablet is the software. For this new experiment that Microsoft are calling Windows RT I really don't know where to start. The next few months will really show us whether Windows RT is here to stay.
Let's start with what we do know. Windows RT is like a hybrid OS, sort of tablet optimised OS and sort of desktop OS. 90% of the time you will be in the tablet side. Which is all good, once you have added a few email addresses, your Microsoft accounts, your Facebook account, your Twitter account, your Xbox details and your SkyDrive details then you are good to go.
Out of the box your Surface will be set up as a local device with no connected side, which means no apps or services. Once you add your Microsoft account then things start to improve. This does mean though that your login is your Live/Hotmail password. Which in my case was an ancient Hotmail address full of spam and Windows Phone purchases. You can set up several different users though which is a nice touch though.
Moving through the Windows RT Start Screen is by far easiest using the touchscreen, a single finger swipe scrolls slowly, a two finger swipe scrolls really quickly. The tiles can be moved around quite easily, as well as being resized and made non-live. I feel that Microsoft should have included a smaller tile similar to Windows Phone here also.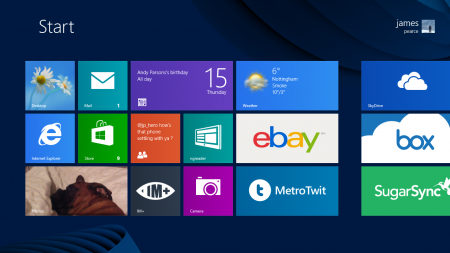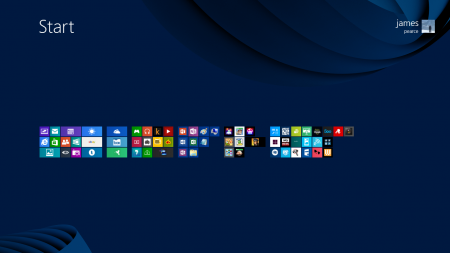 Speaking of Windows Phone if you have used it you will be glad to see the People tile is present in Win RT, showing faces of random people from you Twitter account. Once you have installed a load of apps and games you are left with a sea of tiles of differing sizes and activity. Some default to live status and give you info even if you don't really want them to. Luckily you can remove tiles and leave them in your "all apps" section. Talking of the "all apps" section, which I struggled to find at first, a quick swipe up from the bottom or a right click on the Start Screen displays the "all apps" button. You can also get to it through the Charms Bar and also some keyboard shortcut. It's little quirks like that, that make the whole experience a little odd, you soon get used to it and on a non touchscreen device these quirks are even harder to handle.
Xbox integration is quite a major part of Windows 8 and on the Surface it means you can get Xbox Music, Xbox Video, Xbox Games and the newest addition Xbox Smartglass. They really have you covered here for content. Microsoft really just need books and magazines next to be a viable alternative to the "others". Luckily Microsoft added a persistent Wifi connection to Win RT unlike WP8 so streaming music over Wifi is possible. Services like 7Digital are present as well so getting MultiMedia onto the tablet is a doddle.
Windows Phone integration is made easier by SkyDrive and the Windows Phone app. It basically means that with the right settings on both devices you can easily share files over SkyDrive in an instant. I recently went to a gig and when we got home my HTC 8X connected to Wifi and started to upload all of the photos and videos from the gig, A short while later we could look back at them all on my Surface. It really was effortless. Being able to sync with Windows Phone also helps getting media or files from your tablet to your phone manually.
As the Surface has  a full size USB slot I quite looked forward to being able to plug  my camera in whilst I was on holiday. So I thought I'd give this ago whilst on familiar ground at home. Once Win RT has added drivers for your camera it prompts you to decide what action you should with the photos nothing, import or open folder were my options. I truly expected it to open up the nice Metro pictures app, no it opened up the desktop mode and ran File Explorer, the desktop version. Quite frustrating that, so I closed it down and opened up the Pictures app and it couldn't see the Camera. Oh well, I gave up trying to look at photos.
The Windows 8 Store at the moment is a little clunky to manoeuvre around, as there is no instantly obvious search bar. As always a quick swipe from the right brings up the search option. Another thing to get used to! The categories they provide are adequate with most offering "all", "top free" and "new releases" so you can easily scroll through available apps. Some of the Xbox games are quite expensive though, the Angry Birds games cost £3.49 being a prime example. On a 27" Windows 8 Pro desktop I wouldn't mind paying this but for my Surface I don't think so, yes I do know one purchase is available on all Win 8 devices.
The Windows 8 Store also seems to struggling with developers coding their apps for the right platform. Take Google for instance, they initially coded their search app for X86 architecture and not ARM so it wasn't available for Win RT whether this was intentional I don't know. Certain OEMs seem to also be getting exclusive apps as well. I recently had an Acer Win 8 netbook and it came with a really nice Amazon app. The store showed it as an official Amazon app and exclusive to Acer. Why on earth this still happens, with Nokia and Windows Phone I understand but on Windows 8 it's worrying. Microsoft should be getting big name apps like that to be available to as many people as possible. Only time will tell if the Win RT app situation improves, after several weeks we still do not have an official Facebook or Twitter app. In fact the Twitter situation is dire as Twitters API limit are forcing developers to remove their apps. Barely any big name games have moved to Win RT and not many of the big name Android or iOS developers have moved either. Whether or not there are a lot of apps being processed we don't know, whether developers are waiting for sales figures of Win RT before committing again we don't know.
Before I finish the review I should mention the weird desktop side to the OS, it only really appears when you need to use an app that Microsoft couldn't be bothered to make a Metro version for. Office 2013 being a prime example. When you open up the "all apps" section you see various programs like Paint, Notepad and Command Prompt that whilst being useful they really only highlight what is going on here. In my opinion Microsoft obviously created Windows 8 and then decided to make a tablet version on top of it and making every last section of Win 8 in a Metro style would have took forever. So the few apps that were left form an odd collection of legacy apps from the Win XP days. It is perfectly usable, you will need a mouse or trackpad handy though as it isn't touch optimised.
Conclusion
Overall I really like the Surface, it is something new and fresh. The design and innovation is admirable, Microsoft should be commended for taking the bold step of showing all of the other OEMs how Win RT should be done.
Whether the Surface just becomes a proof of concept type piece of hardware and we were all just beta testers will remain to be seen. Another concern about the Surface arises when you look at the upcoming hardware for Win RT from the likes of Samsung, Acer, Asus and Dell. All of which design wise make the Surface look a little toy like. The other problem for Surface RT is Windows 8 Pro touchscreen devices. They will offer everything that Win RT offers and then some. At the moment it seems like the Pro models are going to come at a premium cost, almost at an Ultrabook level of pricing.
For Windows RT to succeed the other manufacturers need to release their devices and Microsoft need to do some developer bribing like they are doing with Windows Phone. Oh and maybe drop the price a bit and maybe put a bigger SSD in as well.
As to whether you should buy a Surface or not, I'm not sure. I'm glad I did as it is drastically different from any tablet I've ever used and it can hopefully just get better. Just at the moment it is slightly overpriced and slightly redundant in what it can do. The Microsoft Surface is going to be a bit of a waiting game. A bit like Windows Phone.