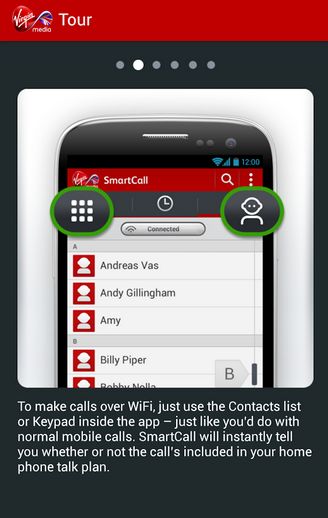 In October last year Virgin launched Smartcall. The app, which you can download for iPhone or Android handsets let's you use your home Virgin Phone talk plan on your smartphone. It's effectively the home phone you can take anywhere and works on pretty much any WiFi hotspot you care to hook onto.
Available for Virgin Media customers, you can call normal numbers using the same unlimited minutes that are included in your Virgin Phone talk plan. This comes into its' own when you're on holiday or working abroad and want to call home – just use the hotel WiFi to call home.
The news today is that the app is doing rather well indeed, with 670,000 WiFi calls made. This works out at 3 million minutes of calls on the phone. Virgin Media reckons that this works out at a massive £1.2 million saved on calls that would've been made through mobile minutes or expensive roaming calls. There's also the fact that 08 numbers can be dialled through this system, so you save that way too.
There's some pretty interesting numbers on the download stats too. Some 45% of users have an iPhone, whilst 37% of users have it running on a Samsung. Oooff.. that leaves a mere 18% gap where, we assume, handsets from HTC, Moto, LG, Huawei and others are crammed in.
Full press details below. If you've got a Windows Phone, here's a picture for you instead because it's not available as a download for you.