Was my previous post just a cheap way to get donations to the Douglas Macmillan Hospice? Well yes, it probably was a bit, but they provide care for those with progressive diseases and a limited life expectancy. It's a bloody good cause and I've only had 11 donations, so hands in pockets people.
Now back to the tech and a quick update on what happened this past Sunday. First of all, I woke up at 5AM on Sunday to head to Stoke to start the trip. This alone was a bad start as I really don't operate well at that time in the morning. I forgot my bike helmet and, mounted on top, the Garmin Virb camera. What I did remember was the fact that my poor battered Kazam phone just wouldn't survive the journey. It's a Kazam Trooper and serves as my "Strava phone" because – as you'll probably know – using GPS on your phone for any length of time sucks the battery dry pretty quickly. Using my normal "every day" phone is an option of course, but with the very small amount of free time I have there's usually not enough battery left when I try and pop out for a quick ride. Despite the ruggedness and durability of the Kazam handset, I knew (from bitter experience) that running Strava on it would kill the battery in about 6 hours.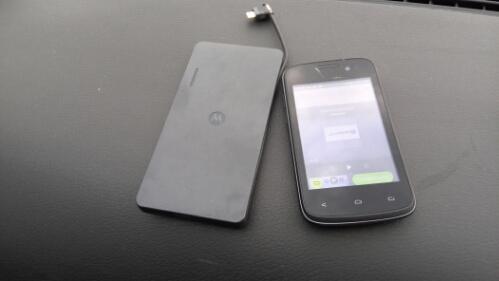 Now, there's no way on earth that I'm going to get from Stoke-on-Trent to Llangolen and back in less than 6 hours on a mountain bike (yes, a mountain bike). So, a battery pack was needed. Mobile chargers are available widely, but I've found this Motorola Power Pack to suit my needs pretty well. You know how it goes – it's basically a battery that you charge up, then you simply plug it into your phone when you're in the back of beyond for instant power. Does the job, and a must for anyone who's ever encountered that "Oh f**k" moment when you get home to find that your GPS activity logger has flattened your phones' battery.
Here's the result, courtesy of the mobile battery pack keeping my phone going…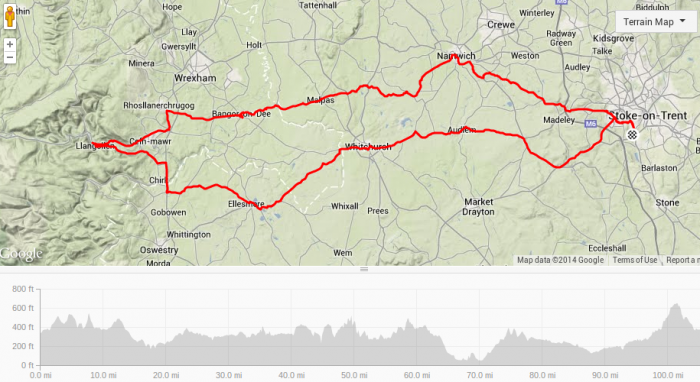 Thanks to various snack bars, lots of water, some energy gel, Soreen malt loaf (oh yes) and a large amount of bottom-padding, it all went very well. I was perhaps the only one doing it on a mountain bike and a lot of riders called me either "mental" or "insane", but there was a lot of kudos too though.
Here's a few shots from the ride…
The end result, especially with Strava, is that you can prove to your mates (and yourself) that you really did it and weren't in the pub all day. 🙂
If anyone has any recommendations on other kit I should try, do give me a yell via the contact form or below, and thanks to everyone who's donated so far, it's really appreciated! 🙂