In what seems to be becoming a trend, the details of the LG G3 have leaked. This time it's via LGs own marketing slides with a bit of help from someone taking pictures they probably shouldn't have been.

Above is the key slide that gives all the main details of the handset, and whilst my Korean isn't great it is easy to see the headlines.
Size: 146.3 x 74.6 x 8.9 mm which is small considering the size of the screen
5.5″ Quad HD IPS screen which works out at 538ppi
Snapdragon 801 processor, rumoured to be 2.5GHz, improved from previous leak
3GB DDR3 RAM
3000mAh battery
13MP camera with OIS+
So it's competing with the S5, Z2 and M8 on processor and RAM and hammering them on screen resolution, and LG know it so seem to be taking a little pop at what appears to be the S5 in two of the slides.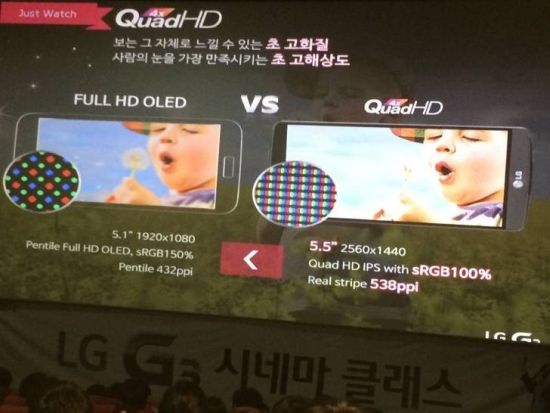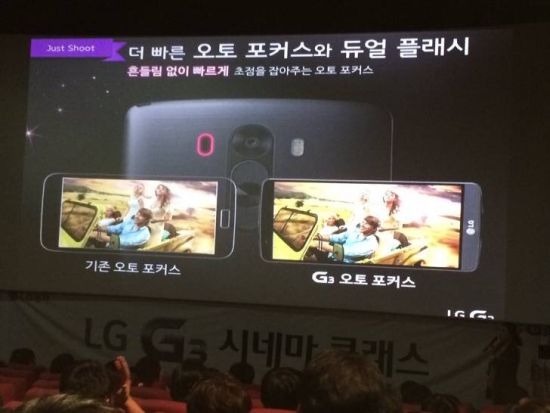 Other features that are hinted at in the slides include a 1W booster amp for the speakers to give some ooomph to sound and compete with HTC's BoomSound and the dual speakers on the Z2. Also mentioned is something to help with selfies (shudders in disgust), which given the controls on the back of the G3 would be a logical step.
The selfie mode seems to be using a hand gesture which may imply there is a touch sensitive panel on the back as well as the buttons that have carried over from the G2 and been confirmed in previous leaks.
Full details are to be confirmed at the launch event on May 27th and Coolsmartphone will be there to bring you all the news as it is announced.
Source: GforGames