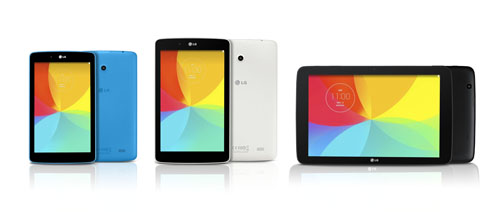 2013 was a great year for LG, with the success of the Nexus 4 & 5, the hugely popular LG G2 and G Flex and the slightly overlooked yet brilliant G Pad 8.3. All in all they had a range of great products, so it's only to be expected that they are going to continue the ranges this year, we keep seeing leaks about the LG G3 and now we've got actual real official information about their latest tablets.
Strangely though LG haven't announced specs or prices. They've only really gone with some product highlights.
● G Pad 7.0 : Designed to be held in one hand, LG's smallest tablet is a non-the-go entertainment hub that delivers both portability and power.
● G Pad 8.0 : With its 8-inch display, LG's mid-sized tablet offer san immersive multimedia experience and smooth multitasking.
● G Pad 10.1 : With the largest display and battery, LG's 10.1-inch tablet provides endless hours of entertainment and fun.
Judging by what they did last year we'll probably see a range of well specified tablets, with a whole load of LG software "enhancements" that I actually quite like and hopefully Micro SD slots and IR Blasters. Judging by the image they have released the new tablets, they'll come in some bright colours.
LG have decided to mention something about the software also, with Q Pair and LG Knock Code making an appearance.
The latest G Pad tablets will also include LG's proprietary UX features such as QPair 2.0 and Knock CodeTM. With an updated version of QPair, which was first introduced on G Pad 8.3, users can effortlessly connect to their Android-powered smartphones via Bluetooth to receive notifications of calls and messages and now be able to respond directly from the G Pad. What's more, Knock Code™ enables users to power on and unlock their LG smartphones in one easy step by entering a personalized "knock" pattern on the smartphone's display. Knock Code™ offers convenience and greater security as the knock pattern can be entered anywhere on the screen in any size — with the display on or off — using a personalized sequence of two to eight taps for more than 80,000 possible combinations.
As I'm an avid LG fan fan I'm looking forward to trying these out, maybe it's time for me to get a 10″ and see if the apps are any better than they were a few years ago. At the moment there aren't any more images, I'll update the article if and when they release any more.