Today EE have put on sale their first new branded device. Carrying thename 'Kestrel', it is available on both PAYG and monthly contracts.
The Kestrel is mainly based on the Huawei Ascent G6 with a few modifications. This brings the cost down to just £99.99 on PAYG or free from £13.99 a month with a contract offer.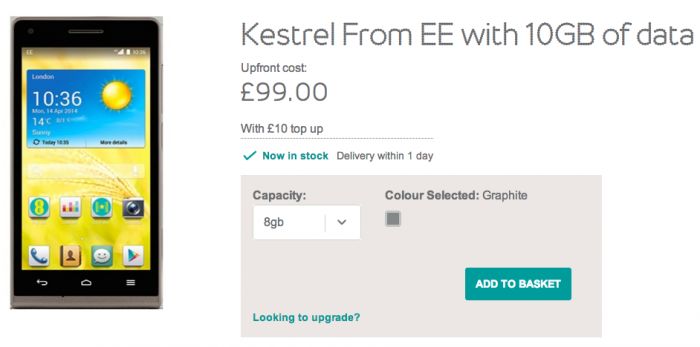 Specifications of this device include a 4.5 inch qHD display with a resolution of 540 x 960 pixel and a 1.2Ghz Quad-Core processor for super fast power in a budget phone.
You also get 8GB of storage, 1GB of RAM and a 2000mAh battery powering it all, but best of all you get Cat4 LTE which offers the blazing fast speeds up to 150Mbps if you are on the compatible price plan.
The Kestrel comes with a 5 megapixel back camera and a 1 megapixel front facing camera used for video calls or selfie photos which many of us seem to be doing now on apps like Snapchat.
The device is in stock right now with 1 day delivery and stores should have them in stock any day now, and for now at least, if you order online on PAYG you get 10GB of free data.
Link: EE.co.uk