Yes, that great song of our time, "Selfie", has got us saying "Selfie" quite a bit. The camera on the front of a phone is no longer a "front facing camera", it's a "selfie cam".
Personally I think the lyrics are deep and meaningful, especially the following..
That girl is such a fake model
She definitely bought all her Instagram followers
Who goes out on Mondays?
OK, let's go take some shots
Oh no, I feel like I'm gonna throw up
Oh wait, nevermind I'm fine
Let's go dance
An epic literary piece, I'm sure you'll agree. So, if you want to take a "selfie" but you don't actually want to be attached to your phone, try this thing out!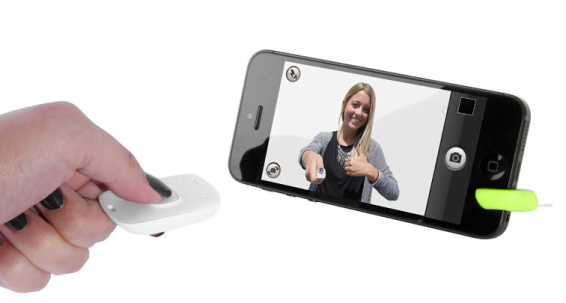 The people behind this have sent all sorts of technical statements and they've basically tried to make it all complicated and glamorous. However, what it basically is, if you'll pardon my language, is a ruddy remote-controlled button-presser thingy. Prop your phone up with the supplied prop thing and ignore the fact that you might have a timer to do all this for you. Then, just push your "clicker" and you've snapped a shot of yourself looking all "moody" and "cool" with one of those daft "pouting" expressions.
The Snap Remote costs £14.95 and works via a free app to trigger either the front or rear camera. It's compatible with iPhone and Android and you get the phone stand as part of the deal.
A poll by Mobiles.co.uk has found that 38% of people questioned have taken a selfie and a massive 69% said they never tweak the image either, but 9% do admit that they've taken "between five and 15 selfies before finally uploading or sending the image". Ahh.. you couldn't do that in the days of Polaroid 😉 As for the reasons, it seems that 23% have taken a shot just as a record of where they've been. Mostly selfie shots are destined for Facebook, with 33% choosing to share on the social networking site.
More pictures below plus more details of that poll, or you can watch the video that I now can't get out of my head.