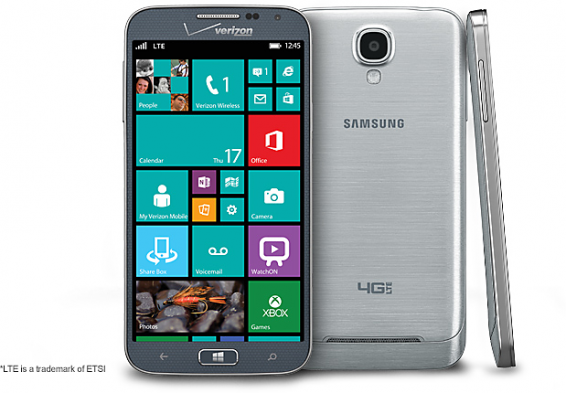 Living in the USA? On the Verizon Network? Fancy a new Windows Phone?
I know you're probably not but if you are great news for you Windows Phone fans.  Do you remember James's post back in March about the Samsung Ativ SE (Link), well it's being released (shipped) by Verizon on the 12/4/2014.  Currently up for pre orders on the site, priced at $599 (about £350 at current conversion rates) contract free.  So now I'm sure you want some of the juicy specs of this phone… Well here goes:
Windows 8.0 out of the box (Update to 8.1 will depend on carrier release dates)
4G LTE Device
5″ AMOLED 1080p Screen (Gorilla Glass 3 Touch Screen)
2.3ghz Quad Core Snapdragon 800 Processor
2GB Ram
16GB Expandable Storage (up to 64GB Micro SD Card)
13MP Rear Camera, 2MP Front Camera with 1080p Recording (Camera Modes: Auto, Continuous, Beauty HDR, and Panorama)
2600mAh battery
Bluetooth 3.0,  WiFi 802.11 a/b/g/n/ac 2.4GHz/5GHz
Infrared
So overall a rather high speced Windows Phone from Samsung, looking like a similar set of specs to the Galaxy S4. It could be a good competitor for the Nokia Lumia range from Samsung here.  It has a brushed metal "Effect" but is not actually made from metal which is a little disappointing but does look rather good.
As of yet we have not heard of a UK Release date and price, even if there will be one but fingers crossed.  This looks like it could be a great device especially if it gets the update to Windows Phone 8.1.
Fancy a browse around the specs on the Verizon Site (Link)