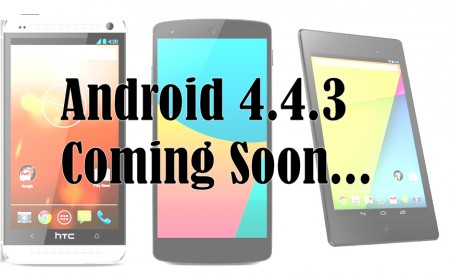 If you're lucky enough to own a Nexus 5, Nexus 7 or an HTC One Google Play Edition then rumour has it you may be very close to getting Android 4.4.3. This is believed to be one of the last updates before google releases its Android 4.5 Lollipop OS.  Now, there have been no confirmations or release dates etc. for 4.5 so until then 4.4.3 will have to do.
This minor update is quite overdue now since the last update was 4.4.2 back in December 2013, and is believed to have about 36 fixes for bugs, such as unstable data connections, improved camera focus, fix for random reboot issues, missed call LED fix, Wifi auto-connect fix, VPN fix, USB debugging security fix among others.
All of which is helping stabilize android for a future release of Android 4.5 Lollipop some time in the future.  So keep your eyes peeled for the OTA update arriving some time soon for your devices.
Source – LlabTooFeR, Via