Whilst that was quite possibly the worst title for a review I could've come up with, the product itself is much better.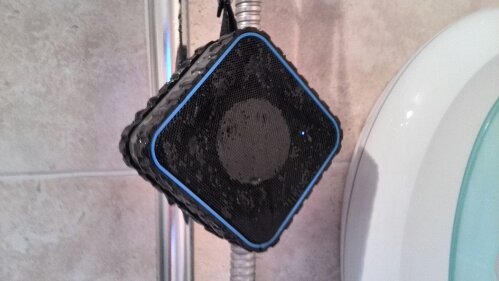 First up, let's have a look at the key selling points on this Bluetooth Splash Speaker. It's available from Gizoo for £34.95 and, as the name has probably already revealed, is waterproof. It's also got a 3W output and charges with the very same microUSB port you use for your phone.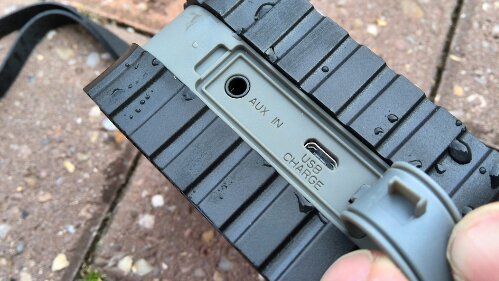 A flap at the bottom covers the charging point and 3.5mm aux cable, which you can use if Bluetooth isn't your thing. Doing that isn't ideal if you want to be waterproof though, as it'll open up the innards to the elements.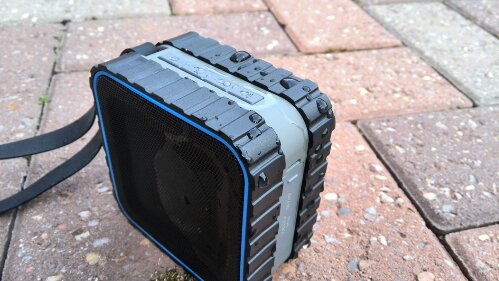 Out of the box it's got a pretty distinctive tyre-tread outer design. The two treads are like something from a toy car that my son would use but there's a good quality rubberised feel to them.
Bluetooth setup is easy enough and it sets up a Bluetooth 3.0 connection via the normal method after powering it on. Just hit the power button, it'll bleep and flash a tiny LED inside the speaker and that's pretty much your queue to initiate the Bluetooth setup on your phone. No PIN numbers to worry about, it just pairs and – once done – it'll remember for next time.
The sound quality is very good, and I can testify to the volume after my son had it cranked up full blast while we were driving through our village. The people waiting at the bus stop could hear it well enough, so I'd say that was a success, even if the music in question was this..
That tough rubber exterior gave me more than enough confidence for my son to play with it and, likewise the buttons on top were both chunky and easy to use. Power, phone call, volume up and volume down.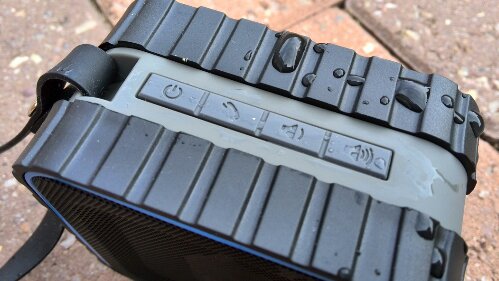 It measures in at 8.5 by 8.5 by 4.5cm so is really easy to carry around. The rubberised sides and strong construction were definitely reassuring.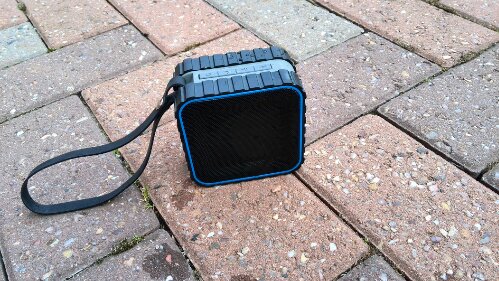 A long rubber strap is added to the top left of the speaker and means that you can hang this off your shower or belt without having to worry about getting it wet. Stick your phone somewhere dry and let this get splashed instead. Here's a video showing the speaker getting soaked…
The sound quality was very good indeed, and I actually found the audio didn't really need adjusting via any software equaliser – bass and treble were punchy enough and came through clearly without clashing.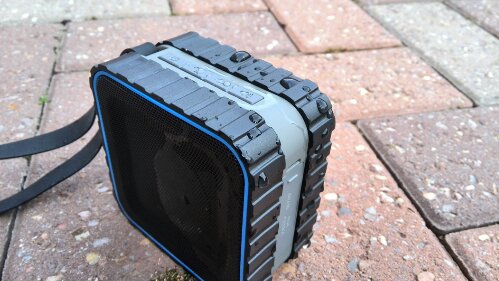 The battery inside lasts about 4 hours and, although I wouldn't want to dunk this completely under water, it survived getting rained on and a few test showers too.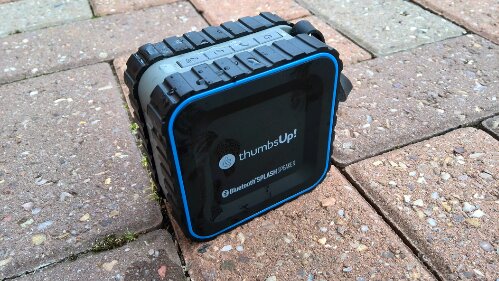 Don't forget that you can also use it as your hands-free device too, so you can make and receive calls whilst in the pool, on the beach or in the bath, if that's where you like to do your business.
Thanks to Gizoo for the loan of the Splash Speaker, which is available for £34.95.