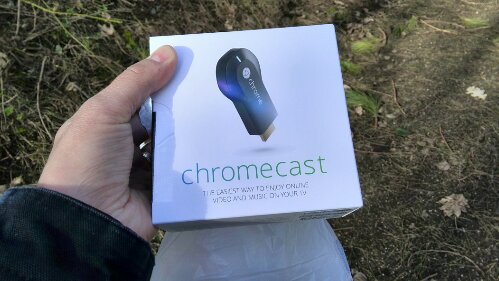 Yesterday, here in the UK, Chromecast arrived. Sure, many people have purchased one via Amazon or eBay already, but this is the first time it's "officially" been made available here in the UK.
What is it? Well, you may be seeing this getting a demo in your local PC World / Currys so here's a quick run-down.
Yesterday morning I popped into my local PC World and they were just learning about the device – plugging it in and generally getting used to it. A staffer offered to show me a demo of the unit in action as they'd only just set it up, but to be honest it's all pretty simple.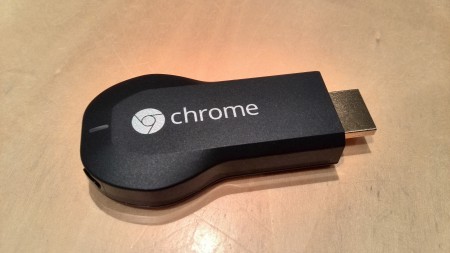 To explain a bit more I need to tell you about my TV. It's a regular flat-panel TV and I upgraded to it a year ago because it had all that 3D / Smart TV gubbins in it. If I'm honest I quickly fell out with the Smart TV side of things because..
a) The GUI is utterly hopeless, cluttered, slow and full of "apps" which seem to have been designed by people who were drunk.
b) I have to use the "who the hell designed this" TV remote, which has far too many buttons and is generally like something you'd see controlling an old VCR.
c) The Smart TV system appears to be driven by a 600Mhz CPU (read, slooooowwwwww) which takes ages to do anything. Imagine trying to put streaming TV on your local cash machine and you're pretty much there.
d) The Smart TV interface is confusing as heck, and you'll find yourself navigating three items just to get to YouTube then you have some hideous ABC text-entry system to try and search for a video.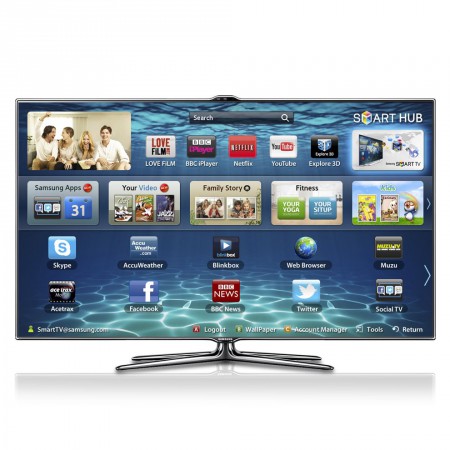 Yes, it's safe to say that I'm not a fan. The whole 3D-thing is just one of those things you use for 30 minutes on a rainy Sunday afternoon before realising that it's pants.
After sticking a mere £30 into the till, I popped home with the Chromecast. All it does, quite simply, is turn your TV into a display for your content. You can throw YouTube videos on it, iPlayer shows, pictures and your own videos. There's a whole load of video and movie content from other partners including Netflix, Vevo, Google Play Music, Google Play Movies and more.
There's a few things I should mention. For example, if you like watching music videos on YouTube you might find that some aren't available for "remote playback". However, the benefits are plentiful. Great sound, 1080p HD playback (it's rather lovely I must say) and your TV, when you want it.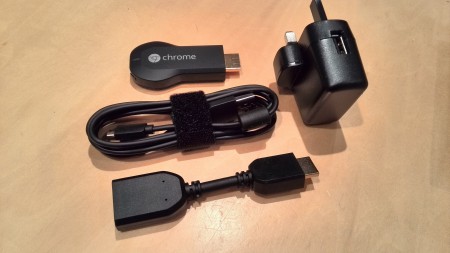 I've got this far into the article without mentioning the setup yet. That's simply because it's so easy. Have a look at the back of your TV. If you have a HDMI port spare and a USB port you're set. The latter is needed for power, but you can always use the supplied charger if you don't have that.
The main Chromecast device is a small and unassuming thing. It has a microUSB port for the other end of that USB power lead and a reset button up one end, with a HDMI port at the other for sticking into your TV. There's also a little extender if you're having trouble getting a WiFi connection, plus this is also useful if you can't quite get the Chromecast to plug in due to the design of your TV screen.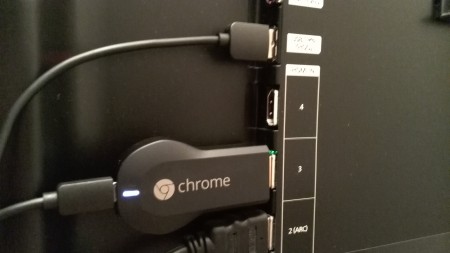 Plug the Chromecast in, stick the USB cable in, then you're done. All you need do now is grab your phone and download the Chromecast app. There's no remote control rubbish – you simply use the apps you know and love on your phone and send the output to Chromecast – i.e. Your TV. YouTube has a little icon for doing this, and on your laptop or Chromebook you'll get something similar too. It's effectively giving your phone or laptop another screen.
The Chromecast itself doesn't really have an interface. It just sits there looking pretty and, out of the box, beams out its' own WiFi Access Point. Your phone / laptop / tablet will connect to this so that you can provide the access details to your normal home WiFi network. Once you've done that, the Chromecast widget will grab the latest updates and it's pretty much done.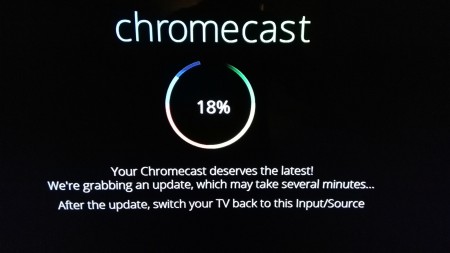 Whilst writing this I have YouTube running in the background. I load videos up as normal but just tell it to send the resulting footage to my TV, No DLNA faffing around and all that – just a simple and easy way to do things.
Although Google want to promote all the big online streaming sites, there's a few additional services you should be aware of. You can "cast" (the Google way of saying "send") your current browser tab to your TV, so you could see Coolsmartphone on the big screen.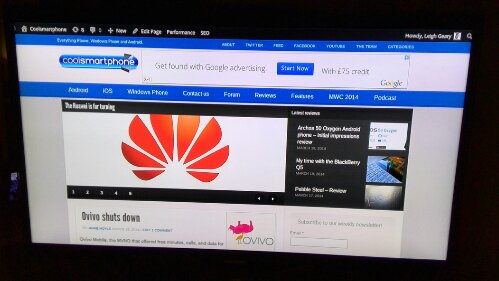 You can also use Videostream to send your own video content directly to your TV – y'know, those "unofficial backups" of movies that might have "fallen off the internet". Yes, you. You know what I'm talking about. BubbleUPnP is also good for this.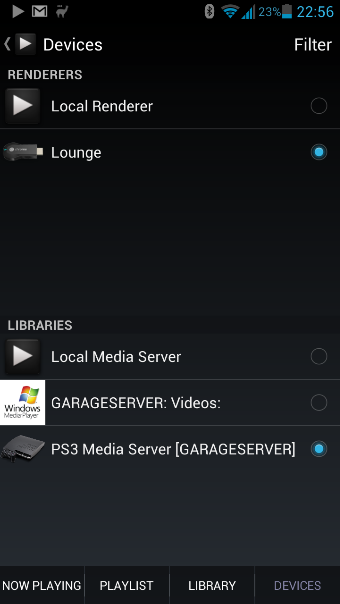 There's also apps such as "Dayframe" that'll let you look at pictures you've stored in the cloud (Dropbox etc) and you can use Pocket Casts to listen to podcast content too. You can also use apps like dSub or Play Music to beam tracks from your phone to the TV.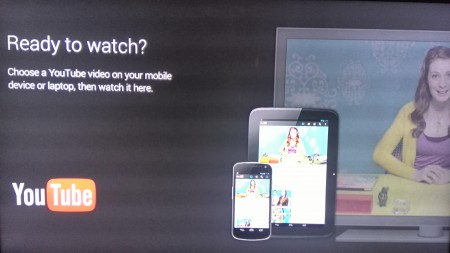 I'd also recommend grabbing Chromecast Store, which filters all the Chromecast-specific apps into a separate store.
Overall I'm pretty pleased with the thing so far. I'm becoming aware that I'm gradually falling into the all-encompassing Google cloud, but the quality and ease of setup is incredible good. Not only that, but I love all the interesting apps that are floating around which let you do very interesting things like playing games on your phone and TV and more. I'll be keeping a close eye on developments.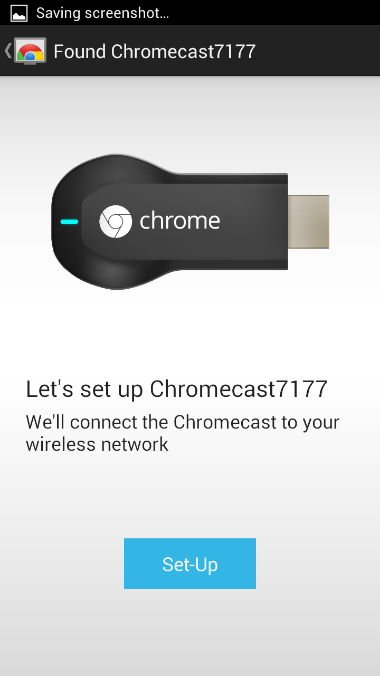 Get a whole host of images and close-up shots of the Chromecast below.