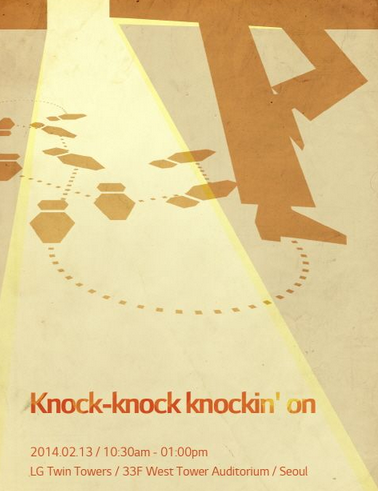 Whilst everyone seems to be keeping their power dry and holding off on any announcements until MWC at the end of the month, LG seem eager to share their latest handset to the world. The G Pro 2 has leaked all over the place, and now the Korean press have been sent an invite to an event on 13th February.
Now, this is a little bit of educated presumption, as the only clue as to what the event is about is the phrase "Knock-knock knockin' on". This surely is a reference to the knock-on feature which allows G2 owners to double-tap on the screen to wake the phone up, and double-tap again to switch it off again. That's not much of a clue, but seeing as we're expecting the G Pro 2 to be a massive G2 (up to a 6-inch screen, probably with a stylus), then it's only logical that it would have the knock-on feature.
Whilst some people are surprised that LG would announce the G Pro 2 before MWC, I can see this sort of thing happening more often in the future. There are so many announcements and launches at the show that there's a danger of being drowned out by somebody else's news conference.
As I'm already the owner of a G2 and a 5.9 inch phone (the Oppo N1 CyanogenMod Edition), I'll be very interested to see if this could replace both. Not long to wait now then, and we should have all the details just in time for next week's podcast!
Source – ZDNet Korea
Via – Phone Arena