Morning all. Now, if you're one of our fantastic podcast listeners, I have an apology to make. Unfortunately the latest podcast isn't here just yet. The reason involves a pot of white spirits and some paint. My laptop, that poor Vaio I mentioned only yesterday, ended up with some mineral turpentine dripping out of it.
Sorry about the blurry image. I was swearing a lot. I've taken it to bits to dry it out.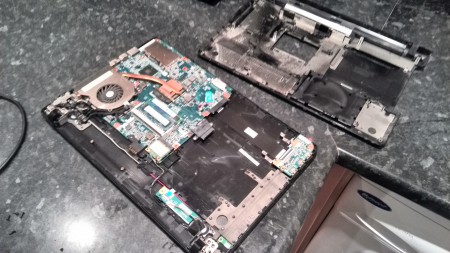 There was a fizz, then the screen went off, then.. well, no podcast my friend. We'll have it ready for you tomorrow.
Meanwhile, to keep you going, here's an utterly appalling Wonga advert featuring a man kissing his phone. Kiss it. KISS IT….
http://www.youtube.com/watch?v=V90ZcWk4eBQ
Gotta agree with Charlie Brooker on this one, who said, "You'll need some money to cover the counselling you'll need after this psychotic breakdown you're clearly having".