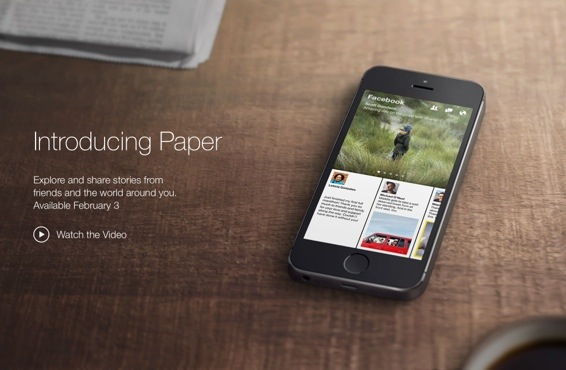 Facebook have launched a new app for their social network today – Facebook Paper.
This is a new app, but not an entirely new service – more a reimagining of the Facebook news feed. There have already been some great 3rd apps that have taken the basic content of the news feed and turned it into something much prettier (looking at you Flipboard), as well as Facebook's somewhat doomed Android launcher – Facebook Home – and indeed Paper borrows from both.
What you get is a really nice, media orientated feed, with almost no physical navigation bars or buttons, making the most of the screen real estate – all the more important on the iPhone's smaller than average screen. Gestures replace the absent controls and the app helpfully points out what these are if it thinks you don't know.
There are also creation tools – not the standard "post" box, but a WYSIWYG editor enabling you to control exactly how your post will look on Paper. This could be a great feature for content providers and groups or anyone more artistically inclined.
Although the app isn't replacing the current Facebook app, it might well for a lot of people. If you're just interested in your news feed and messages, Facebook just provided you with an app for each, meaning the original Facebook app might get unloved very quickly.
I must admit I really liked Facebook Home on Android; in terms of it really bringing out pictorial elements of my newsfeed, so I'm looking forward to trying this out. At the moment we will have to wait though – the launch today is US only, with the rest of the world "to follow". It's also iOS only and no word currently as to whether or not it will make it to Android or not.
Link – Facebook Paper
Source – The Verge