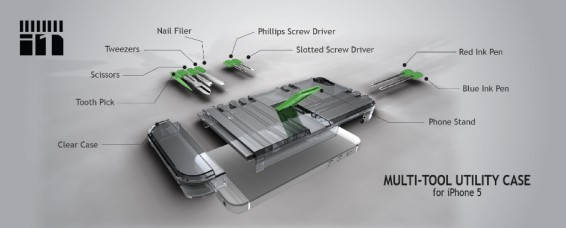 If you, like me, are after a case for your phone that also has tweezers, scissors and a tooth pick, your prayers are answered my friend. This is the In1 Multi-Tool iPhone 5 case. Not only does it protect your handset, but you can file your nails, cut some paper and take a table apart too.
The "rugged but beautiful" case has the following tools cleverly slid into the case..
2 Precision Screwdrivers
2 Ball Point Pens
A Nail File
A Pair of Tweezers
Scissors
A Kick Stand
It's available for £34.99 in a clear colour and is designed for the iPhone 5 / 5s. It allows you to access all the ports and features of the phone, and hey – you'll always have a pen when you need it too.
Boom!