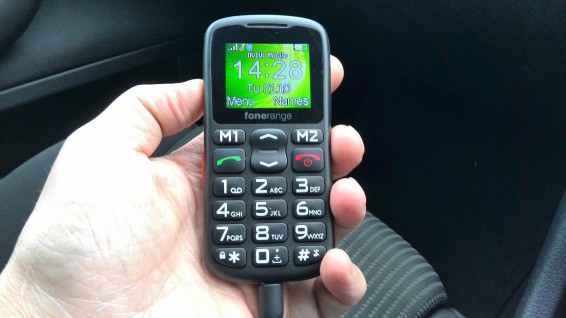 We've all got very modern and well-equipped smartphones. They can take pictures, locate you from space, navigate you home and let you browse the internet. With a smartphone you can achieve a great deal, but you've still got a fairly short battery life and, for some, it can be tricky to work out how to use the thing.
The elderly in particular can struggle. I've tried in vein to show off the benefits of having a smartphone to my elderly relatives. Skype video calls and listening to music might seem simple and beneficial to you and me, but for an elderly relative it can be complicated.
Not only that but, despite all the benefits that a smartphone can bring to the elderly (video calling, browsing the web, weather, music etc), the cost of buying a smartphone can be quite high. Many also prefer a more simplistic and easy handset. A device with great battery life and proper buttons.
This then is the Big Friendly Mobile Phone. I'll give you a few reasons why you should continue reading right now. Firstly, this has a standby time of 10 days, secondly it's unlocked and thirdly it's only £24.98. Did you hear that? Less than £25. Boom.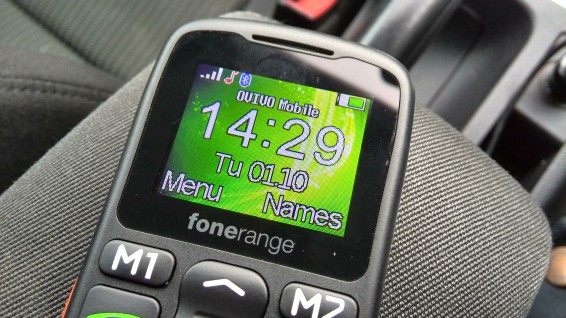 Sure, the specs aren't going to challenge an iPhone. A 160×120 pixel 1.77″ screen might look a bit low-tech next to your flashy handset and there's no WiFi or GPS, but it does feel and – to some extent – look like a normal mobile. It's not overly large or heavy and measures just 114x54x16mm at 99grams. It's a nice size.
First thing you're going to want to do is stick a SIM in. At this point I grabbed my Ovivo SIM which gives you internet, calls and texts for £0 per month. This phone kinda breaks the £0 per-month business model because it's unable to show the odd advert that pays for the service. However, it's just to test. If I used it full-time I could effectively pay less than £26 for the phone, £20 for an Ovivo SIM card as a one-off cost and I wouldn't need to pay anything else. You can also pop a microSD in the back, which pops off to reveal the battery fairly easily.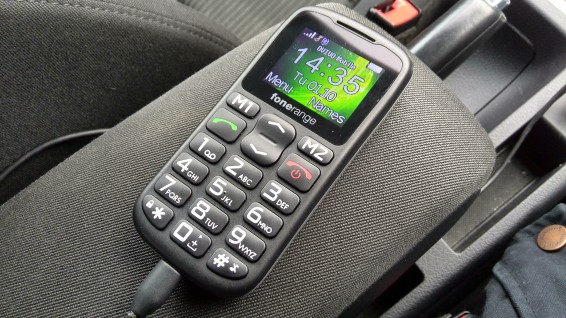 The back, as you can see, has a big orange button. There's no external speaker here which, I'll admit, is a bit of a shame. When I was using the phone there's a neat feature where the phone actually speaks the digits as you type. Great for anyone who has failing eyesight, but unfortunately it's not quite loud enough when you're out and about. Anyway, back to that orange button. Press and hold it and you'll initiate the "SOS" system. This will text, then call a contact or range of contacts stored on the phone. It's a great way for the elderly to quickly get in touch with loved ones when they need them urgently, although I did find that I activated it once when it was in my pocket.
On the left side of the phone there's an orange switch. This activates the LED torch at the bottom so you can find your way around in the dark. By the way, there's no camera.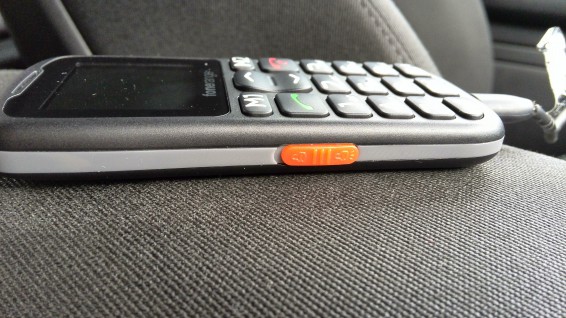 At the bottom you'll find a microUSB port and the connectors for a desktop charger. Our review unit came with a standard charger but there's a free desktop charger with the device to make it easier for the older generation to charge this up again. Charging, though, shouldn't be a huge issue anyway – this will last several days before you even need to think about that.
Up front those chunky buttons are just the right side of "bonkers big" and actually fit the design of the phone very well indeed. Below the screen there's two menu keys labelled "M1" and "M2". You can assign phone numbers to these to make those calls to regular contacts even easier, plus – as mentioned a moment ago – you can dial numbers and have it talk digits back to you. The phone itself has a good contacts system and you can save names alongside numbers, caller pictures (from the microSD card or beamed via Bluetooth) and individual ringtones. You can also have your contact pictures on-screen to make it easy to select the person you're after.
The other buttons are all fairly self-explanatory, which is what you'd hope on a device of this nature. The up and down button adjusts volume and switches you up or down through menus easily and the phone will auto-lock itself to prevent you mashing keys when you're carrying it.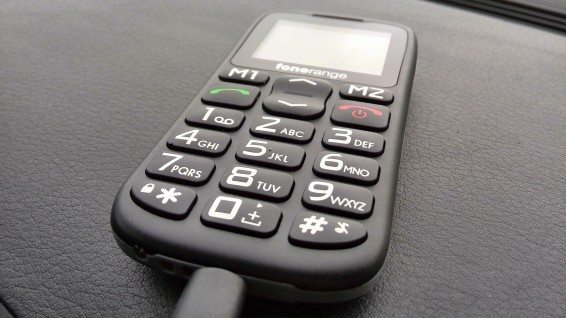 Texting is fairly simple and it uses the "old school" abc mode, so if you're typing "Hello" you'd have to press "4" twice for "H", then "3" twice for "E" and so on. In practice it can seem fiddly, but my nan is composing some pretty fantastic texts on her old Nokia so it's got to work fairly well.
The phone also contains an alarm system with a repeat setting and the ability to setup many different alarms quickly. Great for reminders. You can also use, switch and alter Profiles or, if you want some more gadgets, there's an FM radio and media viewer. If you've put a microSD card in or sent images via Bluetooth you can view them here. It'll play any MP3's you've stored on there too, and that FM radio will auto-search and lock onto radio stations so you don't have to faff around finding your favourites.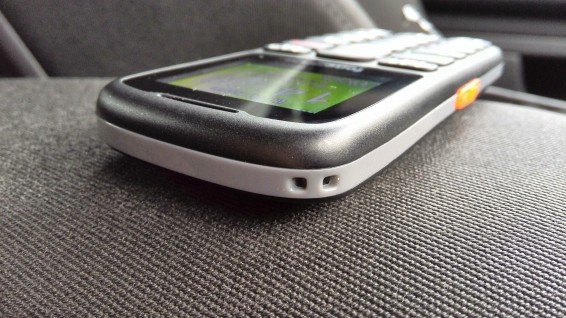 Video overview
It's always great to see the actual handset "in the flesh", so here's my regular in-the-car look at the Big Friendly Phone.
Conclusion
At the end of the day, if you're in the market for a friendly, fuss-free phone which is easy to use and has some handy emergency features, this is a snip. It's only £24.98 and, apart from a cheap pay-monthly or Pay As You Go SIM, there's really no running costs or fancy bits to worry about. It comes with a 14 day money-back guarantee and 1 year manufacturer warrranty. It feels sturdy, it works well and doesn't go too far into the "simple" category. The big buttons aren't too large and look good on the phone. They're a soft rubber and are easy to press.
I also liked he thought that has been put into the phone. The SOS button it a good idea, and I like the fact that contacts can be added to quick-keys. I'd have perhaps liked to have seen a speakerphone for a bit more volume, but the earpiece was very clear and crisp. The screen, complete with the big font, was easy to read and there was just the right balance between specs (Bluetooth and an FM radio was nice to see) and price.